Waxing versus ceramic coating has always been a popular debate between car owners. Now that ceramic coatings are widely available for marine vessels, more boat owners are beginning to weigh their choices between waxing or ceramic coating. If you own a boat and is wondering what is the best solution for your boat, this article is perfect for you as we unravel the discussion of longevity, cleanliness and reputation of boat wax versus ceramic coating.
Do marine waxes need to be applied more often?
Longevity is a tricky question because your maintenance and cleaning regime might be different from other boat owners. Boat wax generally has to be applied twice a year, depending on your usage and how you store your boat. You could go all out on hauling, polishing and waxing once a year if your boat is garage kept but you might have to wax every month if you're boating in a hostile environment. Dirt could start etching into the wax as early as 6 weeks after waxing. And if you're washing your boat with soap frequently, that means your wax reapplication has to be just as often because that soap is taking the wax right off.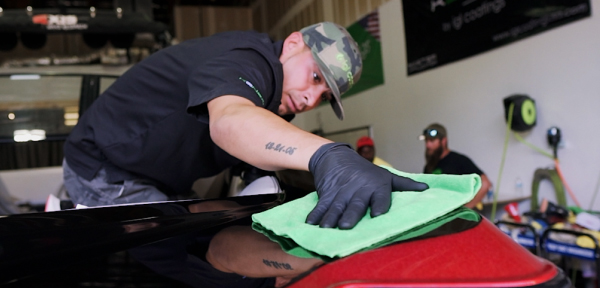 How long does ceramic coating last?
Ceramic coating can last up to 12 times longer than ordinary waxes when it is maintained on a proper schedule. This means less time and cost consumed for you in the long run as a boat owner. The ceramic coating layer does not need to be reapplied every time you haul and wash your boat as it is not directly affected by being exposed to natural elements or soap.
Is wax or ceramic coating easier to maintain?
Your boat is made of different parts that require different maintenance style. For example, your hull would be different from your livewell or stern and maintaining the boat hull would require frequent washing compared to other parts. Marine wax is on of the easiest go-to solution for all boat owners when it comes to maintaining the cleanliness of hulls after washing and polishing. But contaminants can easily etch into the wax layer and cause dark streaks to appear if you're not meticulous enough in cleaning your hulls. This could add more time for you in cleaning and removing the streaks. In this respect, a Ceramic coating would be the perfect solution especially if you're looking to reduce the time used to maintain your boat. An application of high quality ceramic coating can cut your cleaning time by half as ceramic coatings are hydrophobic and oleophobic, so they actively repel liquid and oil from the coated surfaces. This means less time scrubbing and using abrasives to get etching out of the paint as you can directly soap and wash off the contaminants.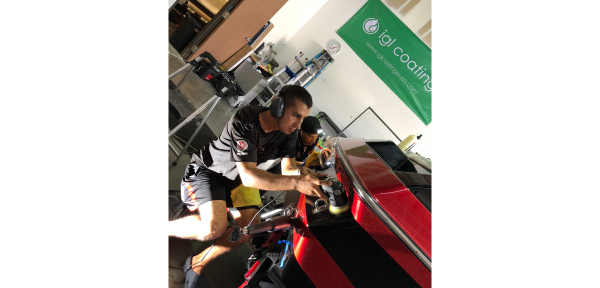 Is marine ceramic coatings suitable for me?
Of course, waxes on boats have been traditionally used for waterproofing since the early 19th century and has been used since to improve the water repellency and overall appearance. This is why waxing knowledge in the boating community is common and its commonplace to get your hull waxed.
Just as how antifouling abrasive paint was a normal hull paint to get rid of zebra mussel but are now phased out due to their toxicity level, newer technology is updated and introduced which is quickly phasing out the need to wax. More marine vessel owners are switching over to ceramic coating instead of the usual buff and wax because owners all over the world agree that ceramic coatings are more durable and provides better performance than waxes.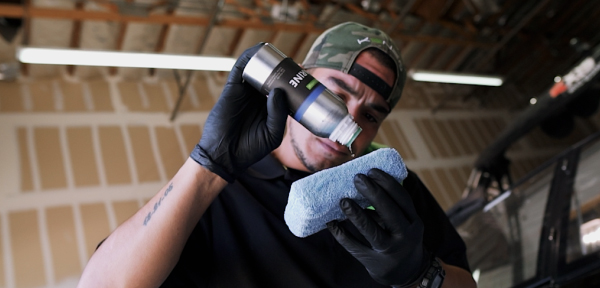 Two of IGL Coatings accredited detailers from across the world have been entrusted with huge ceramic coating projects for yachts. Detail Studio Singapore along with ST&T Services coated the 59-metre M/Y Seawolf that was bound for Antarctica later this year. The beauty was on display during this year's Singapore Yacht Show at Marina Bay. The JET Mobile Services LLC team in Las Vegas was tasked with the smart yacht, ADONIS; a creation that combines both modern artistry and artificial intelligence. We believe that more boat and yacht owners will follow suit soon to get their vessels ceramic coated.
Also, unlike waxes which can only be applied on specific surfaces, ceramic coating can be applied to virtually all surfaces of the boat which means you can coat the exterior and interior of your boat to protect all surfaces. If you're looking to try out the the most talked about ceramic coating for yourself and see the difference, find the nearest IGL Coatings accredited detailer in your area and request for ecocoat marine, our specially manufactured ceramic coating for marine vessels.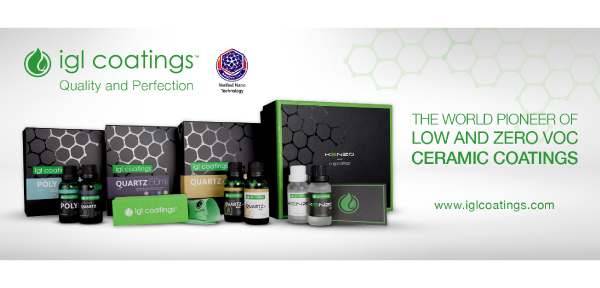 ecocoat marine is a tried and tested marine coating which is REACH compliant and does not contain banned hazardous materials such as zinc and plumbum. ecocoat marine is also an anti-fouling ceramic coating developed specifically for high UV, salt and water immersion resistance used to protect your boat from the harsh weathers and prevent microorganisms from attaching.