Products
Ecoclean Absolute: Our Latest Hydrogen Peroxide & Silver Ion-Based Disinfectant
11 September 2020
Ecoclean Absolute, our newest sanitization product has arrived! Its eco-friendly formula of nanosilver and 6% hydrogen peroxide is effective in reducing the spread of diseases and infections without leaving any toxic residues.
Read on to find out more!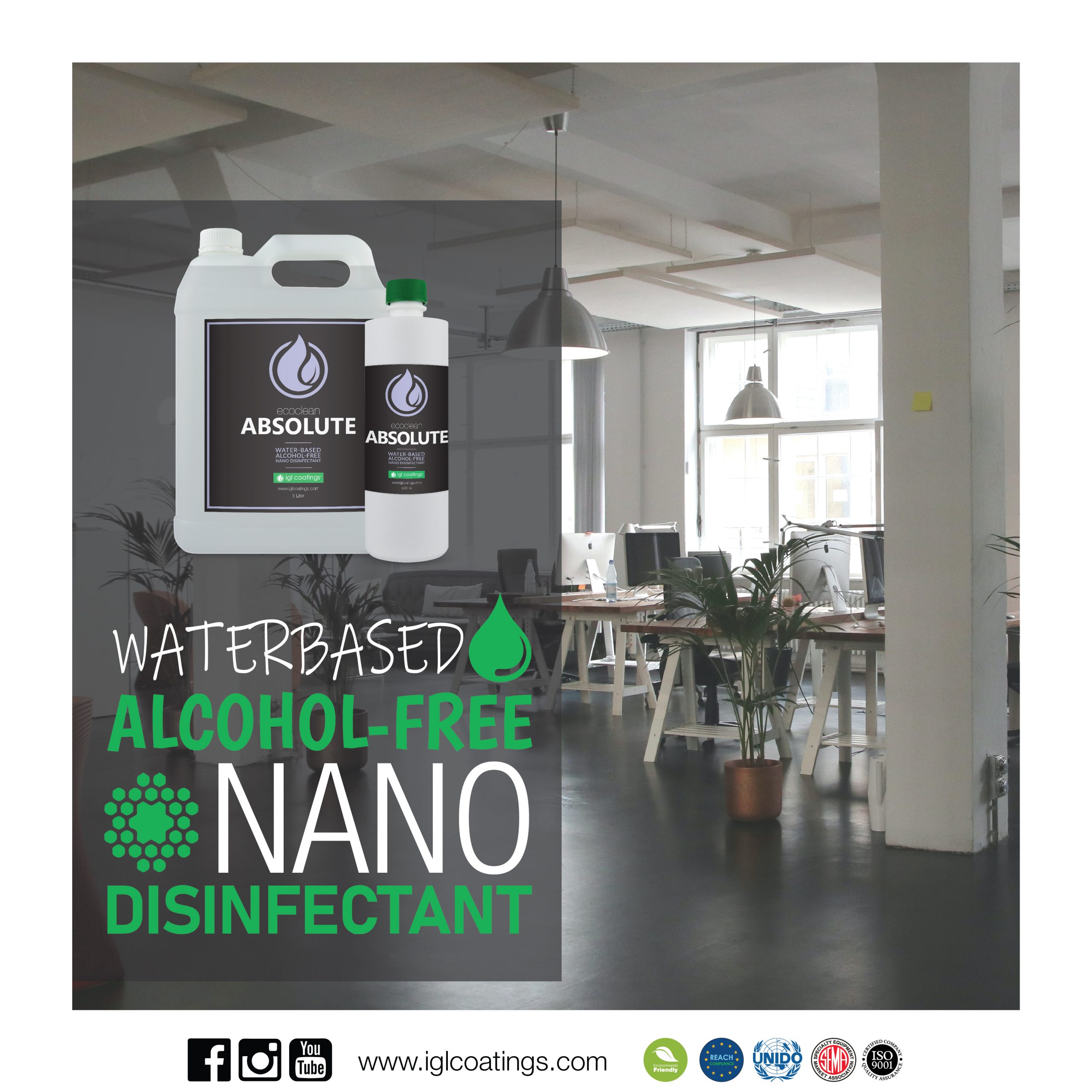 About Ecoclean Absolute
Ecoclean Absolute is a water-based, alcohol-free, nano disinfectant. Formulated with hydrogen peroxide and our proprietary silver ion, it creates a highly effective biocidal complex that fights bacteria, viruses, yeasts, fungi (including molds), bacterial endospores, and a broad protozoan spectrum.
Effective for surface disinfection and aerosol disinfection, it can be used with manual sprayers, misting machines, and fogging machines without leaving any toxic residues. This makes Ecoclean Absolute perfect for various settings including medical, industrial, commercial, home, and veterinary applications.
6 Benefits of Using Ecoclean Absolute
Here's why you need Ecoclean Absolute:
NANO SILVER ION: The formulation utilizes the disinfecting power of our proprietary nano silver ion
PROVEN DISINFECTANT: Hydrogen peroxide is an EPA recognized disinfectant
FAST REACTION: The solution works fast and disinfects within 1 minute
GREAT ON ALL SURFACES: The product can be applied on all surfaces
WATER-BASED: The formulation is alcohol-free, making it safe and non-flammable
HIGH CONCENTRATION: The solution can be diluted by up to 10x to suit all needs
How Ecoclean Absolute Works
Hydrogen peroxide attacks the surface of microorganisms upon contact.

Silver ion binds to sulfur bridges in the proteins of cells and 'starves' the cell by disrupting enzyme activity.
The combination of these 2 active ingredients creates a highly effective disinfectant!
How to Use Ecoclean Absolute
Ecoclean Absolute can be used in a fogging or misting machine, allowing for thorough coverage on those hard to reach places. It can also be applied manually by hand.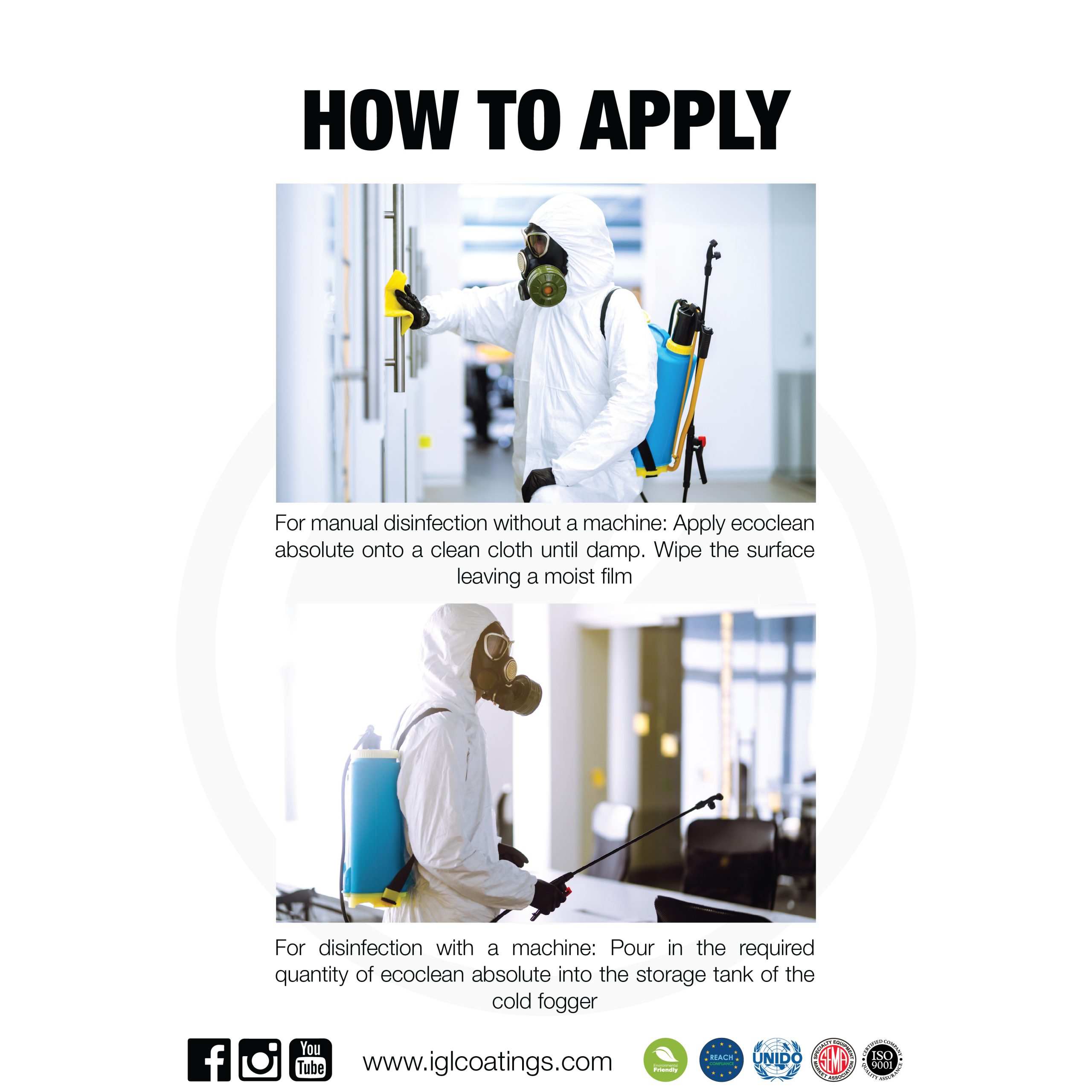 Application via Machine
Pour in the required quantity of Ecoclean Absolute into the storage tank of the misting machine. For general cleaning and for just cleaned surfaces, use approx. 5-15ml / m2.

Adjust the sprayer to produce a fine mist and spray around the room to disinfect.

Let the mist settle. It is recommended to let the mist settle for 120 minutes before re-entering the room.
Note: Please read and check the operation manuals of the machine in operation carefully before use
Manual Application with Cloth
Clean affected surfaces with Ecoclean Pure first. For tougher contaminants, use Ecoclean Interior.

Apply Ecoclean Absolute onto a clean cloth until damp.

Wipe the affected surface, leaving a moist film. For absorbent surfaces, Ecoclean Absolute can be sprayed directly.

If droplets remain, wipe off with a suitable cloth
Note: Always do a spot test first in case of any discoloration.
Where to Use Ecoclean Absolute
Ecoclean Absolute is water-based, eco-friendly, and leaves no toxic residue, and can hence be used in various settings including residential areas, offices, factories, schools, learning centers, childcare centers, elderly care centers, and other high-risk areas.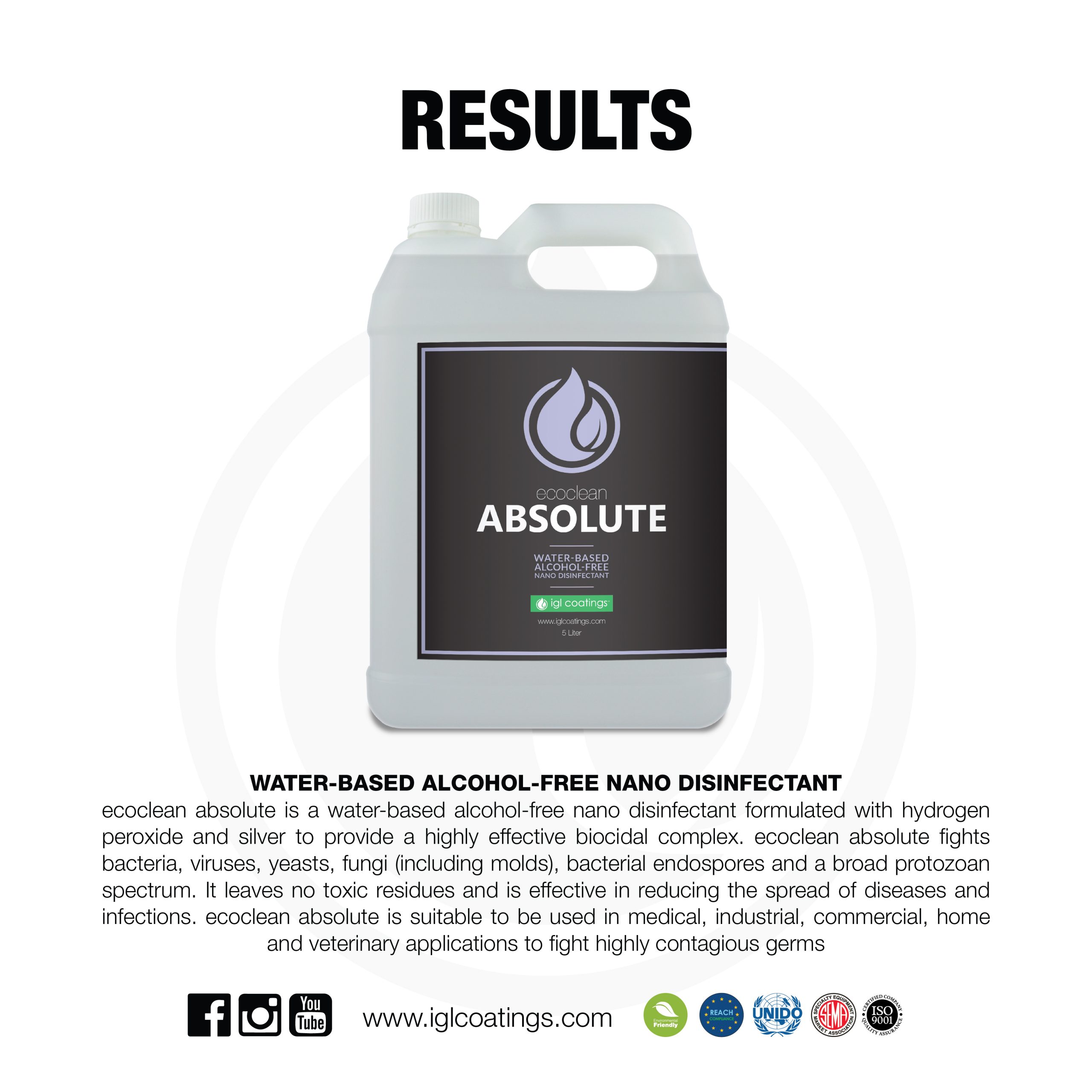 Help us win the war against COVID-19 by practicing good hygiene and sanitizing all surfaces!
To learn more about Ecoclean Absolute, message us on Facebook or Instagram or email us at sales@iglcoatings.com.
Note: This product is not available for sale in the USA & Canada.
IGL Coatings is a market leader in green nanotechnology coatings and cleaning & maintenance solutions for various industries. They pioneered low and zero VOC ceramic coatings in 2015 and have continued to provide effective, cutting edge, eco-friendly products. IGL Coatings is one of the leading brands in North America and Europe and is currently available in over 50 countries worldwide.
Visit www.iglcoatings.com or email media@iglcoatings.com for more information on IGL Coatings, its initiatives, business or career opportunities, and range of products.