Let's pave the way for IGL's first product in its latest series – Ecoclear Aegis! Engineered with its groundbreaking formula, Ecoclear Aegis is the next generation of clear anti-corrosion coating, today.
What is Ecoclear Aegis?
Ecoclear Aegis is a graphene-reinforced, silicone hybrid, resin-based 2K paint solution. Created specifically to protect against highly corrosive environments (C5). The ISO Corrosivity Classification table defines six corrosivity categories (C1 – very low, C2 – low, C3 – medium, C4 – high, C5 – very high, CX – extreme). C5 = industrial areas with high exposure to pollutants, coastal and marine settings.
Traditional anti-corrosion coatings often employ the use of thick paint pigments which often cover the entire surface to prevent permeation. Unfortunately this makes it difficult to identify and locate corrosion at an early stage. This is where Aegis shines as the clear anti-corrosion coating.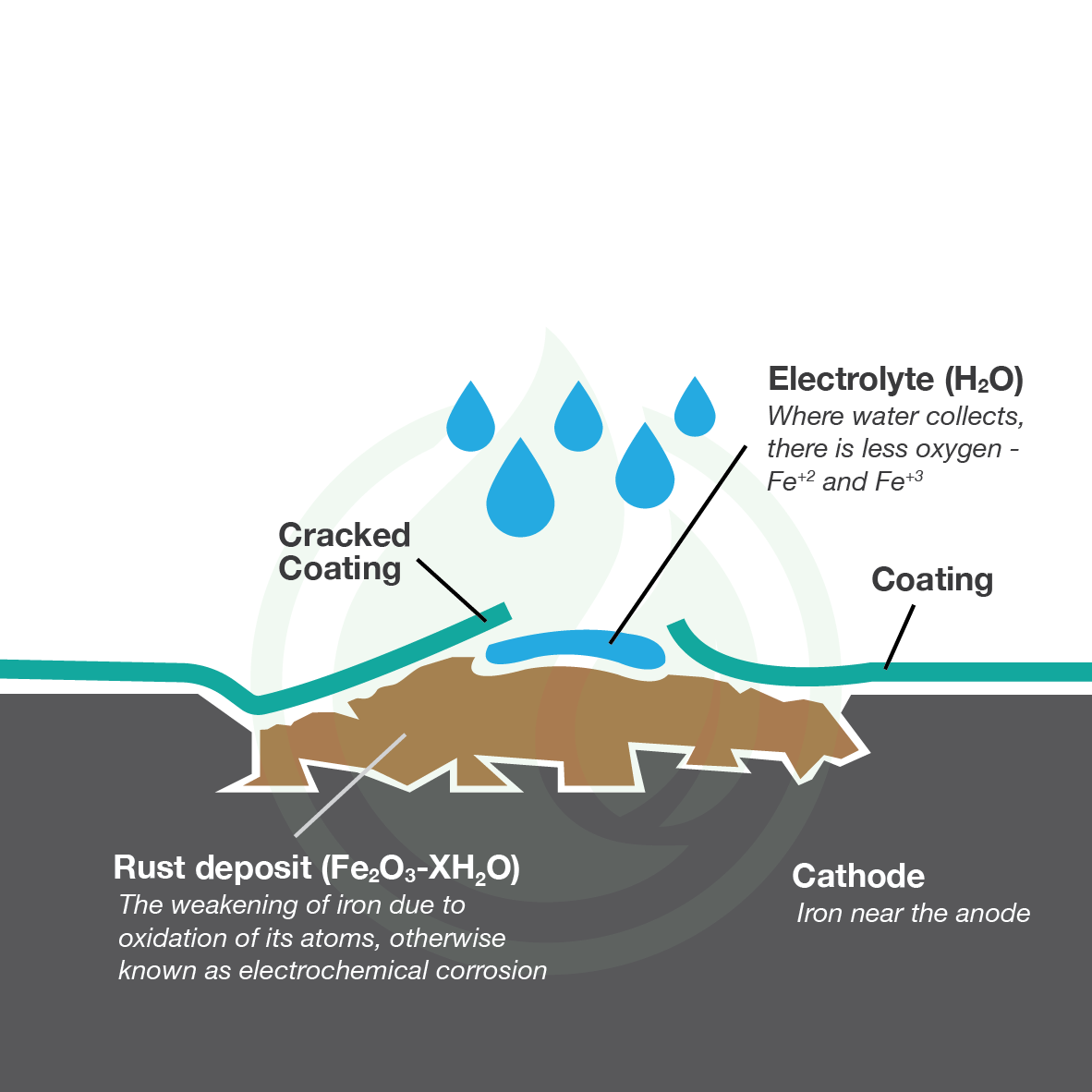 Several factors can influence the deterioration of a  protective coating system. Such as weather, permeation, stress and biological influences. These factors can work in tandem with unpredictable catastrophic results, making the choice for the right paint system crucial.
Aegis is the ultimate protection against corrosion. It's greener formula protects and delays corrosion longer than traditional solutions. Early signs of corrosion can be easily detected with the anti-corrosion clear coating. Saving time, costs and accidents with preventive measures.
Why Anti-Corrosion Clear Coating?
Aegis is unique at IGL Coatings. Where we have previously introduced Graphene Nanoplatelets in your favourite coatings like Ecocoat Kenzo and Quartz+, Aegis uses Graphene Nanotubes (GNT) instead.
GNT increases Aegis's performance significantly. It is particularly excellent as a barrier against both oxidation and chemical attacks. And GNT improves barrier properties making it harder for water molecules to pass through.
The benefits in GNT includes a lighter, stronger more durable coating. Weighing in at only 50 µm per layer, Aegis is significantly lighter while being stronger than traditional solutions.
Stronger, Greener, Lighter & More durable than traditional Anti-Corrosion Coating
Aegis was tested for various aspects in relation to its hydrophobicity, adhesion, gloss, chemical resistance and most importantly durability.
Note: Numbers as at January 2023
In a prolonged salt spray test, the control panel (uncoated) failed at 96 hours. Aegis held up strongly resisting up to 5,000 hours (as at Jan 2023) and counting! Aegis is continuously undergoing advancements and tests.
To get the latest updates and data, reach out to your IGL Rep for more details or email sales@iglcoatings.com. We'll be glad to get you started.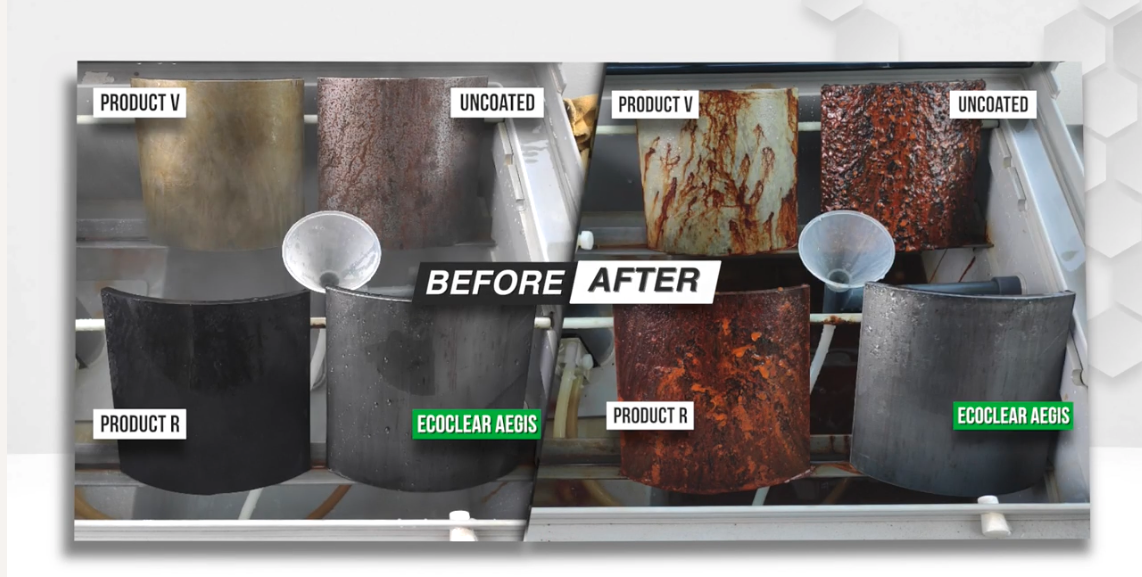 2 layers of Ecocoat Aegis was applied for this test
Comparatively, other pigmented coatings started to indicate signs of failure at 96 hours with degradation at 528 hours.
Ecoclear Aegis is the next generation in anti-corrosion coatings featuring:
Clarity – detect signs of corrosion before it becomes a problem
Lightweight – less product is used for added protection, reducing weight
Extreme Durability – tested for 5,000 hours (as at January 2023) and counting!
Easy to Apply – simple to mix and use
Self Cleaning – optimal hydrophobicity requiring less maintenance
Sustainable formula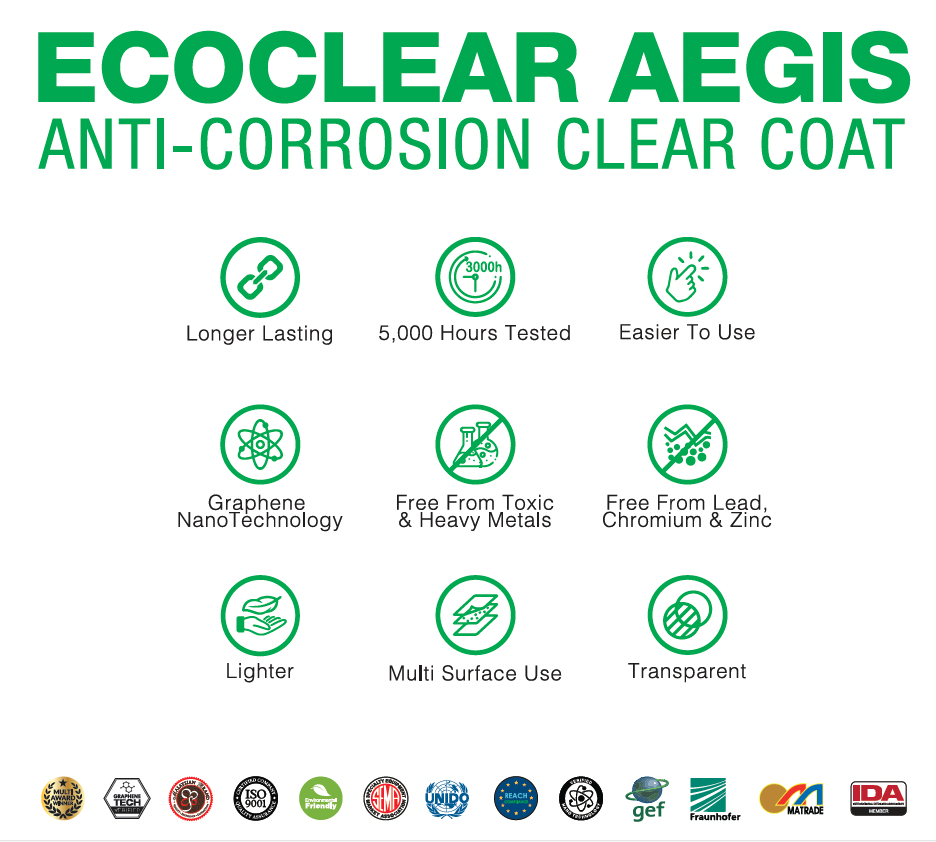 Update as at 6,000 hours 
How to apply Ecoclear Aegis?
Step 1: Preparation
Ensure the surface is free from contaminants before applying Ecoclear Aegis.
Grease should be removed with a degreaser and any present rust is to be removed chemically or mechanically.
Coat the cleaned surface immediately after cleaning to prevent contamination.
Step 2: Application
Mix AE2 into AE1 following the ratio of 8:1 (AE1 : AE2). Stir slowly to prevent bubble formation. The mixture is ready to use via brush or spray. For air spray, add 5% (by weight) of diluent to the mixture.
For the optimum result, apply the coating to the surface using correct painting technique.
Allow coating to dry completely before applying a second layer (if needed).
Air-dry the coated area after application for approximately 6 hours.
After application, clean all equipment with cleaning solvent or thinner.
Watch our application video here:
Size & Availability:
Ecoclear Aegis is available in 1kg size. For larger sizes and availability, email us at marketing@iglcoatings.com or visit our main site at www.iglcoatings.com for more information.
IGL Coatings is a market leader in green nanotechnology coatings and cleaning & maintenance solutions for various industries. IGL Coatings is one of the leading brands in North America and Europe and is currently available in over 50 countries worldwide.
Visit www.iglcoatings.com or email marketing@iglcoatings.com for more information on IGL Coatings, its initiatives, business or career opportunities, and range of products.