Education
Is Auto Detailing Your Passion? Find Out With This 5 Step Process!
23 June 2021
We're back with another piece on tips and tricks!
Time to bust out your auto detailing tools and give your vehicles a special SPA day!
We have always associated negatives with the pandemic – let's focus on the positives this time! The lockdown has helped many discover their passion, learn skills, and be thriftier! Tons of small businesses making an entrance, aspiring entrepreneurs, and budding detailers – give yourselves a hand cause you are doing an amazing job.  If you're new to detailing, this piece is going to be the PERFECT guide for you (who knows, you might just find your passion). For those of you who want to get in the auto detailing game, this piece will be a BONUS!
Auto detailing at home can be both economical and satisfying. After all, nothing beats the satisfaction of a spotless car and the contentment that comes with knowing you did it yourself! It is a great life skill! 😉 Auto detailing is a work of art and can be pretty in-depth. In this guide, we will go through the essential steps that car detailing professionals follow, accompanied by tips and tricks just for beginners. (We wish we had a vehicle makeover tv show or a Netflix series – we'll be waiting for that call 🤭)
We're going to talk about vehicle maintenance, detailing products and their types of equipment – so grab a pen and a paper (or don't, you can just save this instead) cause we're going to go STEP BY STEP. 
Look up! How's the weather like?
Before you get started, you have to ensure that you are going to be working in suitable weather conditions to detail your car. Avoid direct sunlight as it makes cleaning and detailing your vehicle more difficult, resulting in unsightly water spots and reducing the products' efficacy. Hence, it is crucial to look for a shaded area with enough working room and light, (and ventilation) such as a garage to ensure a quality car detail or determine the best time for your vehicle's SUPREME SPA DAY! 
🤓 Remember, the light source is important to ensure good inspection but be careful to not be exposed too much to prevent unnecessary mistakes.
Time for a quick check-up!
Alright! We've checked the weather, and the working space – now, it's time to evaluate the condition of your vehicle. This is necessary to determine the best way to clean and maintain your vehicle. For example,  a simple wash, a quick wax, or coating. If you're working on an older, much more loved vehicle, you might need to give it some extra love.  Look out for specks of dust, fingerprints, grime, marks, scratches, swirls – anything that can slow down and damage your detailing work. Remember, check carefully and thoroughly. 
🤓 Be patient. It is essential to determine all those swirls, scratches, marks, and contamination to preventing marring and further damages to your surface. Remove oil and grease before beginning your work with Ecoclean Precoat! Watch the video to get the pro technique:
We're Out & About! Start with the exterior.
A thorough cleaning of the vehicle helps to remove all the dirt, road grime, and other contaminants that could lead to potential paint damage. The rule of thumb is to always start with the wheels before the other areas because the wheels are the grubbiest and demand a good pre-soak utilizing a wheel cleaner spray.  Ecoclean Iron is perfect at this stage, it helps to dissolve and easily remove any stubborn iron particles and fallout. For an overall deep-cleaning, use a high foaming exterior shampoo followed by a low/neutral pH car wash shampoo.  You can utilize our ultra-luxurious foaming exterior shampoo, Ecoclean Blizzard, as the pre-wash treatment. Formulated with gentle and sustainable ingredients, its concentrated formula allows for longer adherence to the surface. Therefore, providing maximum lubrication to gently lift dirt and impurities without damaging the paintwork and coated surfaces.
After rinsing off, the two-bucket wash begins!
Use a pH-neutral exterior shampoo and work panel-by-panel from top to bottom with different washing mitts or cloths. What do you do with tar, bird droppings, and stubborn tree sap – apply an effective tar and bug remover on the affected spots. A clingy tar remover like Ecoclean Tar works to dwell on the surface to moisten the contaminants. Then gently wipe off using a damp microfiber cloth and rinse off. Don't forget to wipe dry with a microfiber towel! Avoid working in the direct sunlight before the water dries off, eventually creating waterspots. Ecoclean Jen K.O. works to remove light waterspots and is suited for almost all surfaces including windscreens, rubber, plastics, and paint. For stubborn waterspots, Ecoclean Delete is your way to go!  It is specially formulated to soften hard minerals without damaging the ceramic coatings.
🤓 Use different high-quality microfiber towels for the wheels, paint, and windows. After use, wash them separately to avoid cross-contamination.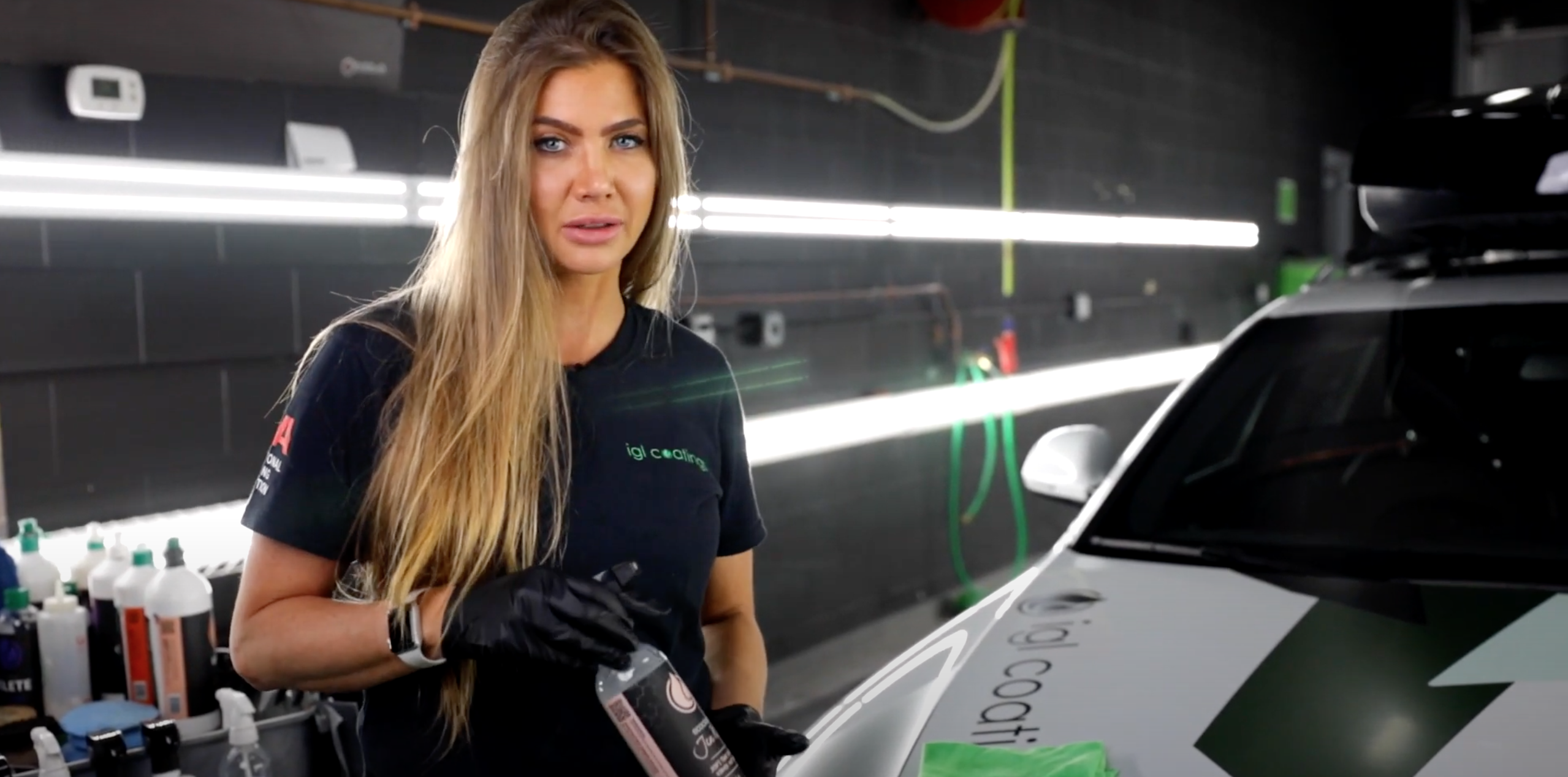 Let's Fix That Spot, Shall We?
Before applying any ceramic coating, it is important to note if the vehicle's paintwork is perfectly clean and smooth. Since ceramic coatings form a strong bond with the paint, the contamination weakens the bonds, resulting in a poor coating application. Additionally, coatings will enhance the surface's beauty, but that could also mean the enhancement of swirls, marks, and scratches (it wouldn't hide it)! That's why we recommend a proper paint correction! 

Coat It Up!
Everyone has to start somewhere. Learning how to apply a coating isn't impossible but it definitely takes some precision, skill, passion, and practice. IGL Coating's Ecocoat series are formulated to be user-friendly and easy to apply. From Ecocoat EZ, Poly, Quartz, Quartz+ to Kenzo, our coatings provide great protection, have improved gloss, hydrophobicity, and increased resistance against water spots and chemicals.  While applying a coating, remember to check the humidity and temperature. Once the coating is applied, buff off or level the coating with a microfiber cloth before applying the second layer. For more details on how to apply our award-winning coatings, watch it here :
And there you have it,  a 5 step system guaranteed to make your detailing process "smooth"- yes, pun intended! Hope this sparks interest and passion amongst you or encourages you to start your detailing business. We admire courage, dedication, and growth.
For further details and availability of our products, please speak with your country distributor or representative. Find them here. For further information, visit www.iglcoatings.com.Check us out on Facebook, Instagram, Twitter, and Youtube, or email us at marketing@iglcoatings.com for any further questions! Subscribe to our newsletter if you haven't already!