Products
Launch of Ecocoat EZ new EU Compliant product in EU
24 November 2016
Malaysia, November 2016
IGL aims to raise the standards in REACH:ECHA compliance by introducing a new formulation for the European Union market, by reducing the usage of Tin in our formulation down to Zero. The formulation will retain its ease of use application and performance quality while eliminating the need for Tin in the formulation.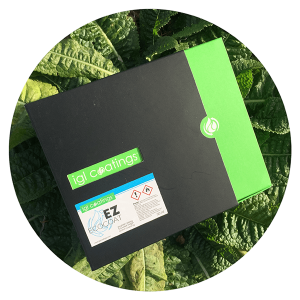 IGL, the pioneer of high solid low VOC coatings, announced the launch of the new REACH (Registration, Evaluation, Authorisation and Restriction of Chemicals) compliant coating Ecocoat EZ in European Union.
The European Chemicals Agency (ECHA) is the driving force among regulatory authorities in implementing the EU's groundbreaking chemicals legislation for the benefit of human health and the environment as well as for innovation and competitiveness. ECHA helps companies to comply with the legislation, advances the safe use of chemicals, provides information on chemicals and addresses chemicals of concern.
REACH is a regulation of the European Union, adopted to improve the protection of human health and the environment from the risks that can be posed by chemicals, while enhancing the competitiveness of the EU chemicals industry. It also promotes alternative methods for the hazard assessment of substances in order to reduce the number of tests on animals.
IGL aims to raise the standards in safe chemistry by introducing disruptive formulations that fully comply with local regulations.
CC Keong the founder of IGL stressed that the focus of IGL is to increase and strengthen the installers capabilities and product knowledge in the EU through IGL's technical and training support, after sales support and dedicated sales & consulting teams with the assistance of IGL Coatings EU's Mr. Roel Reijers.
About IGL Coatings
IGL Coatings is an innovative coating formulator and manufacturer of the easy to use, low VOC and high solids coatings that has pushed the industry to embrace these unique selling proposition. IGL Coatings is headquartered in Malaysia with presence in more than 30 countries.
IGL Coatings EU promotes and provides aftermarket support for a full range of IGL Coatings products in Europe region.