Education
Using the Power of Ecoshine finish F3, a Nano Scale Finishing Abrasive
29 March 2019
The abrasive polish and compounding systems, Ecoshine compound F1, Ecoshine Polish F2 and Ecoshine finish F3 were first introduced by IGL Coatings in 2017 (read launching here). Available in 300gms (10.58oz) and 1000gms (35.27oz) variants, the abrasive systems were an instant hit with detailers and installers.
The abrasive compounds and polishes are perfect for prep work before installing IGL Coatings ecocoat coating series, providing a powerful punch that complements the IGL Coatings range of products.
Ecoshine finish F3 is a nano abrasive based finishing formulated with high performance polishing agents. It will remove light dullness, swirls, polishing marks, holograms and find sanding marks (P4000-P5000) with ease. It creates an amazing deep gloss finish and restores the original paint brightness. Generally applied by a variable speed polisher paired with a medium-soft foam pad like IGL Coatings black finishing pad (IGL FM-B).
Similar to ecoshine compound f1, ecoshine finish f3 works by removing or smoothing out the top layers. This is done by removing or softening the top surface layers with a fine-scale abrasive to reveal a smooth, glossy and finished surface.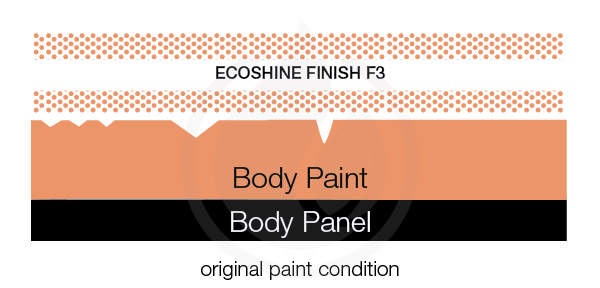 However ecoshine finish f3 is a nano abrasive finishing polish, where the "grains" of the formula are at a nano scale. By polishing the surface with a nano-fine abrasive, it will gently work between the grains in the compound and the surface, ensuring a small scratch depth which modifies the surface texture creating a finer reflective mirror surface finish.
ecoshine finish f3 is best paired with a finishing polish pad such as the IGL Coatings black finishing pad (IGL FM-B). For added benefit, always apply IGL Coatings ecocoat ceramic coating after polishing or compounding to seal in the paintwork, reduce any additional scratches and to maintain that awesome shine.
Ecoshine finish F3 is best suited as a last step or for very little or micro scratches. It's low cutting grade does little in removing scratches and swirl marks on the paint. It removes oxidation, marring, very light swirls and some minor imperfections. It is perfect restore or create a glossy shine to the paint without removing layers of paint.
It can be applied by a variable speed polisher with a medium-soft foam pad (IGL Coatings black finishing pad)
Apply a small quantity of ecoshine finish f3 on the polishing pad.
Let the polisher turn at low revolutions and spread the product on the surface via crossed movements.
Then speed up the revolutions (1000-2000 RPM).
Always be careful with the surface and prevent it from overheating. Do not allow the polisher to stay on the same surface for too long without adding products.
Repeat the application if required, or until the surface correction is completed.
Wipe away any leftover product before it dries and buff the area with a clean microfibre cloth.
Watch the full video below for more ecoshine finish f3 application tips.
Important Note: When using ecoshine finish f3, do not allow the polisher to stay on the same surface for too long without adding products.
Do you have your own experience with ecoshine finish f3 to share with us? Send your pics to marketing@iglcoatings.com today.
Professional tips to use abrasives by Danny Chong
Want more detailer tricks you can apply? Danny has shared his method in handling IGL Coatings abrasives system in a previous entry. You can find tips and videos in our article, Tips on Using Polishing Abrasives for Paint Correction. Make sure to check it out!
For more details on IGL coatings, visit our website www.iglcoatings.com or contact us at marketing@iglcoatings.com.