Education
Applying ecocoat quartz on Your Vehicle
25 February 2019
There are many components that make up ecocoat quartz. From its durability, gloss, hydrophobicity, and hardness to its self-cleaning properties. Today, we'll be talking about how to apply ecocoat quartz in 5 steps.
ecocoat quartz, the pioneer REACH compliant coating
ecocoat quartz is our pioneer REACH compliant low VOC high solid coatings which is formulated with our proprietary modified active material and carrier to be free from carcinogenic chemicals.
At IGL Coatings, the hardness of our coatings are lab tested based on the pencil scale (click here to understand more about ceramic coating hardness). ecocoat quartz was IGL Coatings' first 9H rated coating to be released under the IGL Coatings ecocoat series in 2015. It made its debut in the United States appearing in SEMA 2014 under the new product category.
Since its debut, the current ecocoat quartz which is available today has undergone various improvements in its formula, ensuring that only the best quality ingredients are used for perfection. It has also undergone some makeovers, changing its appearance, labels and now comes in a box!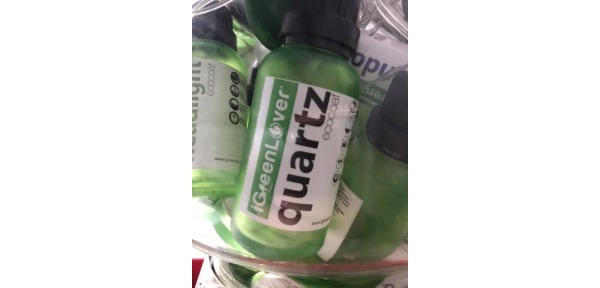 With ecocoat quartz, you can be assured to get the best result. Just follow the steps below and you're already on your way to experience the full 9H hardness quality of ecocoat quartz.
Place a few drops of ecocoat quartz on the provided application cloth in a vertical direction.
Apply the coating by wiping the application cloth lightly on the surface in a 3×3 feet area, in a vertical (up and down) then horizontal (left to right) motion.
Always ensure the areas coated are overlapping.
Wait for about 5-10 minutes (or when there is a small resistance in buffing) and then buff off with a clean dry coating removal towel.
Allow coating to cure for 2 hours (5-50°C or 41-122°F) or 1 hour (60°C or 140°F) and then apply a second layer of ecocoat quartz.
The components in ecocoat quartz enables it to have an improved durability for a longer period of hydrophobicity. The hardness of the coating, derived from its high crosslinking density, gives ecocoat quartz its superior hardness, reducing the micro-scratches and wear and tear.
About IGL Coatings
IGL Coatings is a world leader in ceramic coating technology for automotive and industrial applications. Our coatings are designed to provide long-lasting protection, improved durability, and enhanced aesthetics for a variety of surfaces.
With a focus on innovation and customer satisfaction, we are committed to delivering the highest quality products and services to our clients. Whether you're a professional detailer, car enthusiast, or industrial business, IGL Coatings has the solution to meet your needs. Experience the difference with IGL Coatings.
For more details on IGL coatings, visit our website www.iglcoatings.com or contact us at marketing@iglcoatings.com.