Announcement
Stepping Into The Silver Screens: IGL Coatings X GSC Collaboration
28 April 2021
IT'S A MOVIE-LIKE COLLABORATION!
The doors of the multiplex have opened and it is time to feel the cinematic experience once again! Time for detailing and movie fans to rejoice because we are proudly announcing a joint collaboration with Golden Screen Cinemas, a leading multiplex cinema operator & the leading cinema online Malaysia.
We know how much you've missed the cinemas – watching a movie and feeling unstoppable by the end of it. We've been there, trust us, we miss it too. Unfortunately, the pandemic has been unpredictable to every industry. Good news for movie buffs: Cinemas have opened, but that does not mean we're entirely out of the RED (‼) ZONE. Fret not, we are here to make your lives a little better and much safer.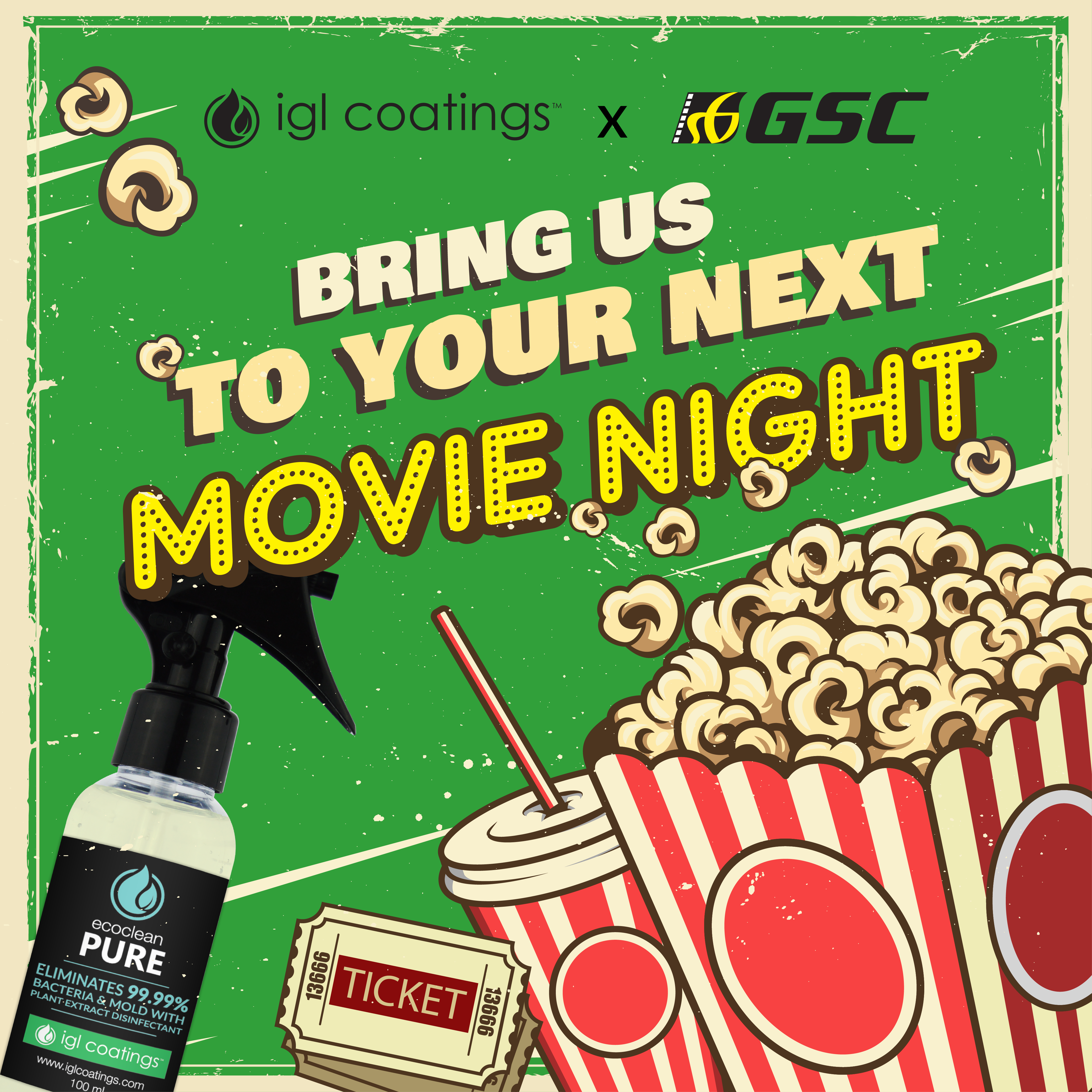 We're working with Golden Screen Cinemas in a GIVEAWAY! – get our REFRESHING scented surface sanitizer, Ecoclean Pure! In order to receive our complimentary bottle of Ecoclean Pure, follow the steps stated below!
Here are the steps to get our FREE surface sanitizer:
1. Head to GSC's Facebook page and find the giveaway post.
2. Like the post and share it on your feed/story using the hashtag: #IGLCoatings
3. Follow IGL Coatings' official Facebook Page:
IGL Coatings
4. Flash the post at the nearest GSC location* to redeem while stocks last! Starts on 30th April 2021.
*Available only in Malaysia.
*Only around Klang Valley.
Note: Ecoclean Pure is not available in North America and Canada.
Stay responsible and safe. Please protect yourselves and the people around you. Follow us on Facebook, Instagram, TikTok, and Youtube for more updates and fun things! Check your emails. Do you see an email from us? No? Well, time to subscribe to our newsletter here!