Announcement
World Earth Day Special: Having a 'Pure-ly Burger-istic' Time with Salad Atelier
25 March 2021
Tis' the season to go
green

!

We are celebrating Earth Day in the best way possible – by staying healthy and safe! Proudly announcing a joint collaboration with Salad Atelier, an expanding local franchise that solely focuses on making healthy food accessible to all Malaysians at an affordable price. Salad Atelier has a total of 14 outlets in the Klang Valley area and is showing no signs of slowing down!

We have always encouraged health and safety to our #IGLfam and what better way to do it than by delivering it with AMAZING food? How you ask?

We're working with Salad Atelier to gift our REFRESHING surface sanitizer, Ecoclean Pure for a month!* In order to receive our complimentary bottle of Ecoclean Pure, purchase Salad Atelier's special Earth Hour burger bundle named Meatless Burger Society!
What's in the bundle?
2x meatless burgers (vegan patties) – go meatless by eating more plant-based protein!
2x beverages – pick your thirst quencher!
1x side dish – anything you like!
1x Ecoclean Pure (100ml) – FREE, of course.
With every complimentary bottle of Ecoclean Pure, a SPECIAL VOUCHER will be available (by scanning the QR code provided on the bottle) for more IGL Coatings products purchases on
Lazada
at
50% OFF
Visit
SaladAtelier.com
or GrabFood to place your orders! Choose the best bundle for you!
Order your bundle on GrabFood:
Order it through their website here.
We have also decided to make this collaboration interesting! We are also hosting a GIVEAWAY contest! It involves three F's that we locals love – FOOD, FUN, and FREE! Upload your content to either Facebook or TikTok and stand a chance to win our 3x 500ml Pure Refill Pack! Each winner takes away a pack of 3!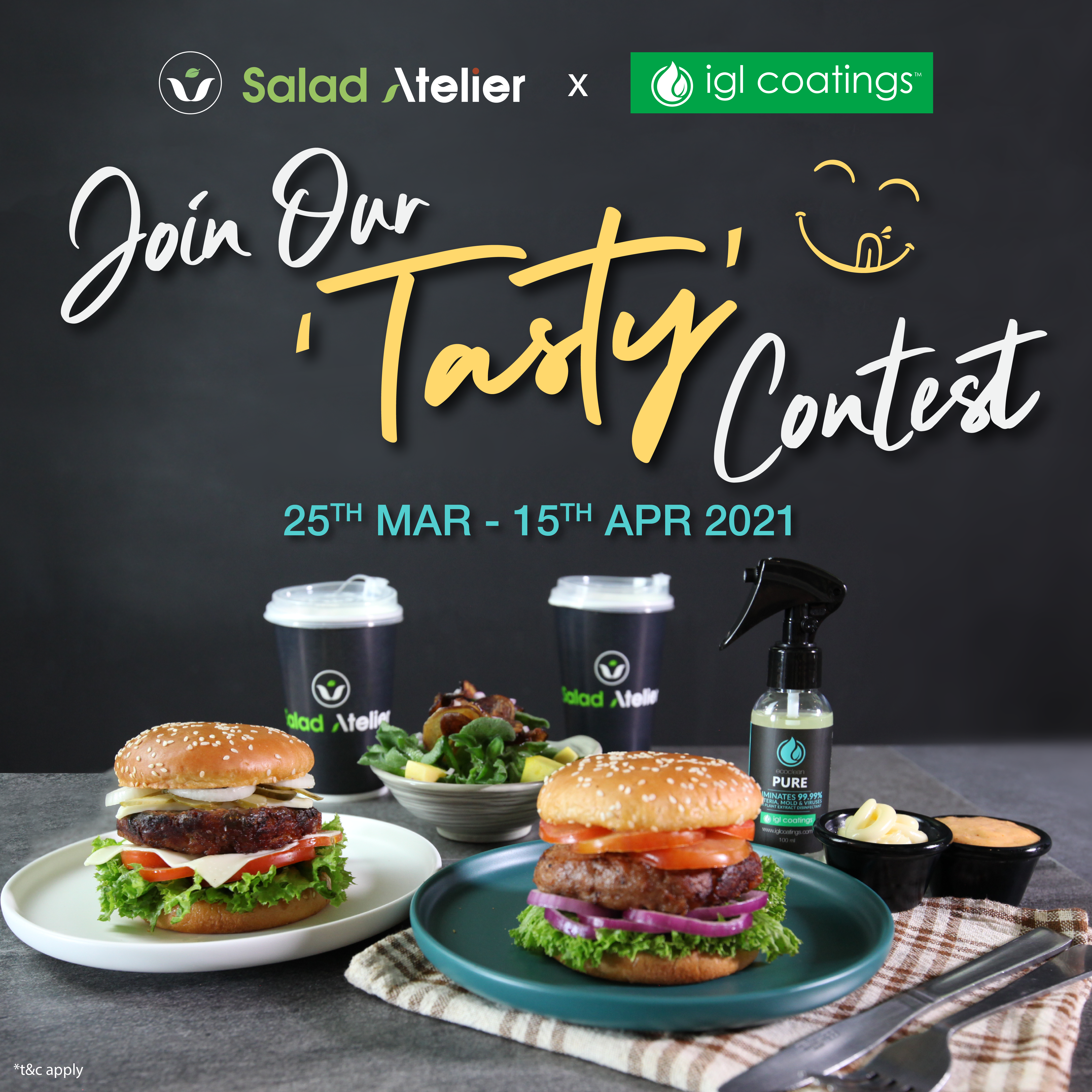 Here are the contest rules (read em' carefully!):
1. Make sure your accounts (Facebook or TikTok) are public for us to be able to see and track your contest posts.
2. Take a "tasty" picture/video of you having the meal and tag @iglcoatings and @saladatelier
3. Follow @iglcoatings and @saladatelier – make sure you do, we'll be checking! Contest post caption must include #jommakan #iglcoatingsxsaladatelier
*terms and conditions apply.
Terms and conditions:
1. Contest period starts from 25 March 2021 and ends on 15 April 2021 (midnight).
2. To be eligible, participants must complete all THREE (3) stated steps entirely.
3. Each Facebook/Tiktok account is eligible for unlimited entry.
4. The #iglcoatingsxsaladatelier Ecoclean pure giveaway contest is held only on Facebook and Tiktok.
5. Three (3) winners will be selected and determined by:
The most mouth-watering (1 winner), the most likes (1 winner), the most views (1 winner)
6. The announcement of the winners will be made via IGL Coatings' official Facebook Page posted on 20 April 2021.
7. Winners will need to send in their full name, FB/Tiktok handle, home address, email address, and mobile number via private message to IGL Coatings FB Page within THREE(3) days from the announcement.
8. In the event that the winner is unable or fails to send in their details to the Organiser within THREE (3) days from the date of the winner announcement, the organizer reserves the right to select an alternative winner.
9. Prizes will be delivered to the winner by postage.
10. Prizes are not exchangeable for cash.
11. The judges' decision shall be final.
*Available only in Malaysia.
Note: Ecoclean Pure is not available in North America and Canada.
IGL Coatings encourages staying healthy and safe especially during the current times. Please protect yourselves and the people around you. Also, eat healthily! Follow us on Facebook, Instagram, TikTok, and Youtube for more updates and fun things! Check your emails. Do you see an email from us? No? Well, time to subscribe to our newsletter here!