Plant-Based Surface Sanitizer ecoclean pure Eliminates 99.99% Viruses, Mold and Bacteria
23 March 2020
Our all-new 75% alcohol-based surface sanitizer ecoclean pure has arrived! Launched in response to the COVID-19 pandemic, ecoclean pure eliminates up to 99.99% viruses, mold & bacteria.
Plant-based and formulated with aloe and cucumber extracts, ecoclean pure is formulated with the highest grade IPA of 99.9% purity making it the perfect surface sanitizer for your home and office.
Watch video below to find out what makes ecoclean pure highly effective.
Ecoclean pure is 75% alcohol-based as per recommended by the WHO to eliminate coronaviruses.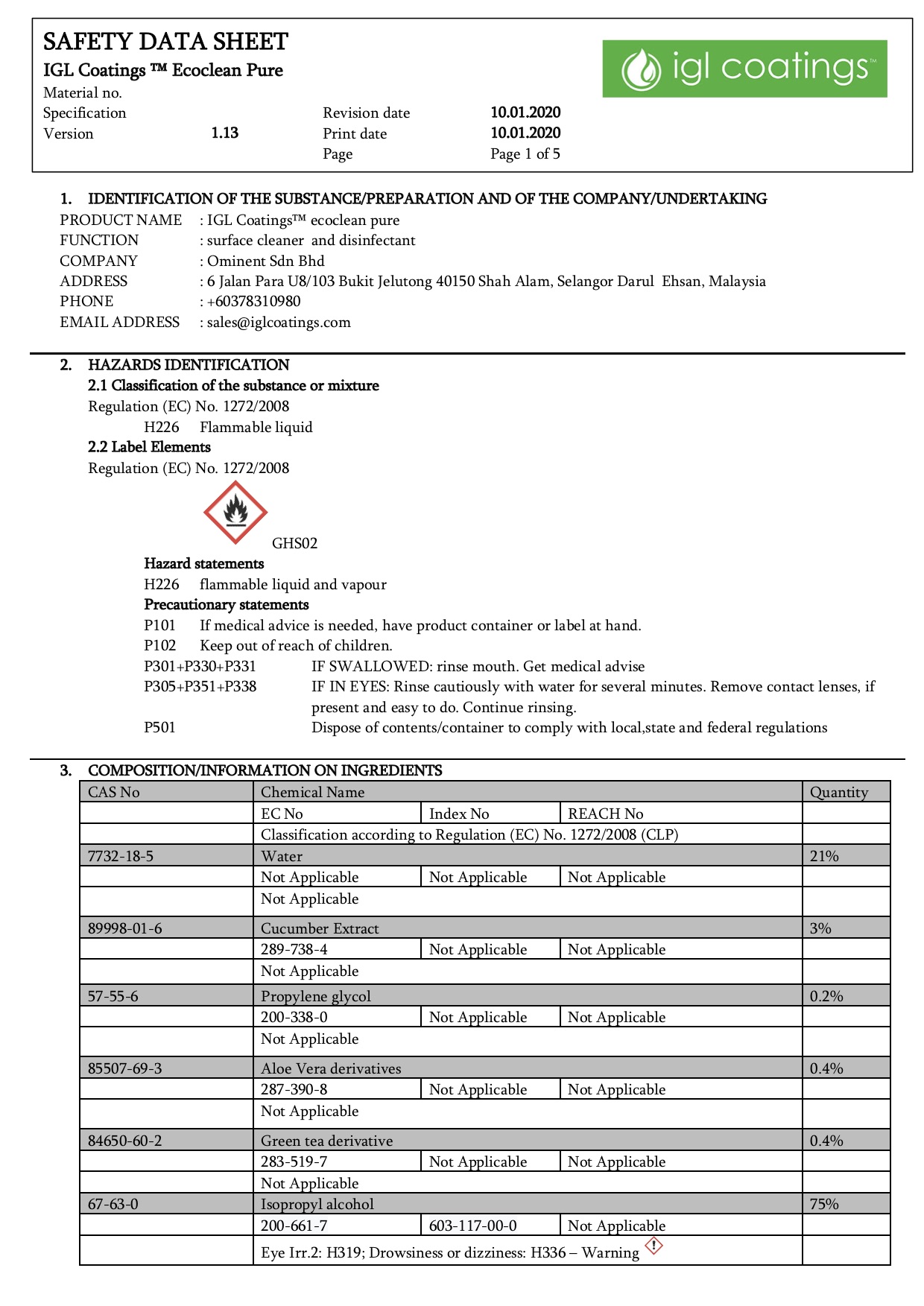 6 Reasons Why ecoclean pure is the Perfect Sanitizer
Hygiene is the name of the game and here's why ecoclean pure stands out.
1.ELIMINATES UP TO 99.99% BACTERIA, MOLD & VIRUSES – And prevents the spread of these pathogens.
2. MEDICAL-GRADE IPA PURITY – Only 99.9% IPA purity is used in the formulation to ensure maximum efficacy.
3. NO CARCINOGENS – Many sanitizers rely on harmful carcinogens (cancer-causing) to eliminate germs. Our formula is safer and kinder to your health and the environment.
4. NATURAL CUCUMBER GREEN TEA & ALOE EXTRACTS – Natural disinfectants that have been used for generations to safely and naturally eliminate germs. Plus it gives ecoclean pure a fresh and clean smell.
5. MULTISURFACE – Works on most non-porous surfaces.
6. NON-STICKY & RINSE-FREE – A spray and a wipe eliminates bacteria, mold & virus within 30 seconds.
How to Use
ecoclean pure works in 2 easy steps:
Step 1: Spray onto non-porous surface.
Step 2: Wipe off with a clean microfiber towel.

How Does ecoclean pure Work?
ecoclean pure works by trapping organisms within its solution, and drying out the cells by evaporation. The aloe extract and green tea also helps disinfect with its antimicrobial properties.
Note: All surfaces must be wiped off after using ecoclean pure to ensure proper disinfection & disposal.
Where Can ecoclean pure be Used?
ecoclean pure is meant to be applied on non-porous surfaces such as countertops, tables, chairs, door knobs, toilets, basins, handles, and any surface that requires disinfecting.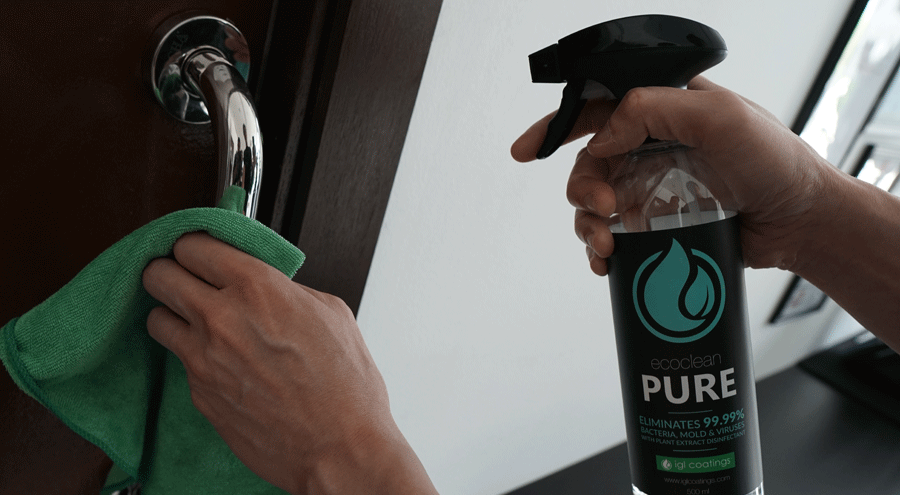 Note: ecoclean pure is NOT a hand sanitizer and although it's safe for the skin, it is very drying.
How Much is Required?
Only spray enough to cover the surface area to be disinfected. As ecoclean pure works within 30 seconds, it will naturally dry off and eliminate the bacteria, mold or virus.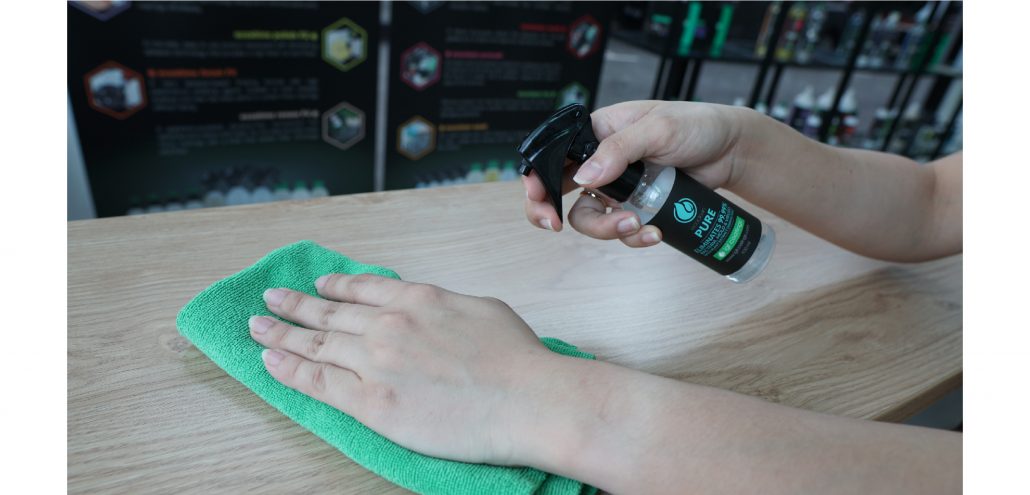 And Just For The Record…
ecoclean pure was put to the test against 5 common pathogens. Check the 99.99% kill rate 😎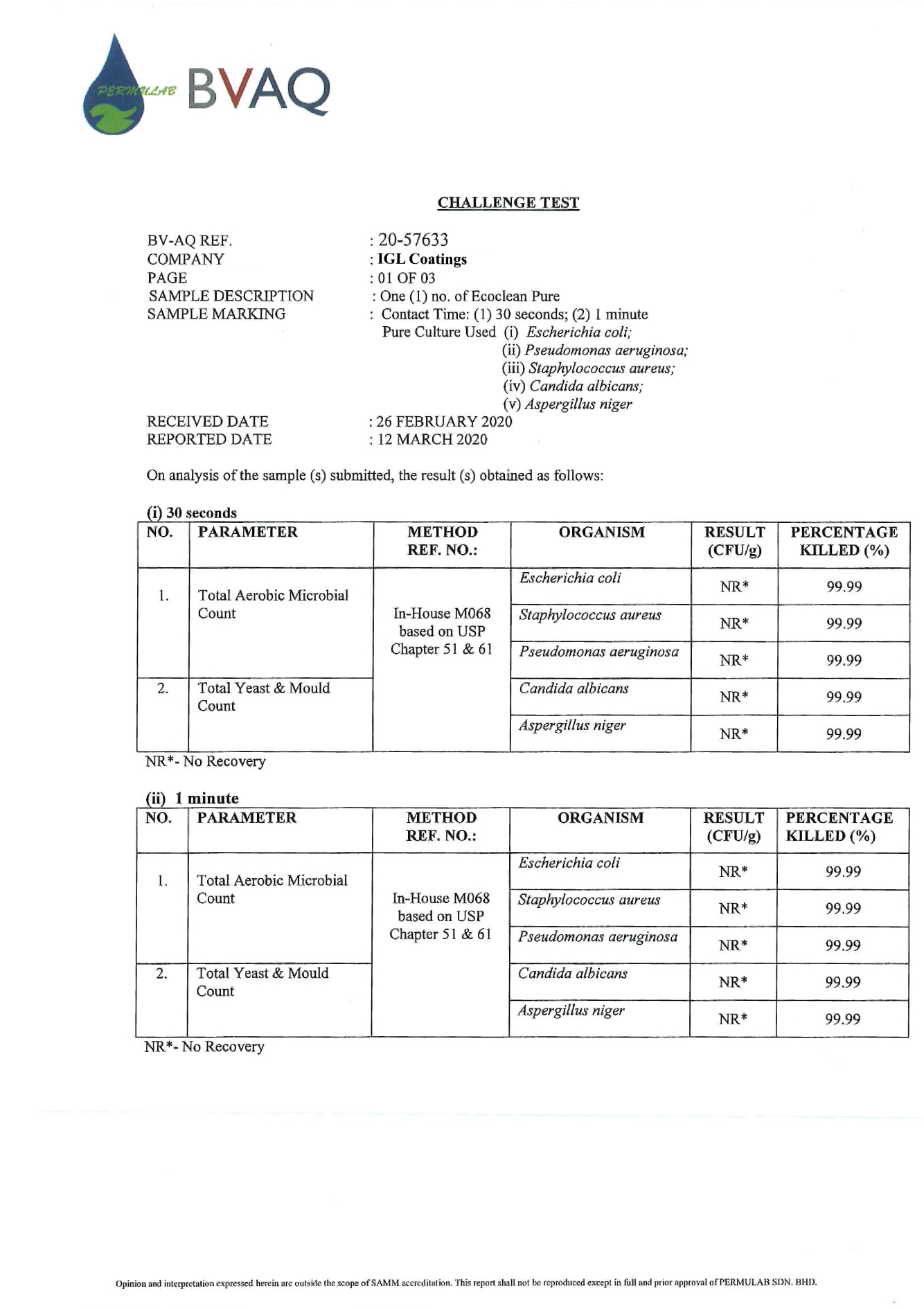 The Race to Create a Safe, Effective Surface Sanitizer
The safety and well-being of our customers have always been our top priority. Ever since COVID-19 appeared, our R&D and production teams have been working tirelessly to create a surface sanitizer that is safe-to-use, effective, and free from harmful chemicals.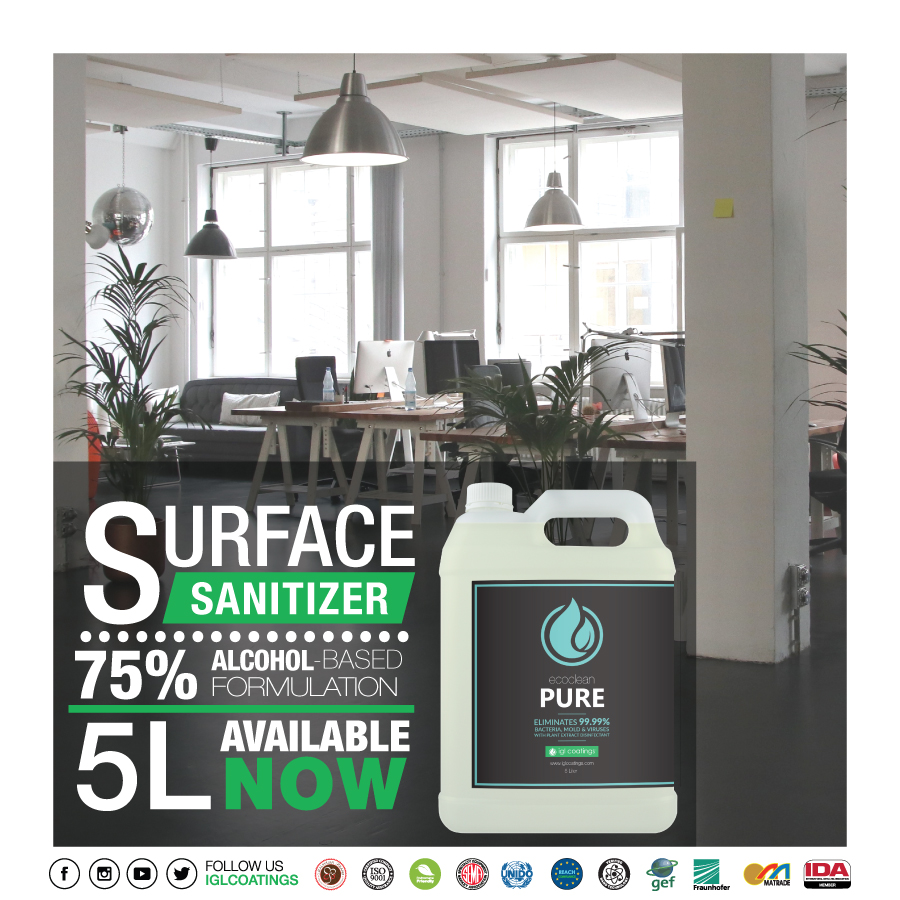 Only the best possible ingredients were used to create ecoclean pure. We used the highest medical-grade purity of 99.9% IPA, included natural plant extracts for added efficacy, and left out all the harmful carcinogens. This made for a product that is non-sticky and rinse-free, safe-to-use, and one that has minimal contaminants when disinfecting surfaces.
Help us win the war against COVID-19 by practicing good hygiene and sanitizing all surfaces!
To learn more about ecoclean pure, message us on Facebook or Instagram or email us at sales@iglcoatings.com.
If you're in Malaysia, you can purchase the 75% alcohol content sanitizer on Lazada or Shopee.
References:
https://www.journalofhospitalinfection.com/article/S0195-6701(20)30046-3/fulltext
Note: This product is currently not available in the USA & Canada