Products
The Brand New IGL Coatings Detailer Bag for Detailers on the Go
31 October 2019
After months of planning, designing and refining, we're happy to announce that the detailers bag have now been launched! Specially designed to hold multiple products of varied sizes, detailers on the go can now comfortably travel with your detailing arsenals.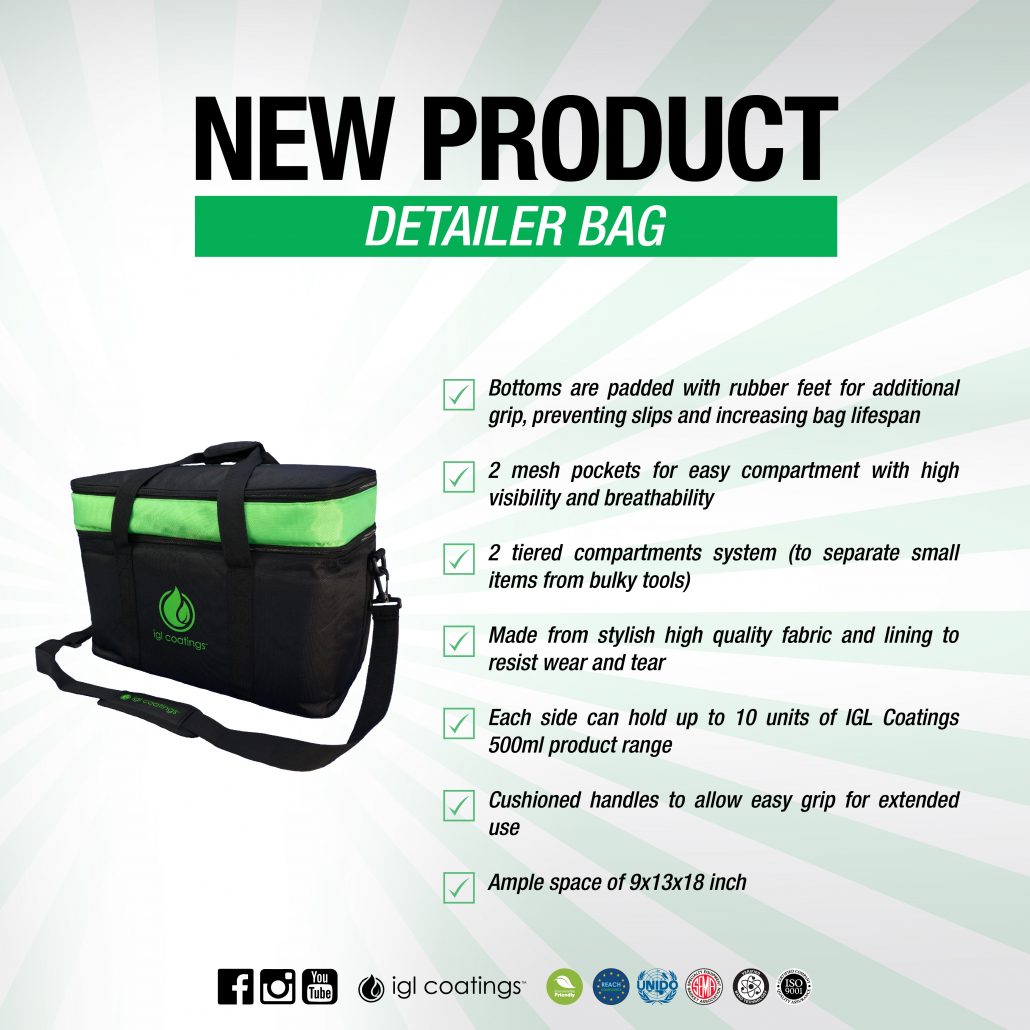 The spacious 9″x13″x18″ detailer bag has two tiered compartment systems to help separate smaller items from bulky tools with plenty of space for pads, products and accessories to fit along inside. The top fits multiple IGL Coatings ecocoat series boxes while the bottom secures 10 IGL Coatings 500ml products safely during transportation.
The detailing bag boasts ample space to fit products, tools and accessories. Designed with the detailer in mind, the mesh pockets are included for high visibility and breathability. The bag is easy carry along, equipped with handles on each side and also a strap to sling over your shoulder.
Made from high quality fabric and lining, the detailer bag withstands up to 20kg of weight. Strong enough to resist wear and tear yet super stylish to carry around with you everywhere thanks to the high quality fabric. The entire bag has been well padded to protect the products while the bottom side is lined with rubber strips for additional grip.
The detailer bag has been designed with the thought for utmost efficiency and comfort for you to be the best assistant during work. Don't forget to watch the Facebook live unveiling at SEMA Show 2019 with IGL Coatings founder, Keong Chun Chieh.
To know more about it, reach out to your country distributors or representatives to know more about the usage. Inquiries about the latest products can also be directed to IGL Coatings Facebook & Instagram pages as well as marketing@iglcoatings.com.