Products
ecocoat shield, Newly Launched Graphene Infused Ceramic Coating for PPF, Vinyl & Flexible Plastics
30 October 2019
ecocoat shield is a REACH compliant low VOC, non etching silica coating. It is a nanotechnology based coating designed to crosslink, impregnate and form a protective breathable barrier on the surface of polyurethane, vinyl, wraps, self healing paint protection films, and other flexible thermoplastics. It helps protects the film against yellowing, fading, etching and staining without affecting the self healing properties. The surface has improved hydrophobics and makes it much easier to maintain the film, especially on matte surfaces.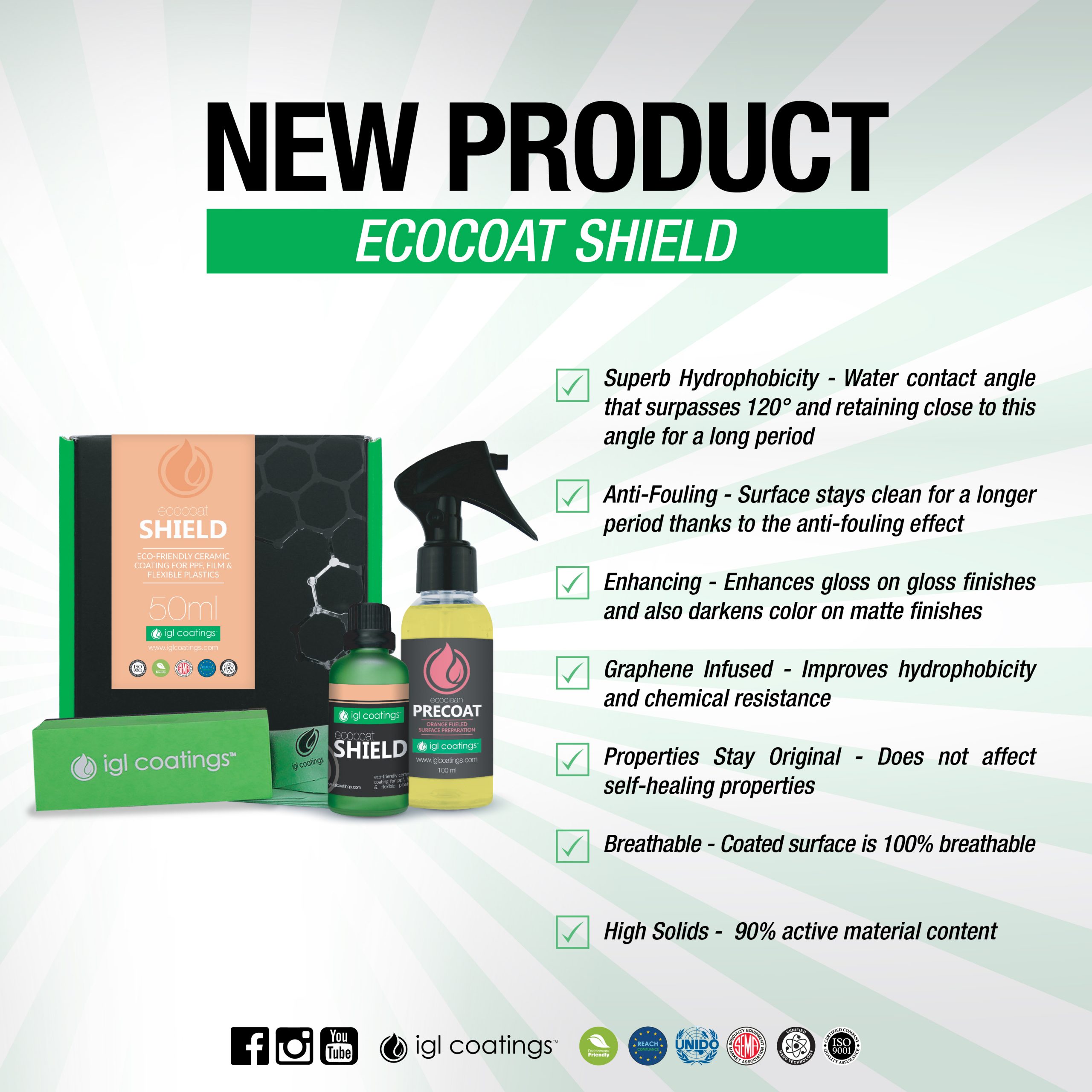 How Does ecocoat shield Work to Protect the Surface
ecocoat shield is designed to crosslink and form a protective barrier by impregnating the porous surface of polyurethane, vinyl, wraps, self healing Paint Protection Films (PPF) and other thermoplastics. Once applied and cured, ecocoat shield adds an extra protection layer to the surface with multiple benefits such as UV protection and improved hydrophobics while still allowing the surface to breathe.
What Can ecocoat shield be Applied On
Specially developed for protection of flexible plastics, ecocoat shield can be applied on most finishings made of polyurethane, vinyl, wraps, self healing paint protection films, and other flexible thermoplastics.
Reasons to Try Out ecocoat shield ASAP
Once applied, ecocoat shield increases the UV resistance of the intended surface. It works on paint protection films, wraps, and vinyl but it does not affect any self-healing properties, so you can rest assured about that. You will also experience improved hydrophobic and self cleaning properties, making maintenance on vinyl and PPF finishes a breeze. And while ecocoat shield enhances gloss on gloss finish types, it deepens the dark color on matte finishing.
How Much ecocoat shield Do You Require Per Application
The consumption of ecocoat shield will depend on your application method. However, an approximation of 1-5 ml/m2 is sufficient for most applications.
So plan wisely as you quote and coat your next PPF, wraps or vinyls.
How to Use ecocoat shield for PPF, Wraps & Vinyls Protection
Are you excited yet to try ecocoat shield on those newly applied PPF, wraps & vinyls? If you're familiar with the application of IGL Coatings ecocoat product, using ecocoat shield should be a breeze for you.
Before any ceramic coating application, always ensure that the environment is stable in temperature, preferably in the 20-26°C (68-78.8°F). And to allow ecocoat shield to bond onto the surface, the surface must be cleaned from any contaminants such as oil and dirt.
Tips: You can use ecoclean iron to remove iron fallout and ecoclean precoat to degrease.
Keeping the mixture unstirred, begin by placing a few drops of ecocoat shield onto your application cloth. Apply the product lightly onto your intended surface vertically, then horizontally, ensuring that the areas overlap. The surface can be buffed within 2 minutes or until there's a small resistance. Once done with the whole surface, leave ecocoat shield to air dry for approximately 4 hours. No contact with water allowed!
And voila! You've successfully applied ecocoat shield onto your PPF, wraps, and vinyls. As always, refer to the enclosed TDS provided in your ecocoat shield kit for a more in depth application instruction.
To know more about ecocoat shield, reach out to your country distributors or representatives to know more about the usage. Inquiries about the latest products can also be directed to IGL Coatings Facebook & Instagram pages as well as marketing@iglcoatings.com.