IGL Coatings Awarded SEMA Global Media Award with Latest Innovations At The SEMA Show 2023
2 November 2023
PRESS RELEASE
Date: 2 November 2023
Embargo : For Immediate Release
Contact: Fiona Chin
Email/ Phone: media@iglcoatings.com | +60107929888
Las Vegas, Nevada – Malaysian manufacturing-tech company IGL Coatings successfully showcase their latest 3 innovative products at the SEMA Show 2023 and emerges winner of the SEMA Global Media Award!
Great Launches and SEMA Global Media Award Winner!
Alongside with the launch of the new products, IGL Coatings showcased their new line of Marine Solutions and Industrial Solutions Series, Aegis. IGL Aegis is a unique 2k anti-corrosion graphene reinforced coating that is unlike any other system in the industry. IGL Aegis provides ultimate protection against the elements, is clear, tintable and stronger!
The Clear Winner at SEMA Show 2023 ~ IGL Aegis
Throughout the show, IGL Aegis received tremendous interest from major industry professionals in its protective abilities. Aegis also proves IGL proud by creating history as IGL's FIRST Win at SEMA!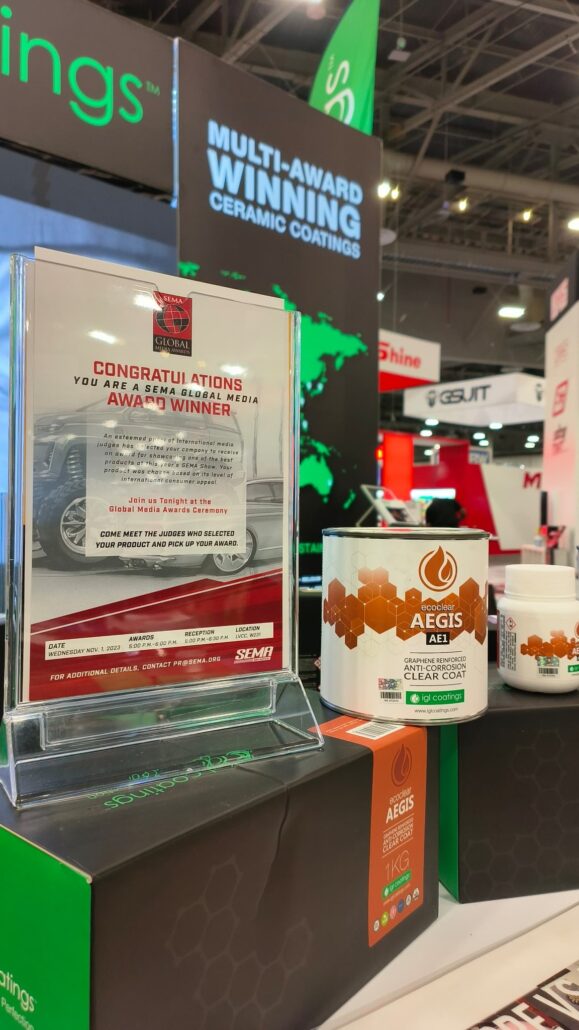 "We're floored with the response we have been receiving for IGL Aegis! Probably because many are starting to realise the tremendous potential and abilities of IGL Aegis as the best available system and solution for anti-corrosion. The SEMA Global Media Award strengthens the appeal that Aegis has an international scale," shares Keong Chun Chieh, Founder and CEO of IGL Coatings.
Aegis continues to receive attention from mega-corporations around the world looking for anti-corrosion solutions that fulfill their strict requirements.
International Recognition from the SEMA Global Media Awards
The SEMA Global Media Awards Program recognizes companies that manufacture specialty equipment products and accessories that would have mass appeal to consumers internationally. The products are voted on by a prestigious group of international journalists who serve as judges.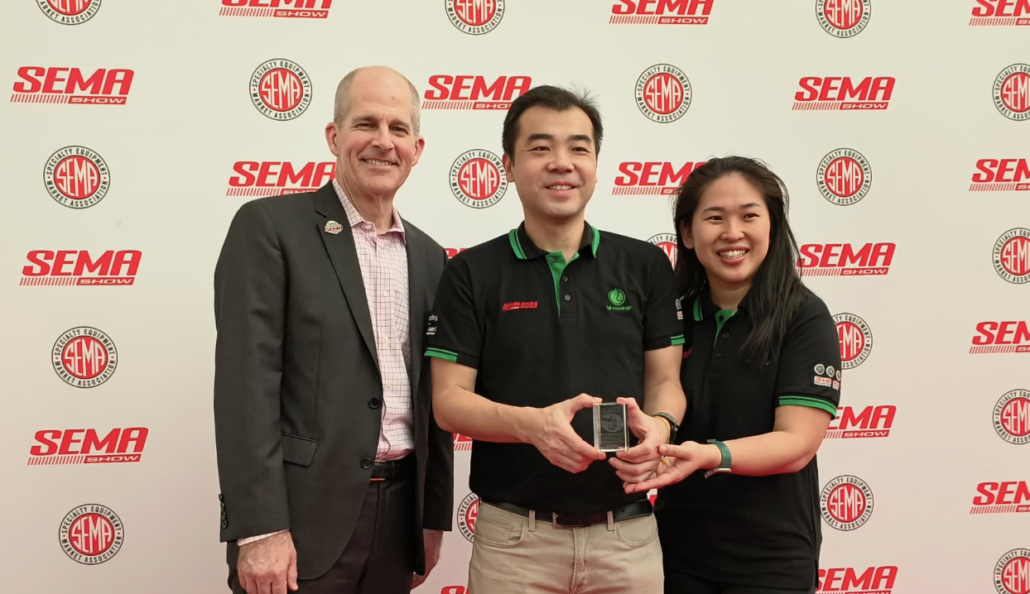 "The SEMA Global Media Awards taps top international media experts to weigh in on which new products that are likely to succeed internationally," shares Linda Spencer, SEMA Director of International and Government Relations. This year's program included about 11 judges from seven countries. Each judge carefully reviews and evaluates nearly 2,000 product entries at the SEMA Show before selecting the products that they feel would resonate and appeal most to consumers internationally.
Green Excitement at SEMA Show 2023
IGL Coatings launched Ecocoat Elixir, their 3 year, single-layer ceramic coating. Keong shared, "Elixir is our next step into our single-layer range, the first being Ecocoat EZ; launched in 2021."
Elixir caters specifically to the needs of detailers, including mobile ones who require more flexible location options, thanks to its formulation for efficiency. Keong explained, "Elixir, at stable environments, can be applied both indoors and outdoors. Many detailers have wished for this and I am glad to see it finally materialize".
The newly launched Elixir gives better flexibility in terms of locations and increased profitability for the IGL detailers.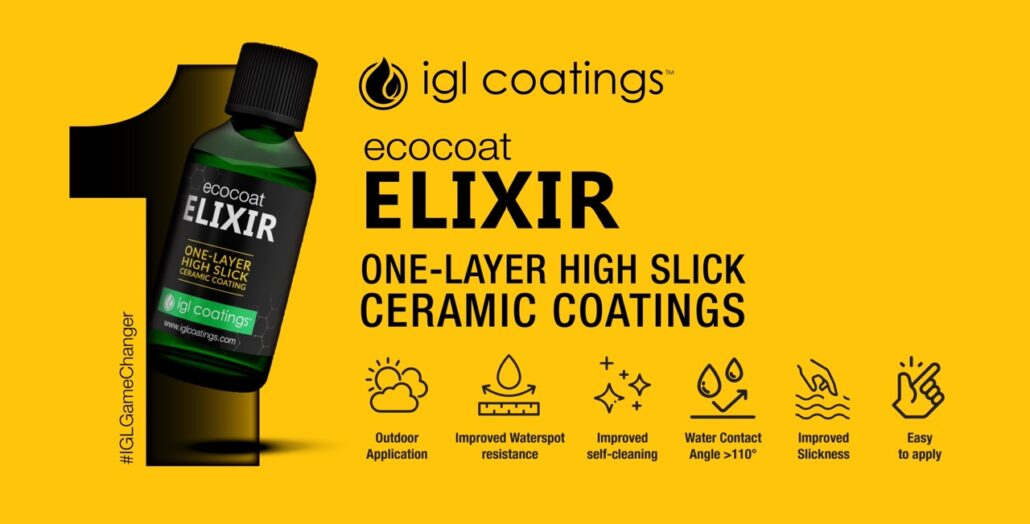 Keong further shares "Flexibility means nothing if the vehicle can't be delivered and it just sits there for 4–6 hours. That's why we pushed the formula to the limits. Imagine being able to deliver the vehicle in just 2 hours after application of coating. Now, That's Exciting."
Unlike the traditional wait of 4-8 hours, IGL Coatings has shortened that "no-wet" period to just 2 hours. Giving vehicles a shorter turn around time, without affecting the durability or effects of the ceramic coating.
With improved resistance to waterspotting, incredible hydrophobics, and simply amazing slickness, Elixir's easy to use, 3 year, 1 layer coating will be the go-to for detailers worldwide. Ecocoat Elixir is available in the 50ml (Full Kit & accessories) and 100ml (Essentials).
Introducing Ecoclean Interior Detailer
The formula design of Interior Detailer by the R&D team at IGL Coatings intends to meet the growing demands of interior detailing. Especially with the ever-growing demand in EVs (electric vehicles).
In 2022, there are almost 26 million electric vehicles on the road, representing a 60% increase from 2021. Electric vehicles are popular for their lavish interiors, extensive screens, and use of sustainable materials. Surfaces created just for that Ecoclean Interior Detailer to shine!
Ecoclean Interior Detailer is more than just a cleaner. Formulated to be gentle on screens & surfaces and tough on stains. It cleans, protects, and effortlessly eliminates light stains, all while boasting a low VOC content and a refreshing, clean scent.
From dashboards to upholstery, this quick interior detailer showcases its excellence on a multitude of surfaces, reinstating and safeguarding against daily wear!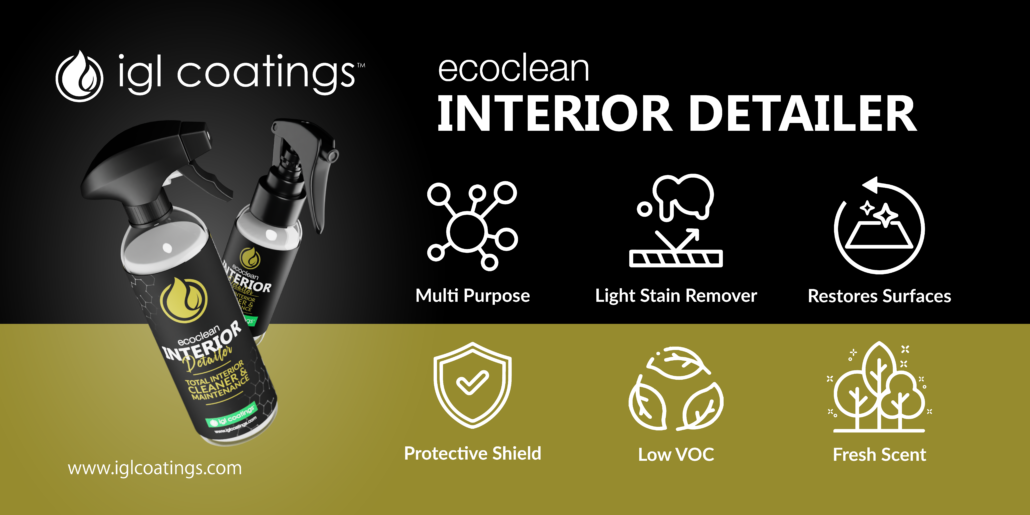 "The introduction of Interior Detailer adds on to our already extensive interior detailing range. From deep cleaning interior cleaners, dashboard restorers, UV protectants and more, Ecoclean Interior Detailer fills the gap. For an easy to use, all-in-one, gentle but efficient cleaner and surface protectant," explained Keong.
IGL Coatings remains committed to both your vehicle and the environment. The low VOC formula of Interior Detailer delivers remarkable results without harsh chemicals ~ making it safer all around!
Ecoclean Interior Detailer is available in 100ml, 500ml and 5L variants.
New & Improved Ecocoat Shield!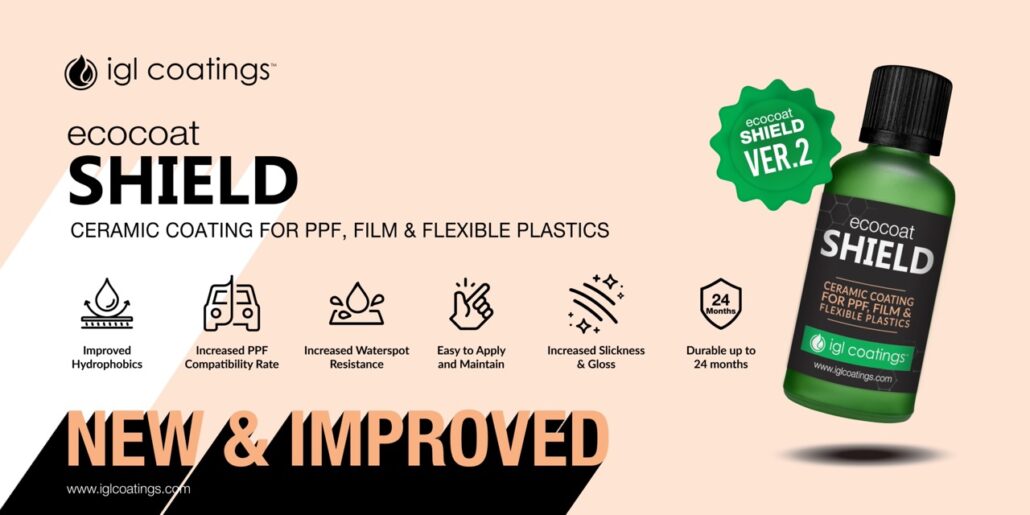 As the pioneer of nano-graphene technology, IGL Coatings introduced graphene reinforced Ecocoat Shield in 2019. Shield was their first debut of our innovative graphene technology to the industry.
Since then, through the latest in technological R&D and advancements, IGL Coatings introduced other graphene reinforced products; Ecocoat Quartz+, Ecocoat Kenzo and Ecocoat EZ.
"IGL's uniqueness comes from the ability to understand the wants and needs of their customers and produce outstanding products. From the R&D team, strict manufacturing and ISO 9001:2015 processes including real world testing. IGL is one of the most reliable ceramic coating manufacturers in the world," shares Jeff Kary, Vice President of IGL Coatings USA.
The new and improved Ecocoat Shield, maintains its graphene reinforced formula and now boasts of a stronger resistance to waterspots. Including higher compatibility with more high performing PPF's. Similarly to Ecocoat Elixir, Shield has a same "no-wet" time of 2 hours. And has a higher compatible with a wider range of professional grade PPFs and Wraps.
Shield is specially developed for PPF, flexible thermoplastics, matte & gloss PPF, PU, Vinyls, Self-healing PPF and other flexible plastics. Protecting against early degradation and UV of flexible plastics. Ecocoat Shield continues its legacy in innovation and protection.
IGL Fam, SEMA Wins and Launches!
It was great fun with all who joined the SEMA Show IGL Coatings Booth! With giveaways, highlights, features, new products, everyone was enjoying the new setup. "It's always a great big party with the IGL Fam at SEMA. And this year was the biggest ever! We've got plenty of exciting stuff coming up after this so watch out!" exclaims Joel LaPalme, President of IGL Coatings USA.
Fiona Chin, Marketing Director for IGL Coatings shared about the increased number of visitors at the SEMA Show, "we are humbled by the amount of support and love we experienced! It was great meeting IGL Fam who travelled to meet us from all over USA and the world. We're almost done for 2023 and we're already planning for 2024!"
More images from Day 1 at SEMA 2023.
About IGL Coatings
Established in 2015, IGL Coatings quickly gained traction to become one of the most trusted names in the automotive detailing industry worldwide. From Malaysia, IGL's reach and worldwide success is attributed to its commitment and dedication towards innovation, sustainability, customer satisfaction and technology.
IGL Coatings is a global market leader in the development and manufacturing of innovative surface protection solutions. With a strong commitment to research and development, IGL Coatings creates industry-leading coatings that deliver exceptional durability, enhanced aesthetics, and environmental sustainability. Trusted by professionals and enthusiasts worldwide. IGL Coatings continues its dedication in revolutionizing the automotive, marine, and industrial sectors with cutting-edge technologies and unparalleled customer support.
For more information about IGL Coatings and their range of automotive, industrial and marine products, please visit www.iglcoatings.com.