Introducing Ecocoat Elixir - The Ultimate 1-Layer Wonder by IGL Coatings!
3 November 2023
Ecocoat Elixir , The One That You've Been Waiting For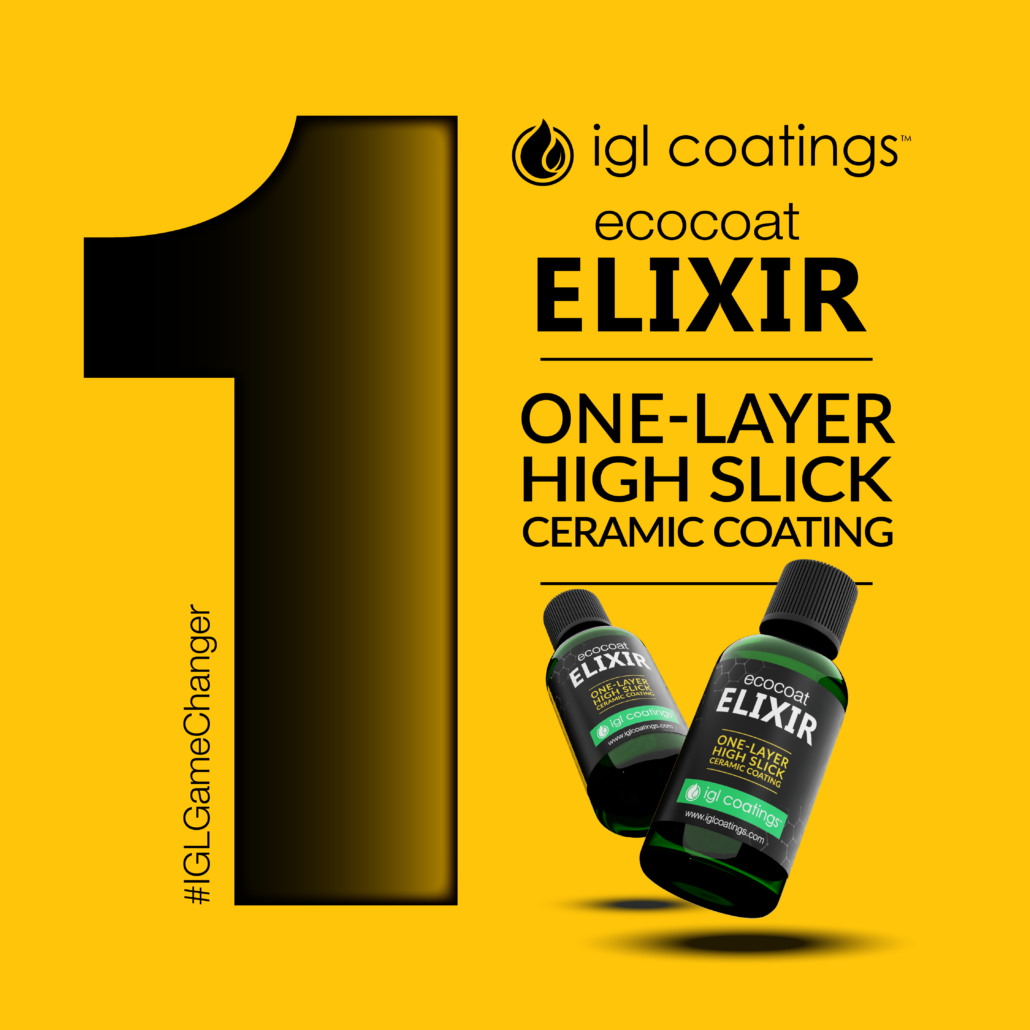 Introducing Ecocoat Elixir, the new industry benchmark in professional-grade coating. We are thrilled to introduce this single-layer, outdoor-friendly innovation that is set to redefine excellence in the automotive industry. With Ecocoat Elixir, we have pushed the boundaries of performance and technology. This versatile coating goes beyond just protecting surfaces; it adapts effortlessly to meet the ever-changing demands of your business.
One standout feature of Ecocoat Elixir is its exceptional slickness. It transforms surfaces into a super-smooth finish akin to glass, providing a luxurious look and an equally delightful tactile experience. Get ready to be amazed by the visual beauty and unmatched feel that this coating delivers.
Ecocoat Elixir offers several compelling benefits. It's unique formulation ensures a smooth and consistent application process, effectively reducing the likelihood of streaks, high spots, uneven coverage, or other imperfections. This product greatly benefits professional detailers. Allowing them to work seamlessly in both indoor and outdoor application environments, thus enhancing their efficiency.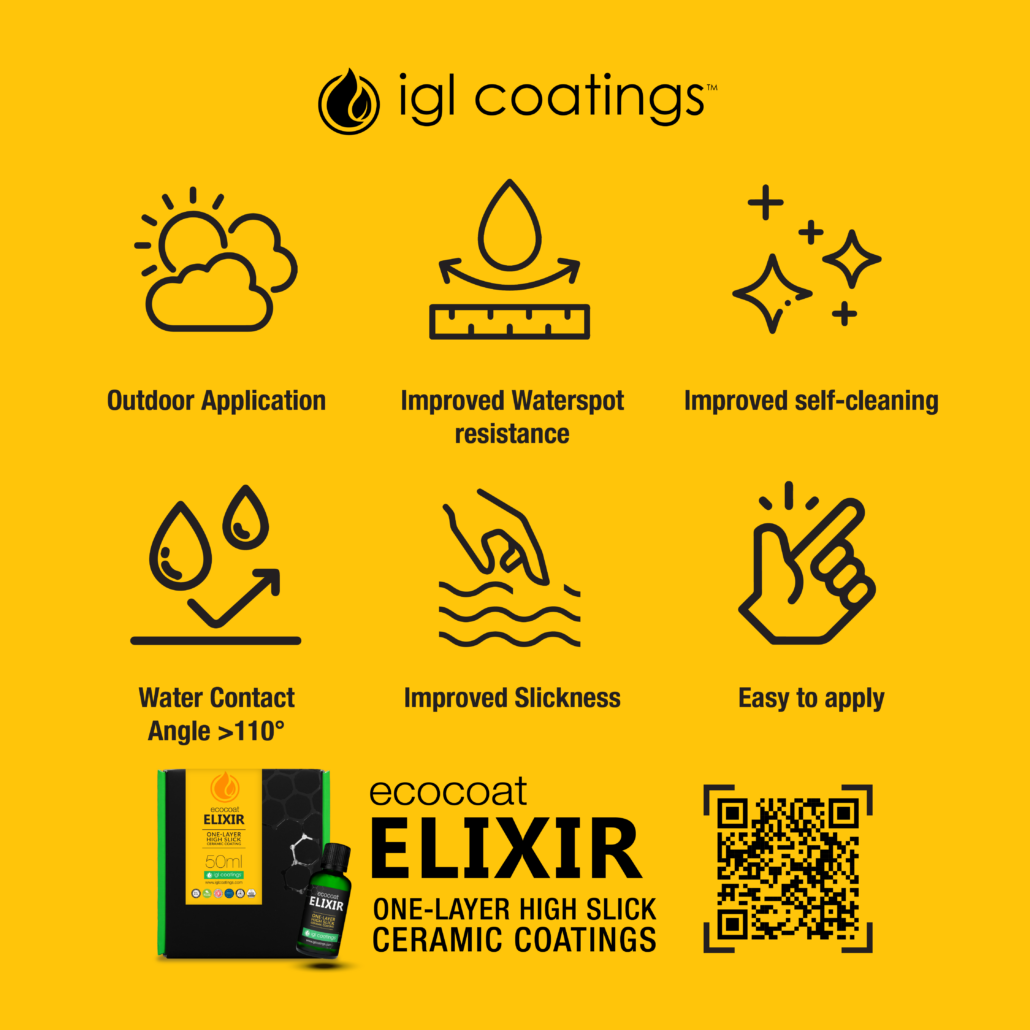 But that's not all!
Ecocoat Elixir is engineered to perform optimally; even outdoors.
This groundbreaking characteristic allows detailers like you to apply our coating in various environments, enhancing efficiency, convenience, and versatility. And here's another reason why professionals love it! Our enhanced formulation ensures contact water-safe properties within just 2 hours after application. Making it one of the fastest ceramic coatings on the market with minimal water contact time.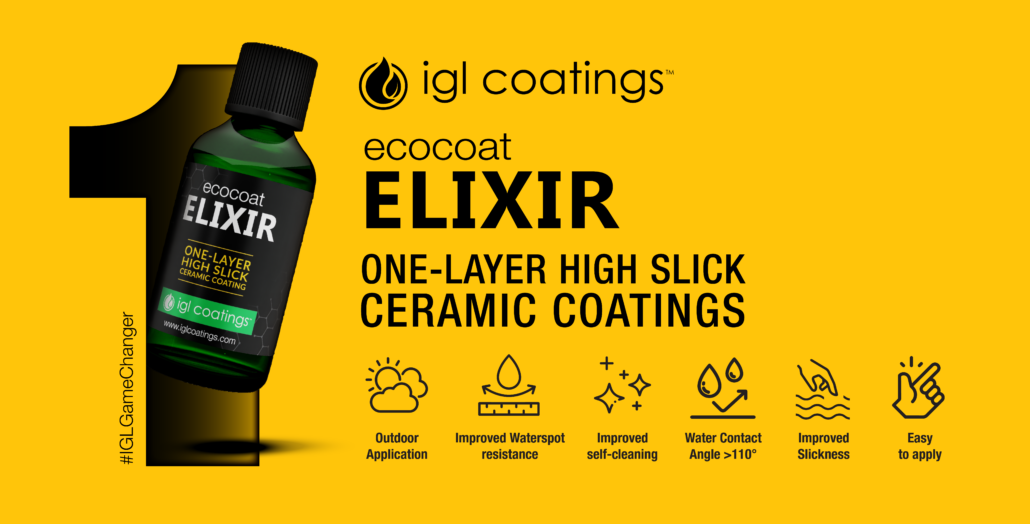 To ensure optimal results with Ecocoat Elixir, apply in stable weather conditions away from direct sunlight. Additionally, remember that for the first 2 hours after application, it is important to keep the coated surface dry. For complete details on how best to use this remarkable product consult our TDS (Technical Data Sheet).
About IGL Coatings
Established in 2015, IGL Coatings quickly gained traction to become one of the most trusted names in the automotive detailing industry worldwide. From Malaysia, IGL's reach and worldwide success can be attributed to its commitment and dedication towards innovation, sustainability, customer satisfaction and technology.
IGL Coatings is a global market leader in the development and manufacturing of innovative surface protection solutions. With a strong commitment to research and development, IGL Coatings creates industry-leading coatings that deliver exceptional durability, enhanced aesthetics, and environmental sustainability. Trusted by professionals and enthusiasts worldwide.
For more information about IGL Coatings and their range of automotive and marine products. Please visit www.iglcoatings.com or email us at marketing@iglcoatings.com