Products
Ecocoat Quartz+: Graphene Reinforced Dual System Ceramic Coating
26 January 2021
Ecococoat Quartz+, our unique 9H rated dual system ceramic coating has been upgraded! Ecocoat Quartz+ is now reinforced with graphene nanoplatelets for the ultimate layer of protection.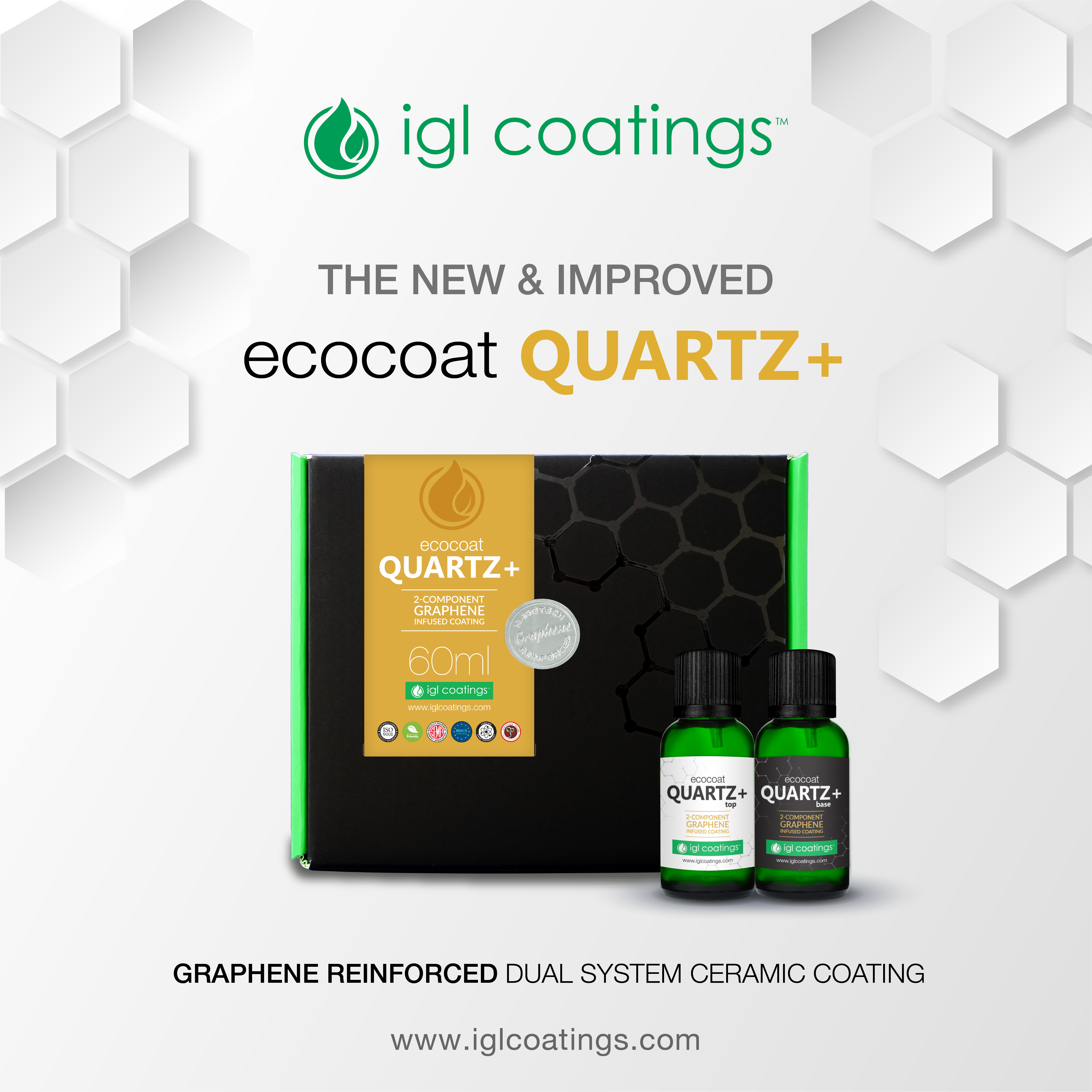 What is Graphene Reinforced Ecocoat Quartz+?
Made up of 90% active ingredients, Ecocoat Quartz+ is one of our best selling dual system ceramic coatings. Reinforced with graphene nanoplatelets, the new and improved Ecocoat Quartz+ has an enhanced durability of up to 4 years, upgraded hydrophobicity, increased water spot & chemical resistance, improved slip for efficient cleaning, superb clarity & gloss, and is fully compliant with Import Regulations.*
*approved by TSCA(USA), AICS(Australia), ECHA (EU), & KECL (South Korea)
6 features of the new and improved Ecocoat Quartz+:
Enhanced durability – increased durability rating from 3 years to up to 4 years.
Upgraded hydrophobicity – water contact angle that surpasses 110 degrees and remains at this angle for a prolonged period of time.
Water spot and chemical resistance – resistance against water spotting, acid, and alkali.
Improved slip – slip angle is reduced by approx. 20% for more efficient cleaning.
Superb Clarity – retains clarity and gloss even after the addition of graphene nanoplatelets.
Complies with import regulations – This is extremely important as it is illegal to import chemicals that are not listed in a countries' chemical inventory list. After much R&D, we were able to successfully add graphene to Quartz+ without breaking the original formula and hence still comply with import regulations.*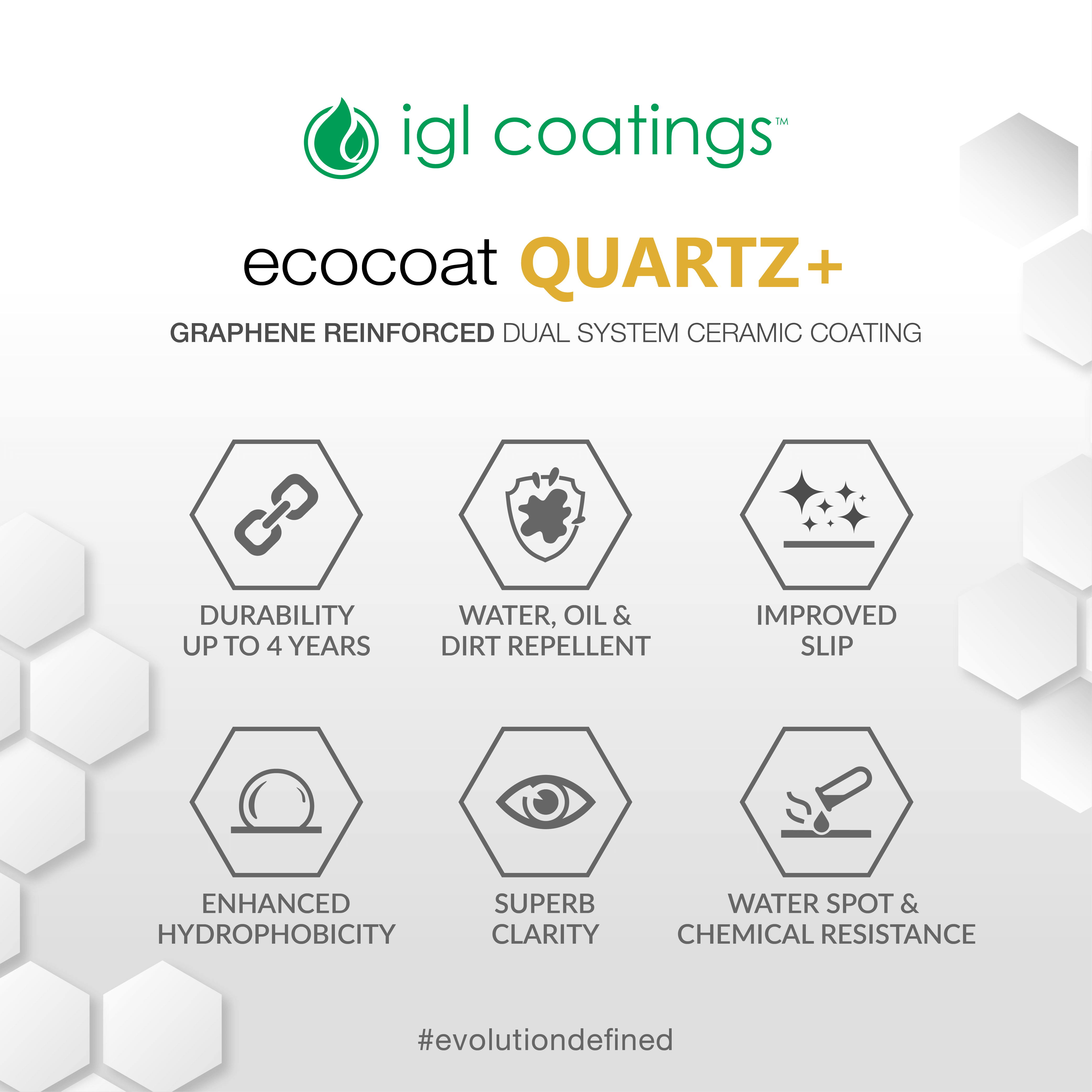 *approved by TSCA(USA), AICS(Australia), ECHA (EU), & KECL (South Korea)
Graphene Nanoplatelets & Structure
What does adding graphene do? For starters, graphene is an amazing lubricant. By adding graphene to the original formulation, the slip angle is reduced by approx. 20% which means more efficient cleaning and a smoother surface.
What's equally as important is how we added graphene. The idea to use graphene nanoplatelets was inspired by the platelets in our body. Using the same concept, graphene nanoplatelets are structured as flakes composed of multiple layers of graphene sheets stacked in a "platelet" morphology. This creates a unique shape with a high surface area of up to 700m2/g and accounts for the multiple features of the upgraded formulation.
Furthermore, our graphene nanoplatelets are produced using the Bottom-Up method. This means that we take carbon molecules and convert them to graphene nanoplatelets which gives us a very pure form of graphene with less than 5% oxygen in our graphene. Graphene produced by the more common Top-Down method will produce graphene that is not as pure resulting in reduced hydrophobic performance.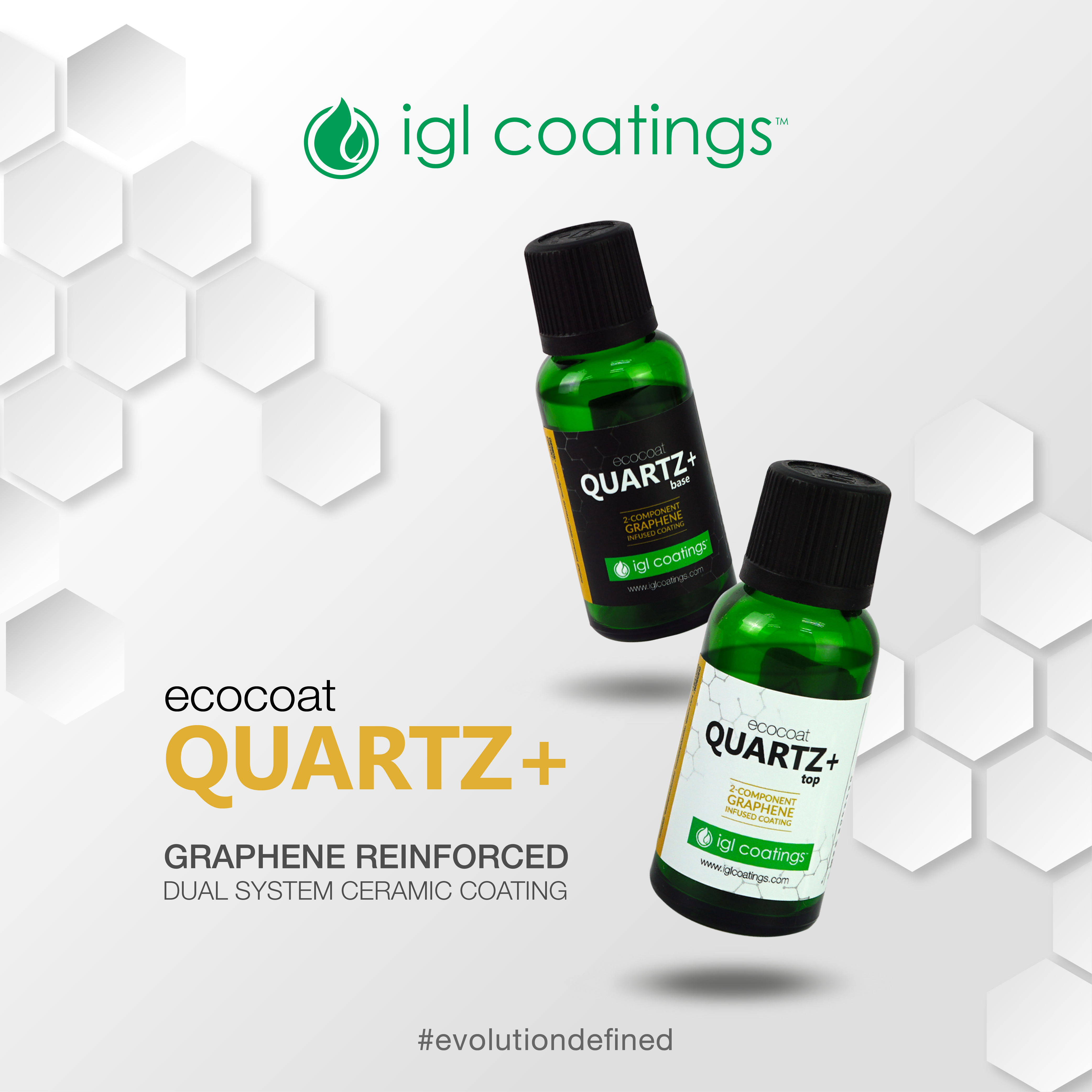 How to Apply Graphene Reinforced Ecocoat Quartz+?
Ensure the surface is clean from contaminants by prepping with Ecoclean Precoat.
Place a few drops of Quartz+ Base onto the application cloth.
Apply the product lightly onto the surface ensuring the areas overlap.
Buff off within 2-5 minutes or when there is a slight resistance.
Place a few drops of Quartz+ Top onto a new application cloth.
Repeat steps 3 and 4.
Allow it to cure completely.
For more details on how you can obtain graphene reinforced Ecocoat Quartz+ in your country, please speak with your country distributor or representative. For further information, visit www.iglcoatings.com, check us out on Facebook & Instagram, or email us at marketing@iglcoatings.com.