Products
Ecocoat Titan: Proprietary Self-Sanitizing Coating
23 December 2020
Ecocoat Titan is the latest addition to our sanitization series. A proprietary self-sanitizing coating, Ecocoat Titan employs titanium dioxide (TiO2) to protect surfaces against harmful pathogens when activated by light.
Why Ecocoat Titan?
Here are 6 features that make Titan so unique:
Deactivates Pathogens – attacks and disables harmful pathogens that come into contact with the surface
Extremely Durable – withstands cleaning and scrubbing, and is highly resistant to most household cleaners, including alcohol and peroxides
Versatile – suitable for a variety of surfaces
Protects even in the Dark – remains active for up to 24 hours*
Eliminates VOCs – Purifies the air above the surface as well
Cost-Effective – reduces maintenance costs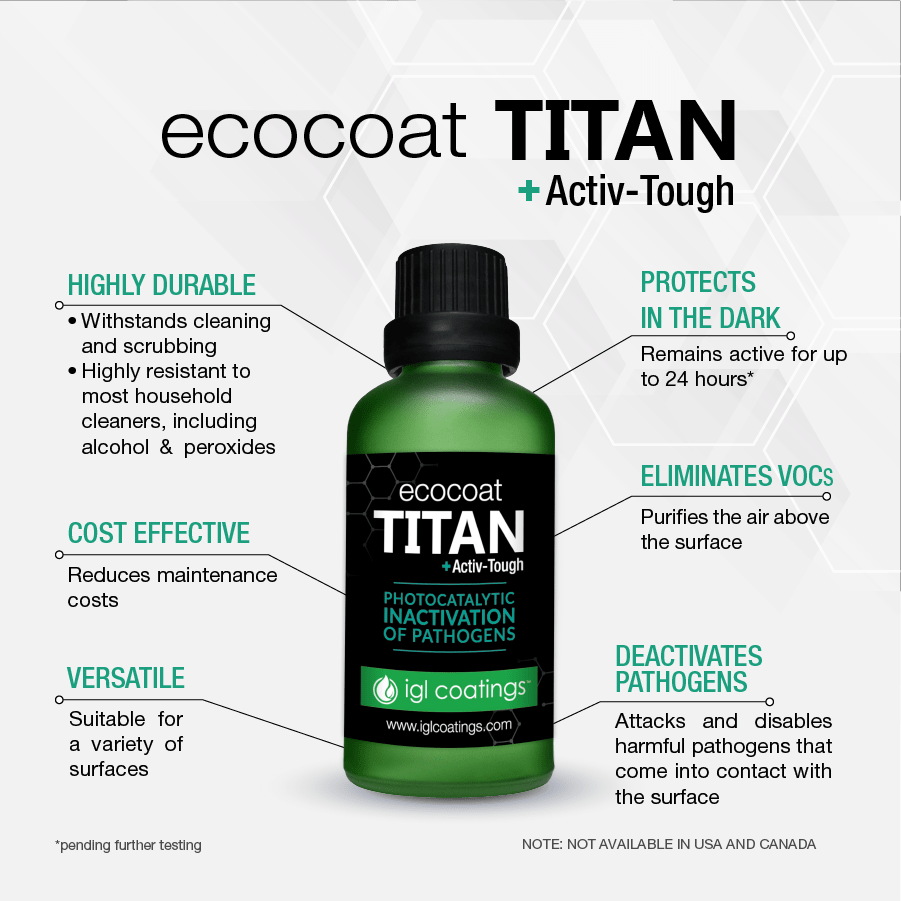 *pending further testing
What is Ecocoat Titan?
Ecocoat Titan is a photocatalytic self-sanitizing coating that effectively breaks down pathogens, nicotine, and inorganic materials when activated by light, thereby cleaning the air and surfaces.
Utilizing proprietary Activ-Tough technology, Titan is highly durable and remains active even after constant scrubbing with soap-based products or IPA, a harsh solvent commonly found in hand sanitizers. It is highly resistant to common household cleaners as well.
Check out the video below:
https://www.youtube.com/watch?v=1BaMBsaT1fY
How does Ecocoat Titan work?
When exposed to any visible light, TiO2 is activated and breaks down water vapor in the air. This reaction produces highly reactive oxygen radicals, attacking whatever is on the surface, including harmful pathogens like viruses, mold, and bacteria. The membranes of those harmful pathogens are broken down, effectively disabling and reducing the risk of spreading them. Titan is also able to eliminate foul odors and VOCs on coated surfaces.
Ecocoat Titan works just as well in the dark if exposed to sufficient visible light. The coating has the unique ability to continue protecting the surface in the absence of light for up to 24 hours*, a feature that is not found in many photocatalysts available today.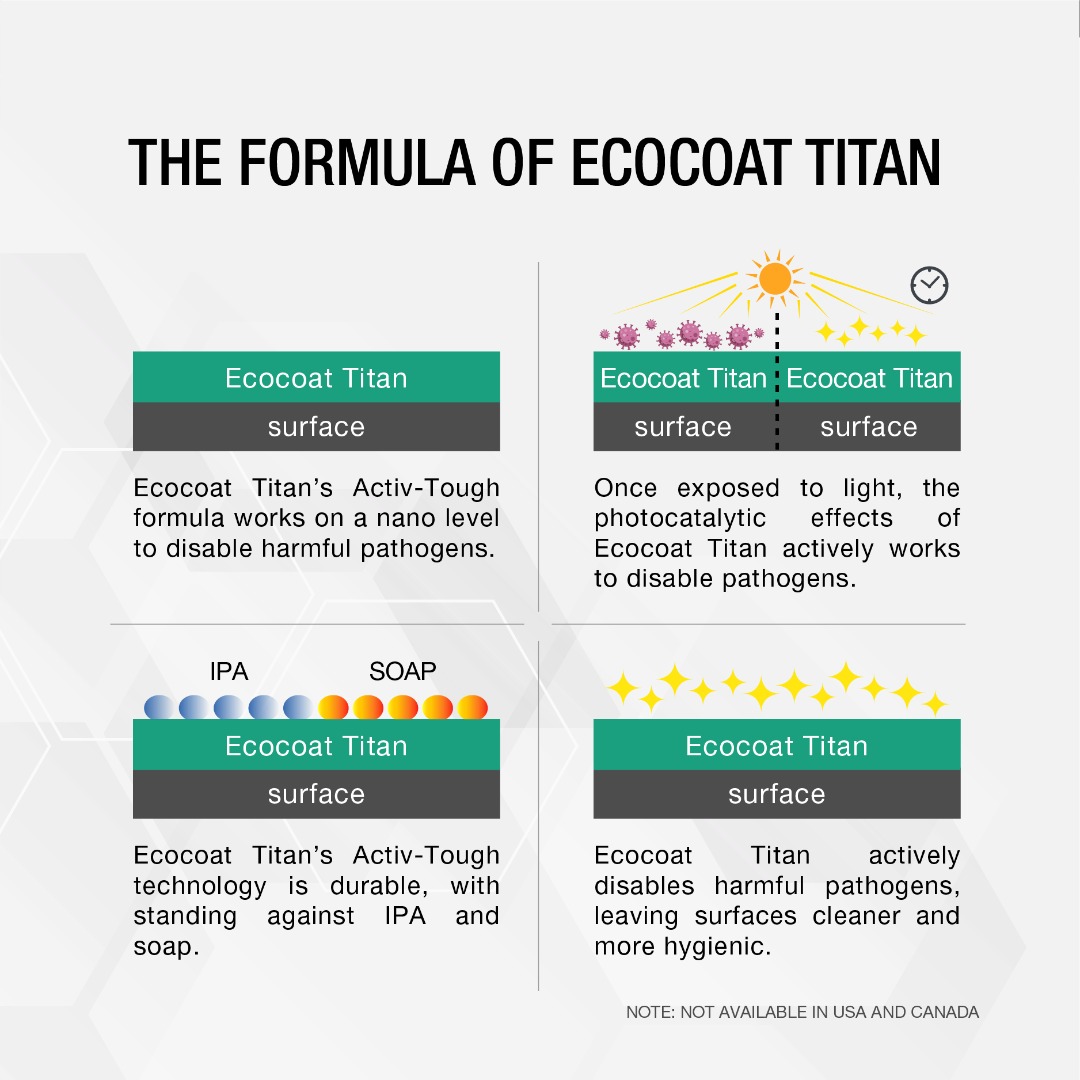 *pending further testing
How durable is Ecocoat Titan?
Ecocoat Titan is highly durable, unlike other photocatalytic coatings that are susceptible to touch and everyday wear and tear. Titan uses proprietary Activ-Tough technology, allowing the coating to remain active even after constant scrubbing with soap-based products or IPA, a harsh solvent commonly found in hand sanitizers.
Ecocoat Titan was subject to extreme soap scrub tests that involved repeated cleaning with abrasive or non-abrasive cleaning solutions. The coating remains strong after 10,000 scrubs against soap-based products like hand wash or dishwashing soaps, and 1,000 scrubs against IPA–based products like hand sanitizers with 70% alcohol content. IPA in particular is a harsh solvent that has shown to dissolve many either coatings.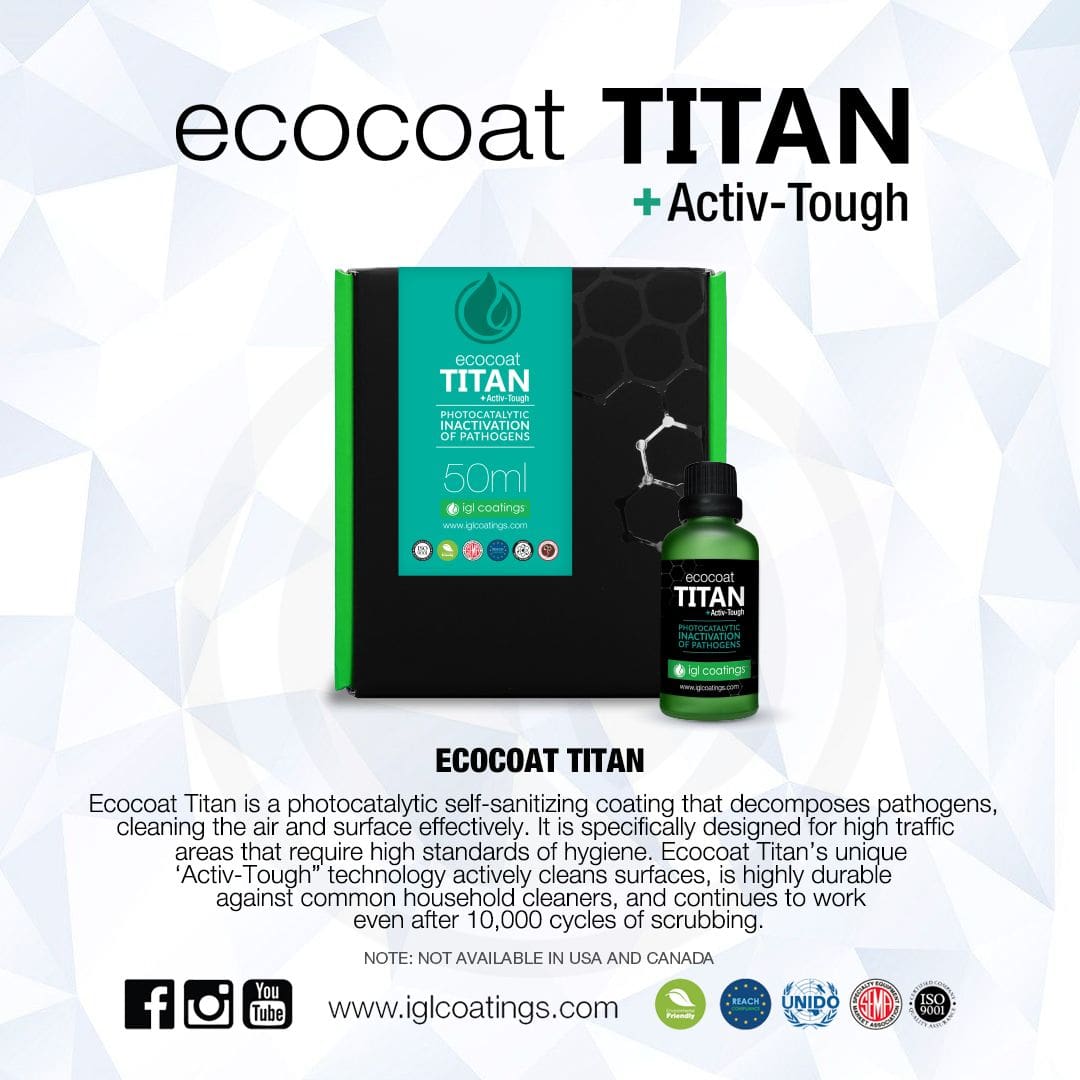 Where can Ecocoat Titan be used?
Ecocoat Titan can be used on a variety of surfaces like glass, metal, and plastic surfaces. It's perfect for high traffic areas such as hospitals, public transportation, lifts, restaurants, doorknobs, countertops, anywhere that you can think of that are hotspots for harmful pathogens!
How to Apply Ecocoat Titan?
Ensure the surface is dry, cool, clean and free of contaminants.
Place a few drops of Ecocoat Titan onto the application cloth or high-density foam.
Apply lightly in a vertical or horizontal direction, whilst ensuring that the areas coated are overlapping.
Allow the coating to cure for 12 hours before touching the surface.
Ecocoat Titan can also be applied using the spray or dip coat method. No buffing and levelling off required after application.
Watch our application video here:
https://www.youtube.com/watch?v=Z3cgdzpgYoA
Part of our Disinfection and Sanitization System
Created to address the growing problems of ineffective and inefficient sanitization, Ecocoat Titan complements Ecoclean Absolute and Ecoclean Pure, the other products in our sanitization system.
Ecocoat Titan is currently available in Malaysia, the Philippines, Finland, and Hungary. For other countries, please reach out to our respective distributors found here: www.iglcoatings.com/contact/
Note: This product is not available for sale in the USA and Canada
IGL Coatings is a market leader in green nanotechnology coatings and cleaning & maintenance solutions for various industries. They pioneered low and zero VOC ceramic coatings in 2015 and have continued to provide effective, cutting edge, eco-friendly products. IGL Coatings is one of the leading brands in North America and Europe and is currently available in over 50 countries worldwide.
Visit www.iglcoatings.com or email media@iglcoatings.com for more information on IGL Coatings, its initiatives, business or career opportunities, and range of products.