Products
Press Release: IGL Coatings Reinvents their Signature Ceramic Coating
13 November 2020
IGL Coatings announced the soft launch of their latest product, graphene reinforced Ecocoat Kenzo. Ecocoat Kenzo is IGL's flagship coating which pioneered the 10H hardness worldwide and is the benchmark of ultra-lux ceramic coatings.
The new and improved Ecocoat Kenzo has been reinforced with graphene nanoplatelets to improve durability and increase resistance against water-spotting while retaining its supreme hardness and clarity.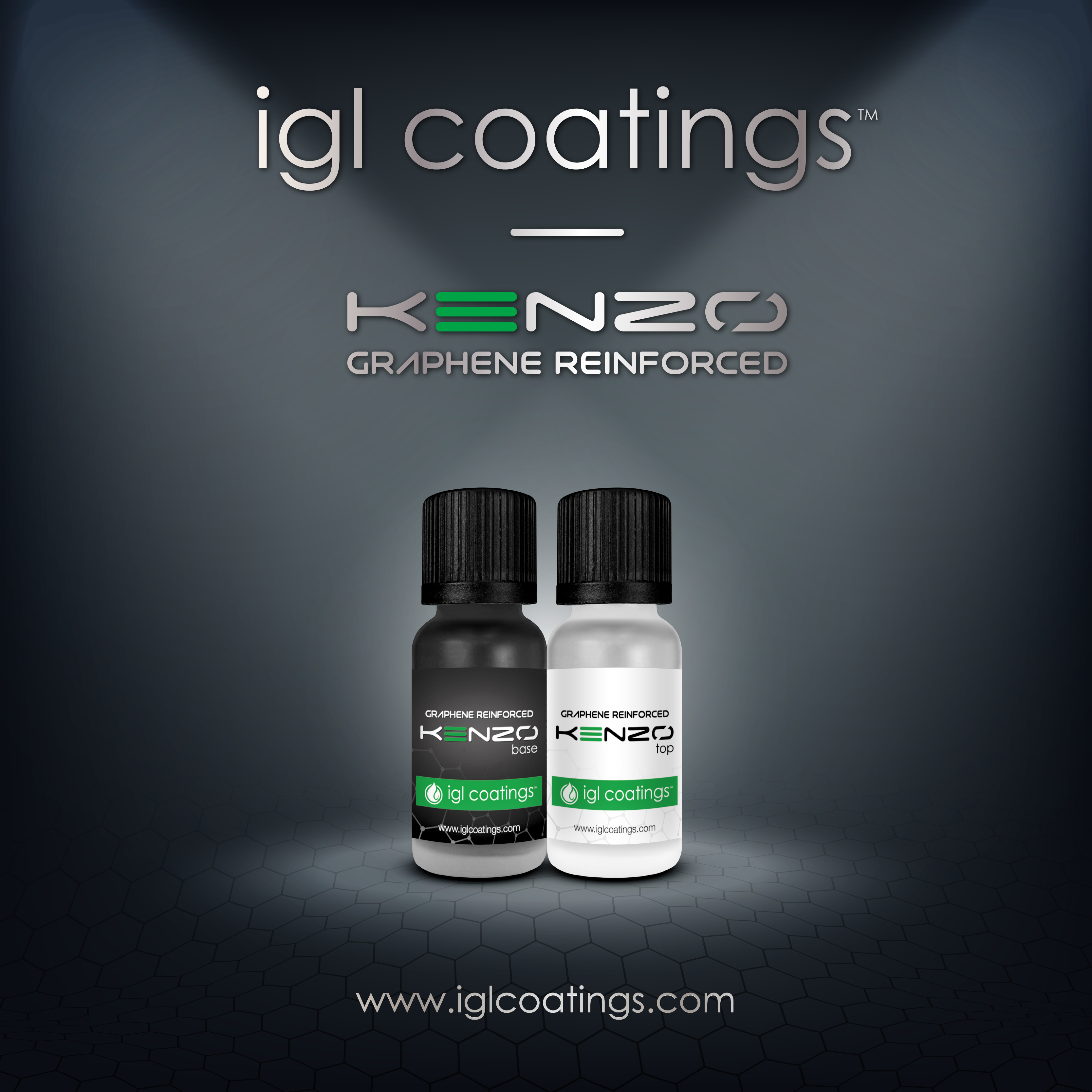 IGL Coatings heavily invests in innovation and graphene reinforced Ecocoat Kenzo is the culmination of 3 years of intensive research and development. Through countless lab experiments and real-world testing, it was discovered that graphene nanoplatelets, a new class of carbon nanoparticles with unique multifunctional properties, could be successfully added to Kenzo, enhancing the hardness, durability, and hydrophobicity. What resulted was a product that improved upon all the qualities that made Ecocoat Kenzo world-renowned, without compromising hardness or clarity as initial trials showed.
"The great thing about graphene is that the nanoplatelets can be dispersed into other materials to enhance their properties. Due to its unique size and morphology, the graphene nanoplatelets are especially effective at providing enhanced barrier properties, and improving mechanical properties such as stiffness, strength, and surface hardness", said Keong Chun Chieh, the founder of IGL Coatings.
The original formulation for Kenzo had a modest durability rating of 4 years. Reinforced with graphene, Kenzo has raised its durability by 20%, now making it a 5-year coating. This is thanks to the improved adhesion of Kenzo base onto surfaces, creating a stronger and more durable coating.
"In this new formulation, graphene particles swirl in the bottles. We purposely kept the bottles white as it was pretty cool to watch it. Initially, the introduction of graphene particles substantially reduced the coating's gloss." explained Keong regarding the complexities of graphene. "However, through the team's innovative and creative methods, we managed to enhance the performance of the coating without sacrificing clarity or gloss".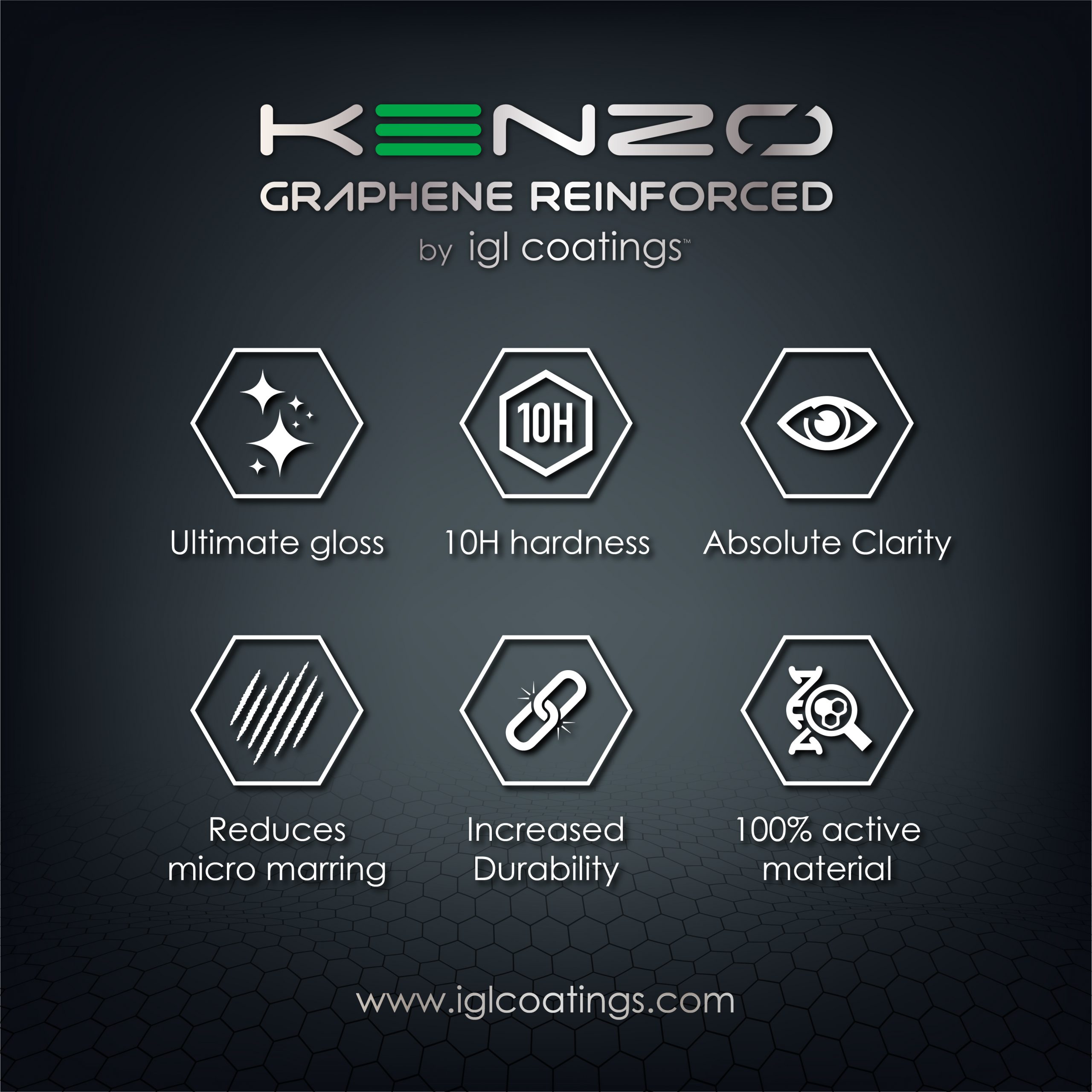 "The IGL Family around the world has been wanting to get their hands on the new Kenzo for a while now. They've been hinting to us for the past 1 year to launch it! This soft launch should give them the opportunity to test and experience the new Kenzo."
Keong added, "It's beyond words how IGL Coatings, through its passionate distributors and dedicated mentors, has helped build businesses and grow entrepreneurs all over the globe. Apart from a great community, our detailers have reported improved health, increased job opportunities, and raised revenues since partnering with IGL."
"It's amazing to hear the growth stories and we're constantly impressed with the ingenuity and innovation that goes on within the IGL Family. For example, we're working closely with one of our detailers Jennifer Turcotte, on an upcoming product dubbed the Jen K.O. Mix," Keong expressed.
The Jen K.O. Mix is a new product in collaboration with IGL Coatings USA Mentor & Representative, Jennifer Turcotte. A uniquely self-mix product, users are able to combine the benefits of Ecoclean Delete, Ecoclean Wash, and Ecoshine Enhancer into a powerful knock-out formula that works on almost every surface to clean and quickly remove water spots and stains, leaving a lasting shine.
IGL Coatings is a market leader in green nanotechnology coatings and cleaning & maintenance solutions for various industries. They pioneered low and zero VOC ceramic coatings in 2015 and have continued to provide effective, cutting edge, eco-friendly products. IGL Coatings is one of the leading brands in North America and Europe and is currently available in over 50 countries worldwide.
IGL Coatings Ecocoat Kenzo – Graphene reinforced will be available in most countries soon. For more details on how you can obtain Ecocoat Kenzo in your country, please speak with your country distributor or representative. For further information, visit www.iglcoatings.com, check us out on Facebook & Instagram, or email us at marketing@iglcoatings.com.