Products
The Perfect Time to Try Out ecoclean air
7 May 2019
ecoclean air is an odour neutraliser that works to absorb most odours. It is a natural deodoriser that eliminates foul odour instead of masking them. Using nanotechnology, foul odours are effectively encapsulated and suppressed preventing them from being released back into the air. A simple spray on the affected surface and let the formula work on your toughest smells.
ecoclean air was introduced into the ecoclean series to address the problems detailers had with stale smells and malodours in vehicles. Since then, ecoclean air has been used to solve unpleasant odours in the automotive industry and eliminate common stink issues around the house such as pet odours and overnight trash.
ecoclean air works best to remove unpleasant odours like cigarette smoke, sweat, garbage, toilet smells, pet smells and even overwhelming onion and garlic scents! While most deodorisers rely on a combination of antibacterial agents to kill odour causing bacteria or a fragrance to cover up any residual odour, ecoclean air works in a unique and innovative way instead.
Unique deodorising power by ecoclean air
Instead of killing bacteria or masking smells, ecoclean air absorbs the odours, traps it and eliminates it so there is no more stink. Forever! Additionally, ecoclean air also works to prevent bacterial growth instead of just removing malodours.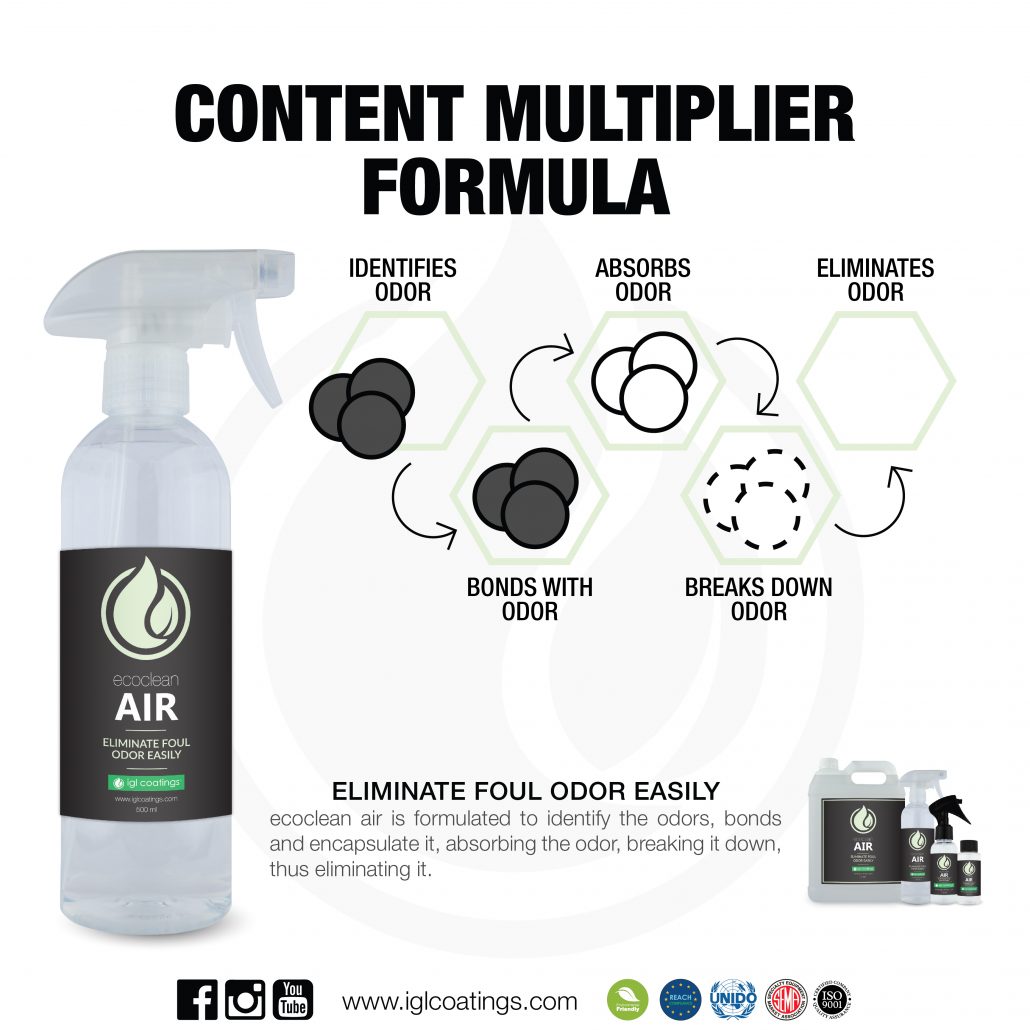 INSTANT RESULT: Eliminates odours almost instantly
ELIMINATE NOT MASK: Foul odours are encapsulated and eliminated
SAFE FORMULATION: Formulation is LOW VOC, free from benzene, toluene and xylene, non-toxic, biodegradable and REACH compliant
FRESH SMELL: Cucumber scented, which also acts as a strong anti-oxidant
MULTI ODOUR: Works against smoke, spoiled food, pet messes and more
EASY TO USE: Spray and leave alone
BUSINESS & PERSONAL: Suitable for commercial vehicles & personal rides
We have distributors worldwide to assist with purchasing and testing. Checkout this list of distributor in your area: IGL Coatings Distributor Worldwide
For more details on IGL coatings, visit our website www.iglcoatings.com or contact us at  marketing@iglcoatings.com.