Announcement
IGL Coatings 2020 Wrap Up & Highlights
30 December 2020
We'd like to wrap up this year with a big
THANK YOU
for supporting us during these tough times and for being a part of the #IGLfamily.
We couldn't have gotten through the year without you.
2020 has been ruthless and here's hoping that next year will be bigger and better for all of us! Here's a recap of the year.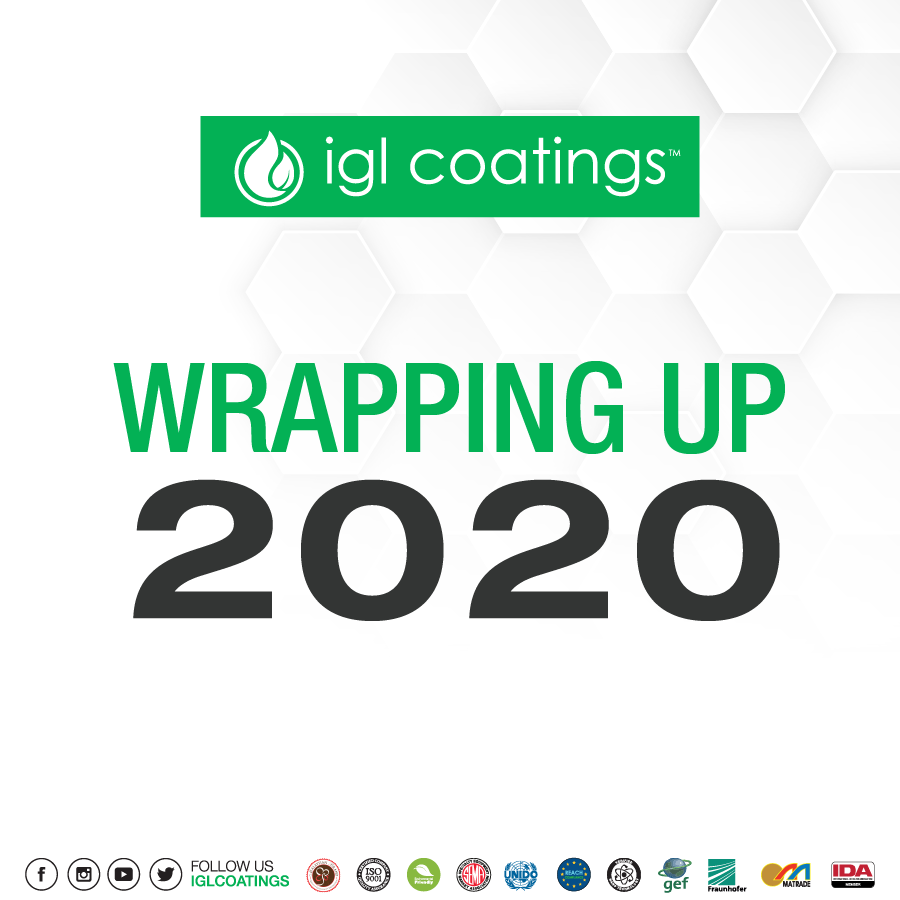 IGL Coatings Recognition
This year, we grabbed the attention of many and were recognized for our diligence, dedication, and innovation. From being featured in media outlets to receiving certifications and awards for excellence, IGL Coatings continued to scale up.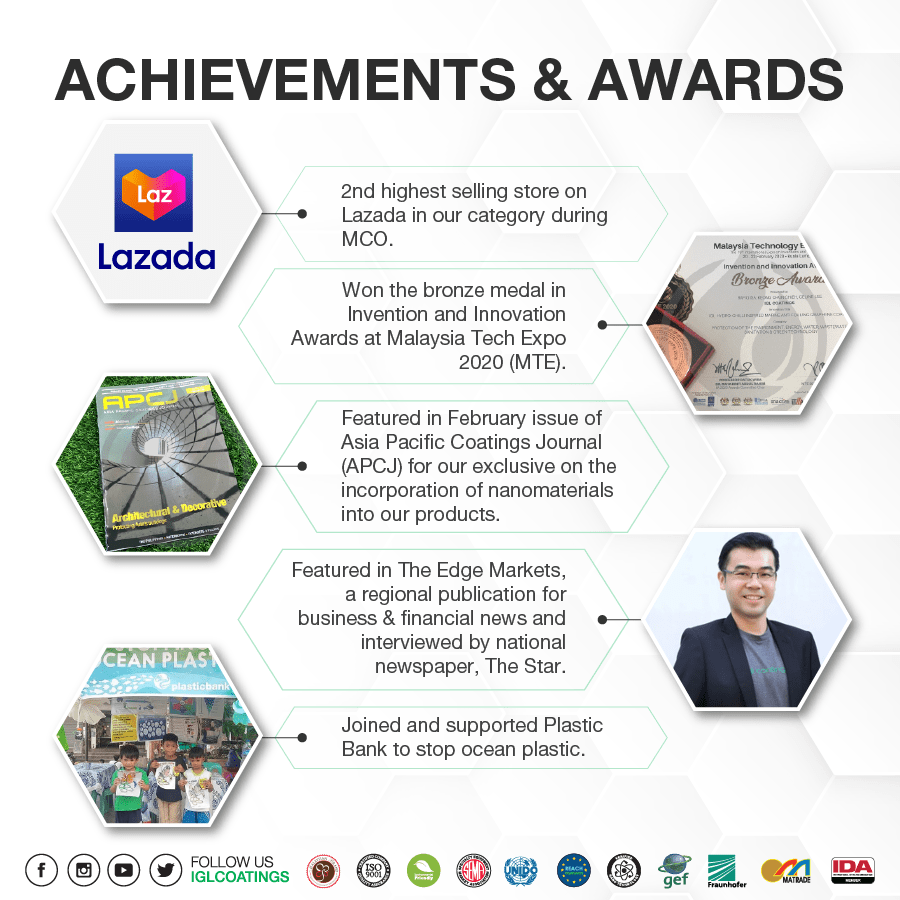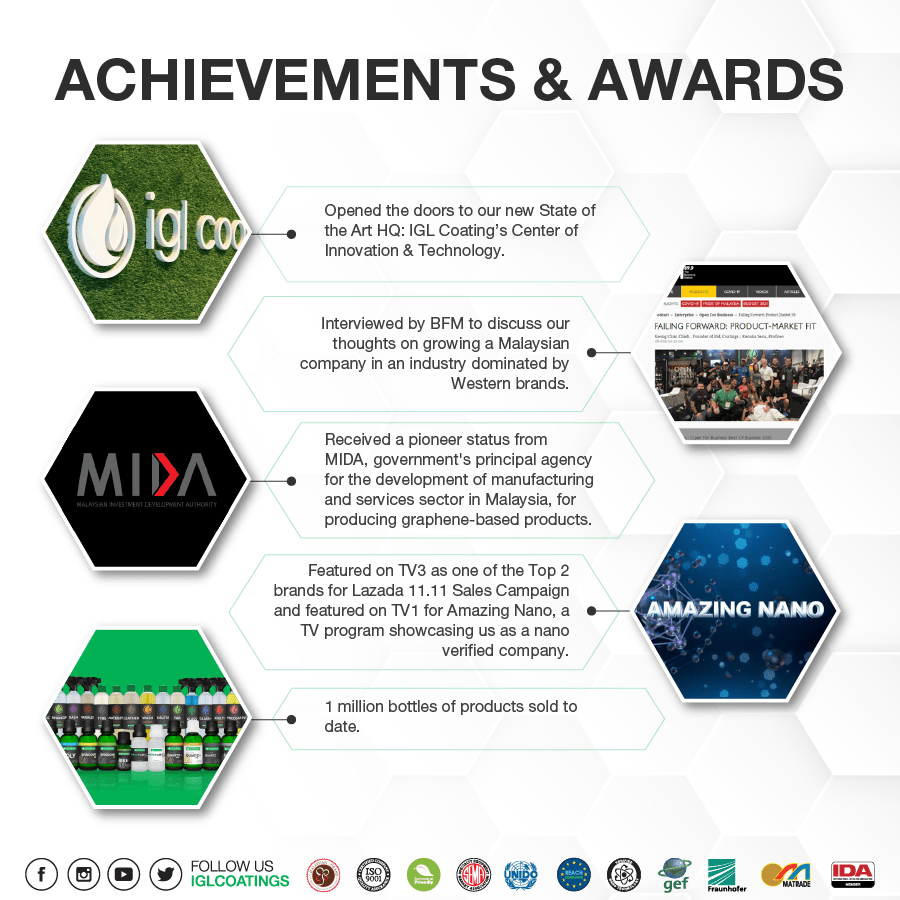 Received Awards at MTE 2020
Earlier this year, we attended Malaysia Technology Expo 2020 (MTE) where our R&D team was awarded the bronze medal for a prototype of Ecoclear Hydro. MTE is an event that provides a one-stop platform for innovators, designers, and entrepreneurs to showcase their latest inventions, ideas, products. Read more here.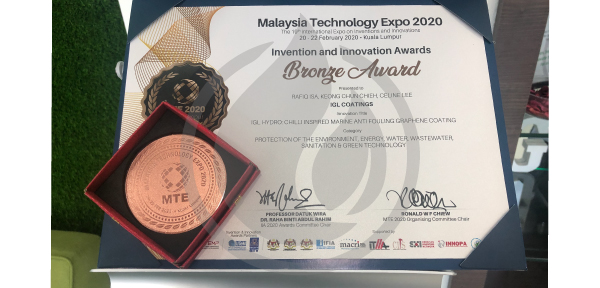 Received Pioneer Status from MIDA
In the first quarter of 2020, IGL Coatings was officially recognized by the Malaysian Investment Development Authority (MIDA) as an established brand with the highest standards of quality and excellence and awarded with their prestigious Pioneer Status for producing graphene products.
MIDA is the government's principal investment promotion agency for the development of the manufacturing and services sectors in Malaysia.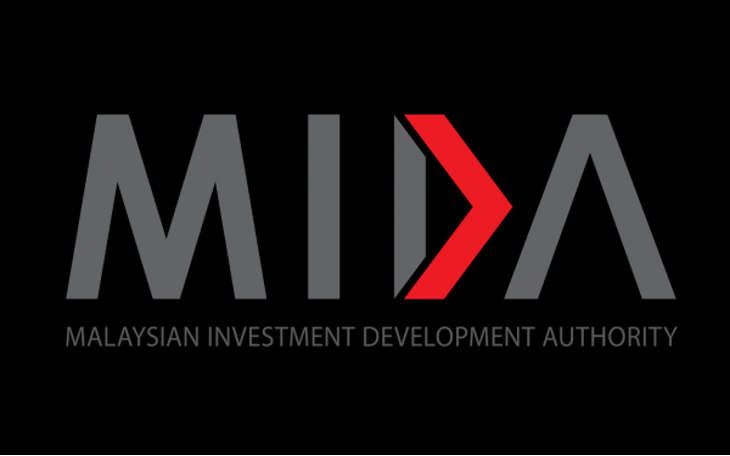 Featured in Asia Pacific Coatings Journal (APCJ)
In the month of February, Asia Pacific Coatings Journal, the only dedicated coatings publication that covers the ASEAN region, published an article featuring IGL Coatings discussing the power of graphene and highlighting the incorporation of nanomaterials in our products. Read more here.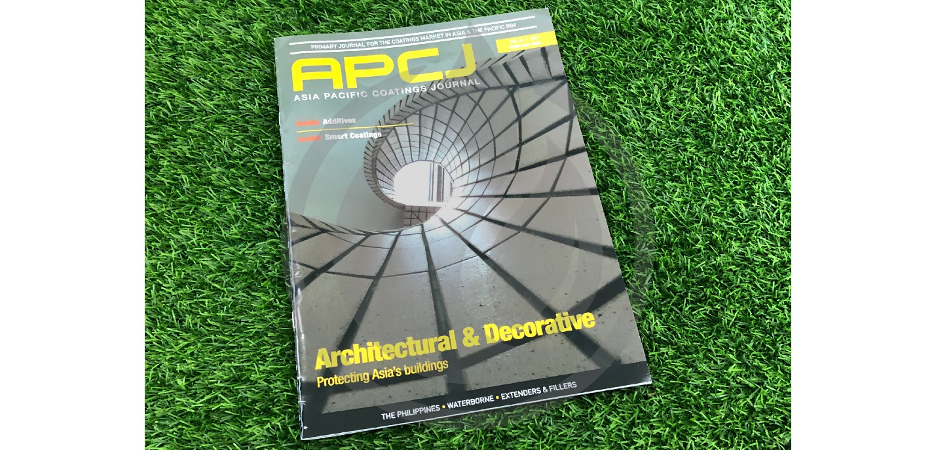 Featured in National & Regional Media
In April, IGL Coatings was featured in The Edge Markets, a regional publication for business & financial news, and in May, interviewed by The Star, a national newspaper addressing Malaysia's Movement Control Order (MCO) and its affect on SME's.
In June, our founder, Keong Chun Chieh was also interviewed by BFM, a business-centric radio station, on a podcast called Failing Forward: Product-Market Fit. The interview highlighted our strategies for growing a Malaysian company in an industry dominated by Western brands, together with IGL's growth and the challenges faced this year.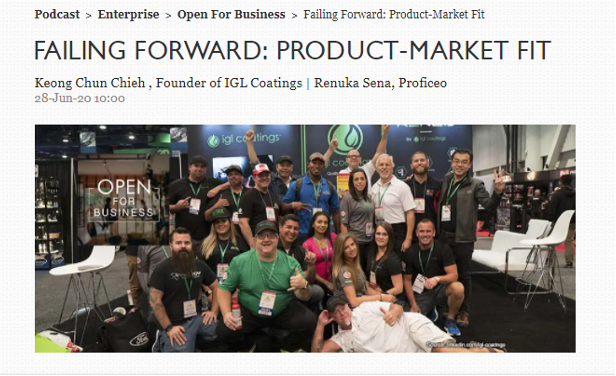 Featured on National Television
IGL Coatings was featured twice on national television this year. In September on TV3, we were showcased as a top seller for Lazada 11.11 Sales Campaign and on TV1, featured on Amazing Nano as a nano-verified company.
Check out a short clip of our TV3 feature:
IGL Coatings Accomplishments
There is no "i" in "team". It hasn't been easy this year but we've managed to push through together. Here are some of our major achievements.
Opened State of the Art HQ
In August, we officially opened the doors to our new headquarters: IGL Coating's Center of Innovation & Technology.
Powering our continued global expansion is a cutting-edge R&D lab, an innovative production and warehouse facility, and a flexible and functional space to house our multiple teams.
Top Seller on E-commerce
Officially ranked as the 2nd best selling store on Lazada (an e-commerce marketplace) in our category during the Movement Control Order (MCO) period in March. It was a hectic month for Malaysians as it was the first-ever lockdown, but we grabbed the opportunity to reach new highs on e-commerce.
Backed a Green Cause
Plastic Bank is a social enterprise committed to stopping ocean plastic while improving the lives of those who help collect it.
IGL Coatings proudly supported the Plastic Bank Plastic Neutral campaign that supports not only the recycling campaign but also the ecosystem that supports the recycling processes. Read more here.
View this post on Instagram
Introduced New Products
This year revealed some of the most creative and inventive products IGL Coatings could offer.
We launched our first sanitization product Ecoclean Pure, a plant-based 75% alcohol surface sanitizer. We continued with Ecoclean Absolute, a water-based, alcohol-free, nano disinfectant formulated with hydrogen peroxide and our proprietary silver ion. After months of intensive research, Graphene Reinforced Ecocoat Kenzo was soft-launched in November receiving overwhelming positive response from accredited detailers around the world. Next up was the Jen K.O. Mix in collaboration with Jennifer Turcotte, receiving tremendous recognition. And finally Ecocoat Titan, our proprietary self-sanitizing coating that was released at the end of the year.
Note: Ecoclean Pure, Ecoclean Absolute, and Ecocoat Titan are currently not available in USA & Canada.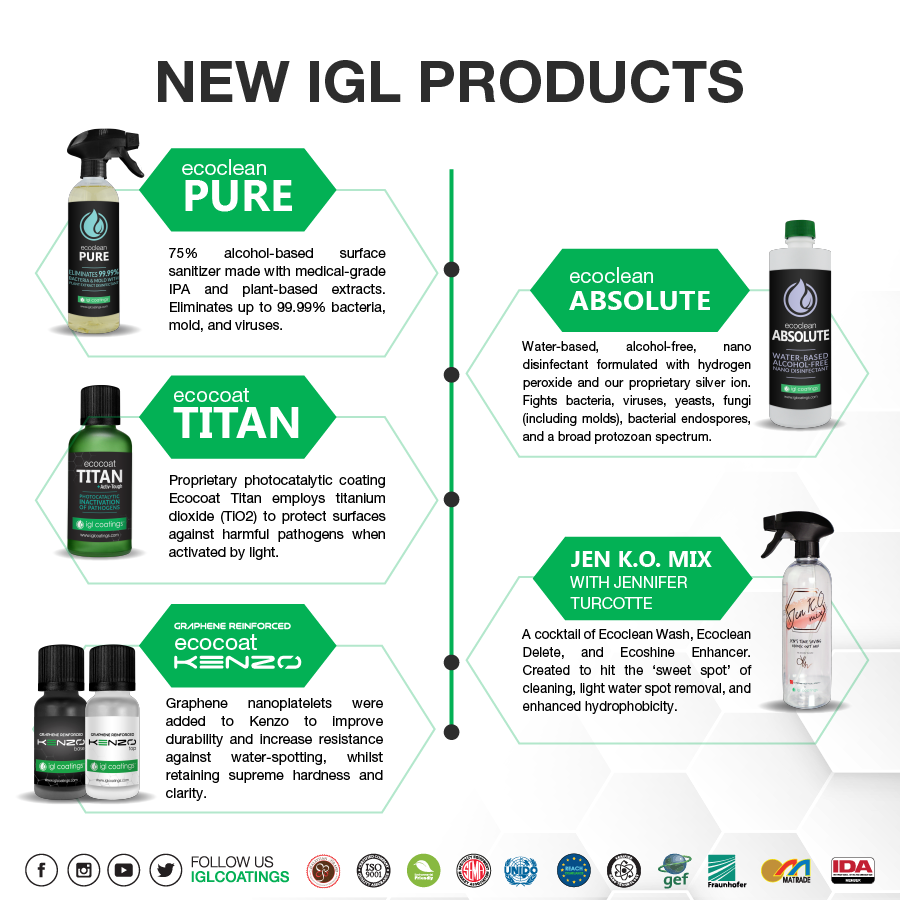 1 Million Bottles of Product Sold to Date
A major milestone for us!
Extended Family
2020 has welcomed new distributors all over the world. Here are our new partnerships:
South Korea: Doosung Corporation
Singapore: Auto Maxima Pte Ltd
Brazil: Exclusive Group (IGL Brasil)
Turkey: Yamaclar Detailing

Finland: Janne Lindroos Oy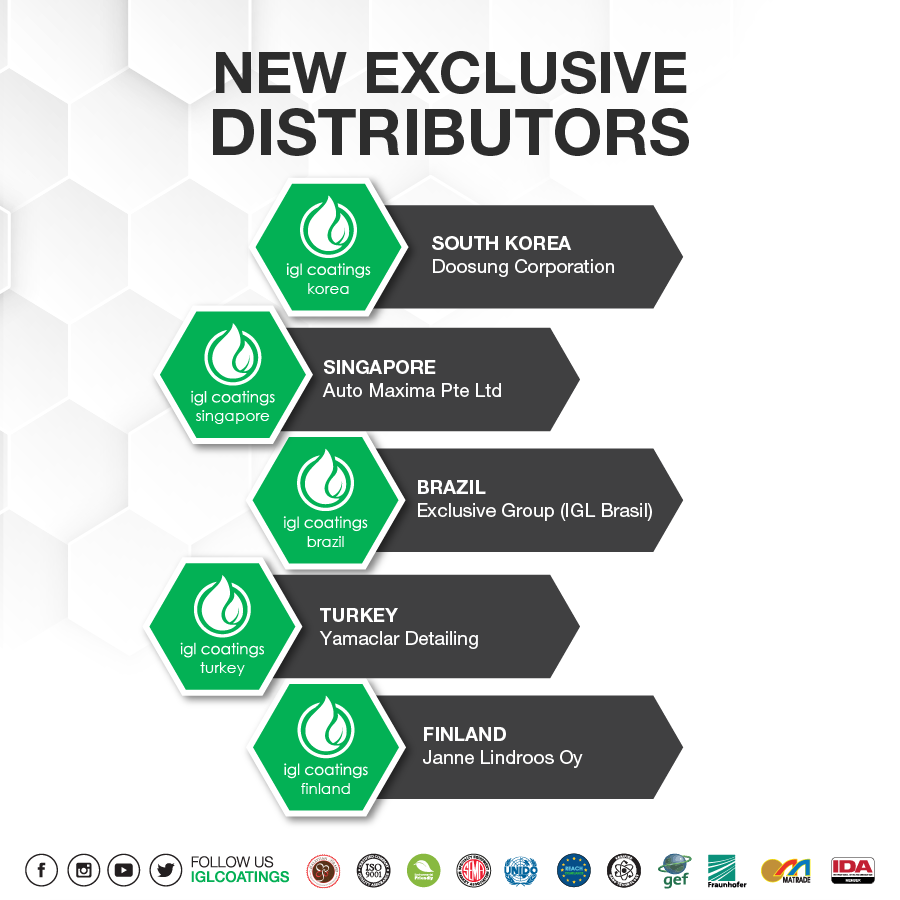 IGL Coatings Collaborations
Our IGL family, our IGL team. It's the people that drive the company, and it's the people that we owe it all to. Here are some highlights from our collaborations.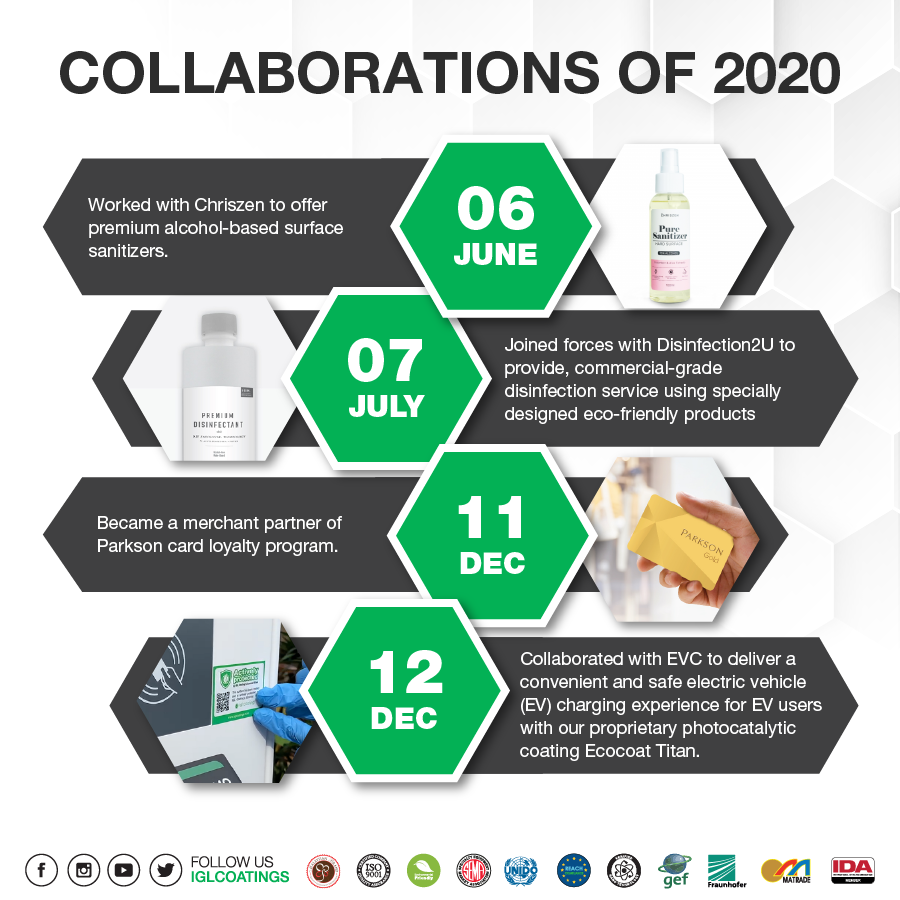 Health & Safety
Public health and safety has been in the spotlight this year.
We joined forces with Disinfection2U, part of ServisHero Group and a leading commercial disinfection company in the Asia Pacific (APAC) region, to offer Malaysians a premium, commercial-grade disinfection service using specially designed eco-friendly products. Check out our press release here.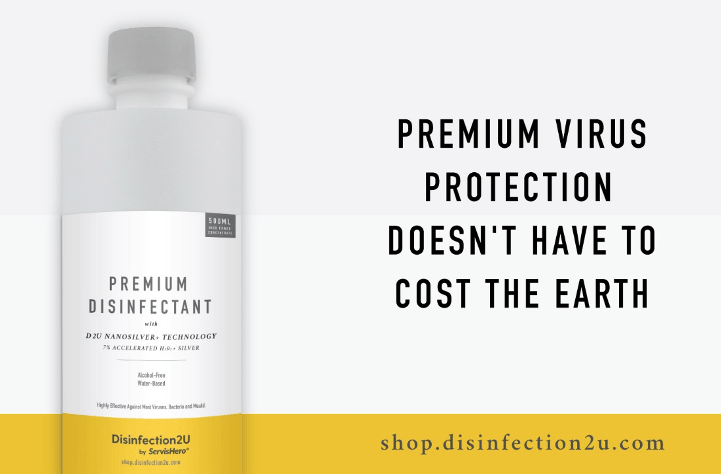 We collaborated with Chriszen to offer eco-friendly plant-based sanitizers to complement their self-care series. Read our press release here.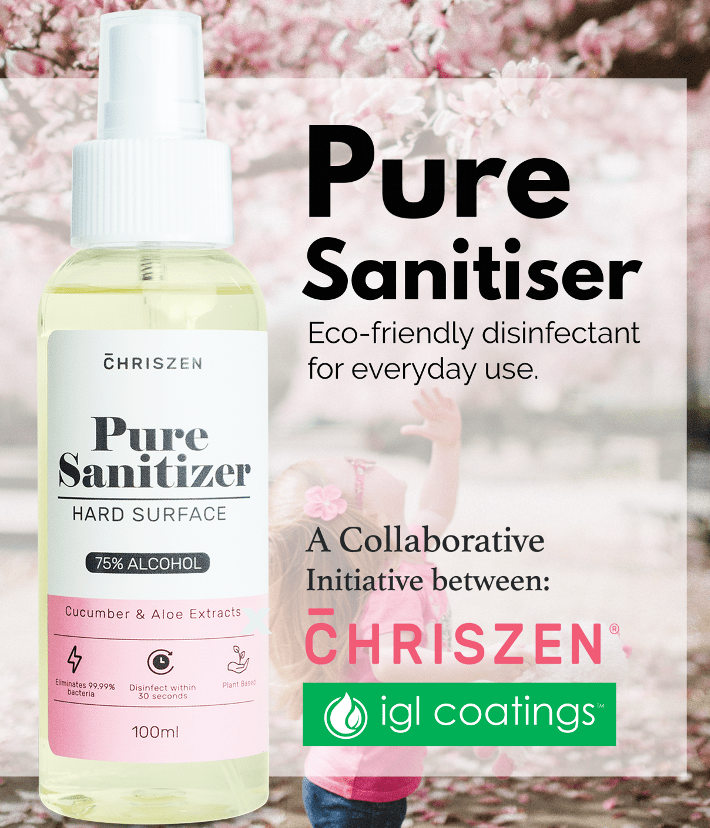 We worked with EVC to deliver a convenient and safe electric vehicle (EV) charging experience for EV users in Malaysia using our proprietary self-sanitizing coating, Ecocoat Titan. Read our press release here.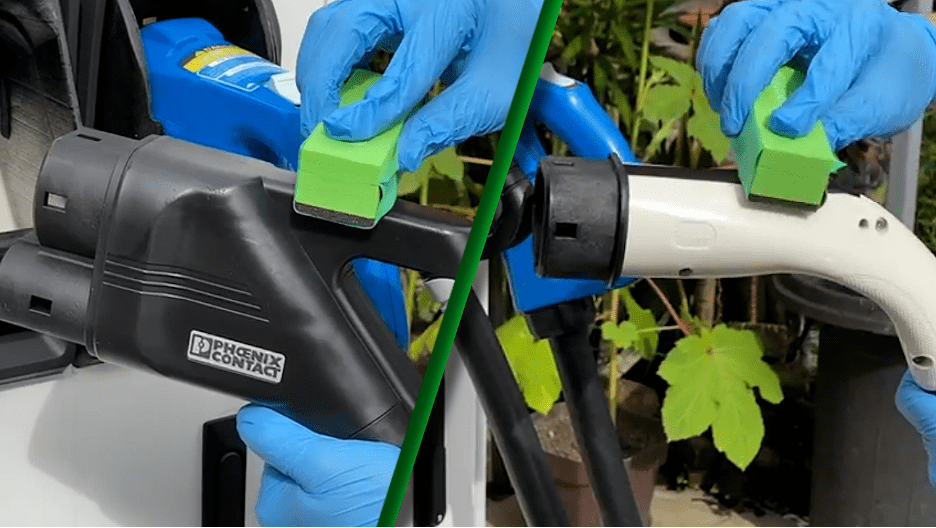 Partnered with Parkson
We are officially a merchant partner of Parkson, an Asia-based department store operator with over 100+ stores in the region.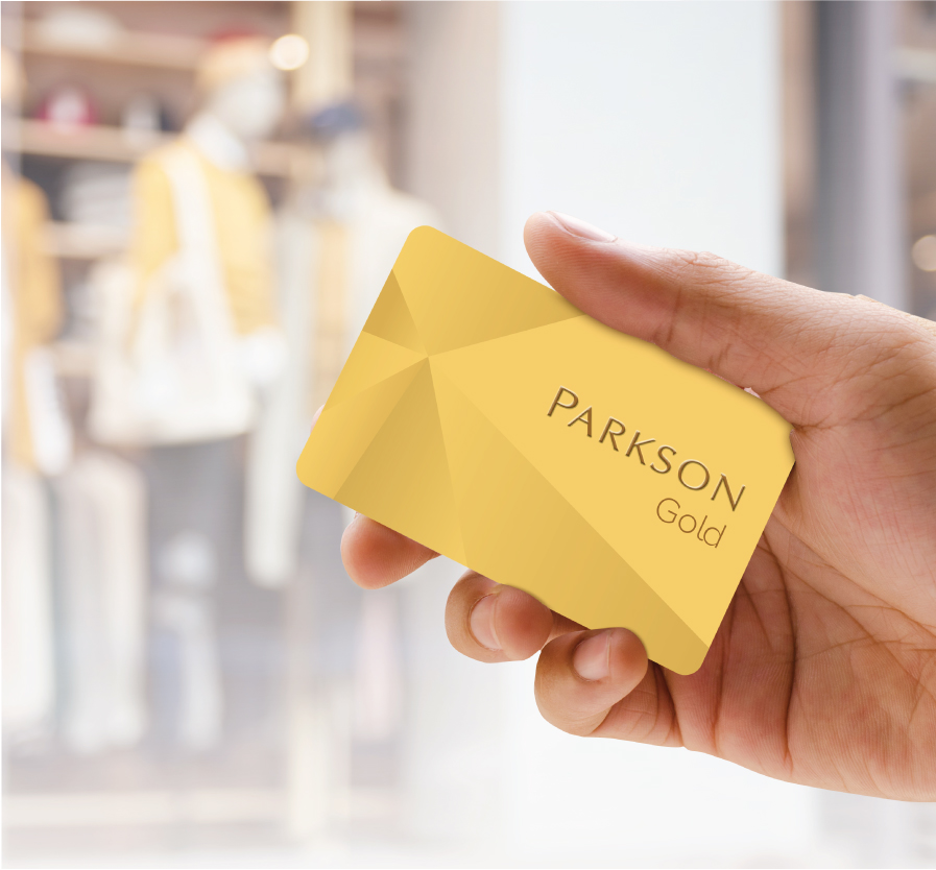 IGL Impact for 2020
Over 6,388 litres of coating sold.
212,955 vehicles coated with our products.
Helped generate over USD103.28 million in revenue globally for our detailers.
Saved over 332.21 million litres of water from vehicles that have been coated with our products.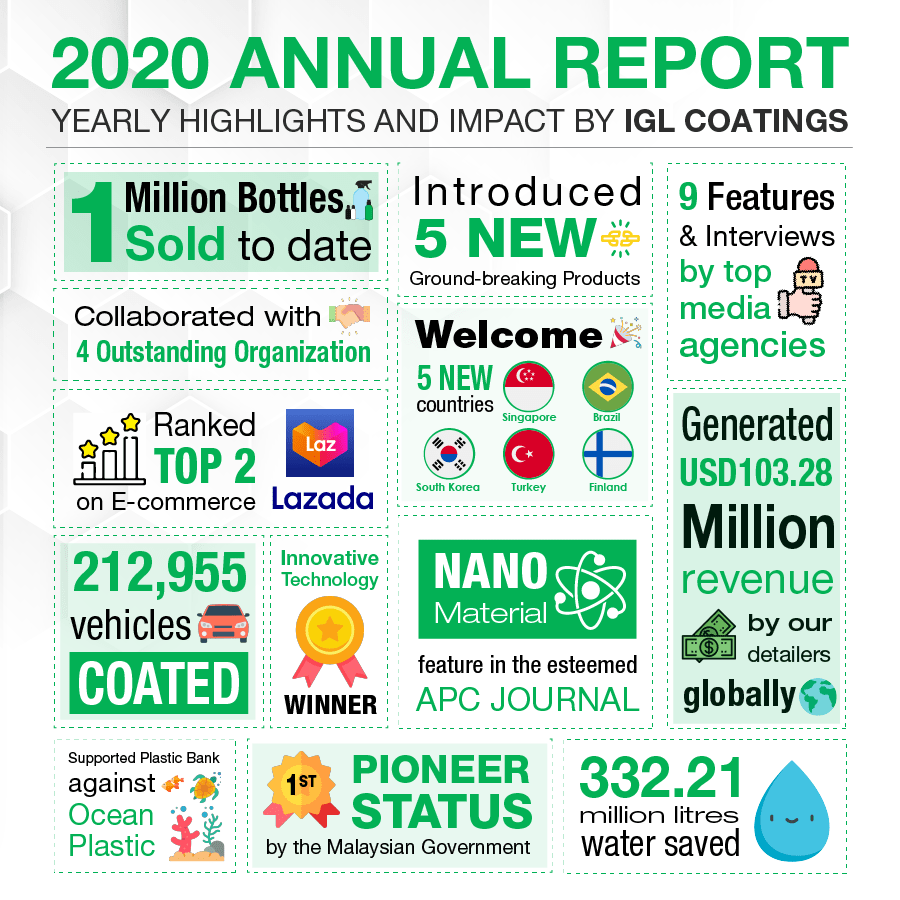 Despite all the hurdles, we've managed to push the brand to new heights and we couldn't have done it without your support.
Thanks for everything. We appreciate you and we'll see you all in the new year!
Note: Ecoclean Pure, Ecoclean Absolute, and Ecocoat Titan are currently not available in the USA & Canada.