Products
The Desired Scent: Introducing Ecologne Cristallo
31 March 2021
Lose yourself in the scent you have been craving for.
Imagine yourself being lost in the fragrance you have been asking for. Oh yes, we have finally created a scent that has been adored and loved by many. Proudly introducing IGL's latest creation, Ecologne Cristallo! A fragrance meant to make you feel and smell good. Ecologne Cristallo evokes a calming sensation through its colour; aqua blue inspired by one of our favourites, can you guess which? Hint! It starts with G and it rhymes with A#s.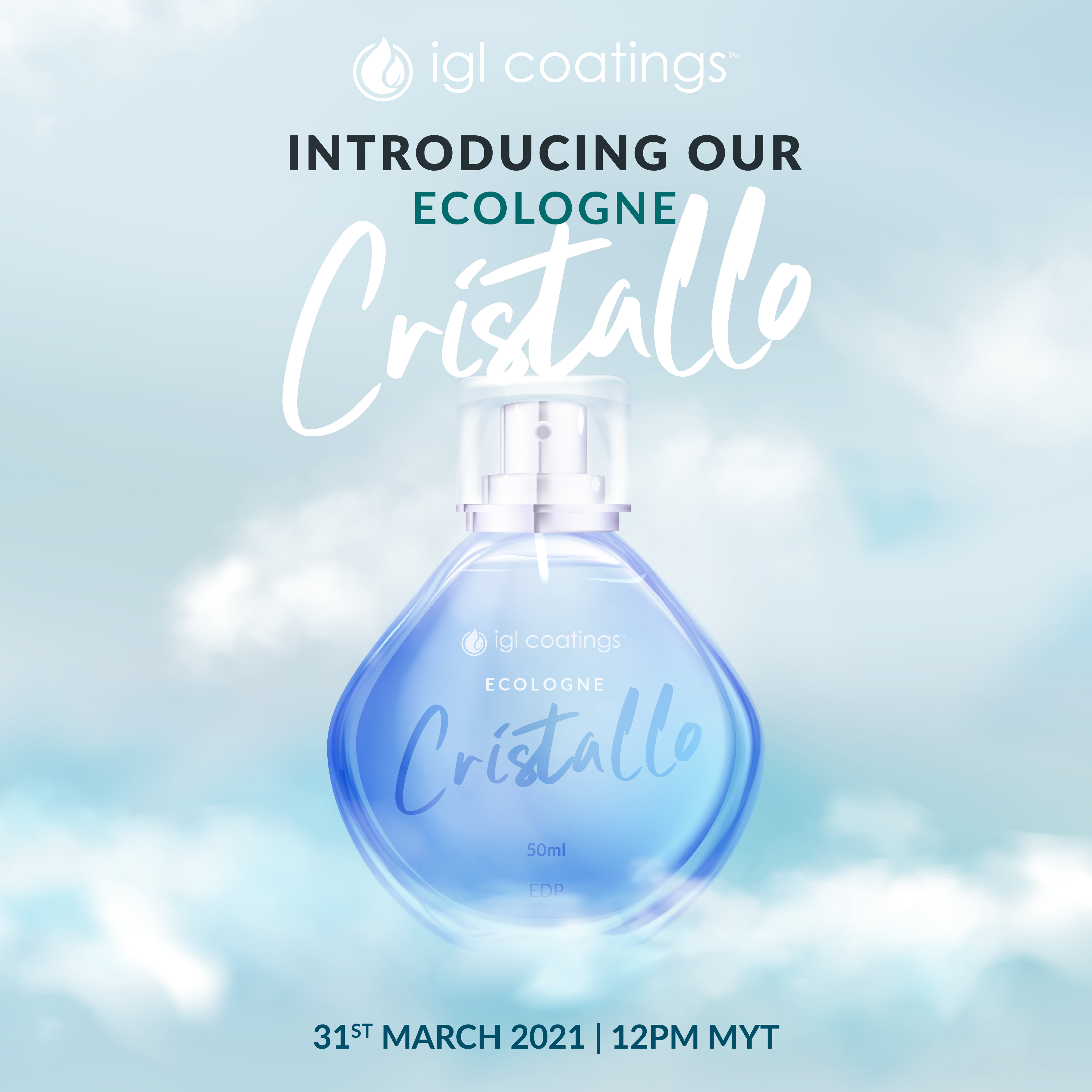 Ecologne Cristallo is our liquid spray cologne that embodies and captures the essence of the IGL family. A scent that unfolds with its natural and crisp cooling notes; a fragrance that is simply unforgettable.
Ecologne Cristallo's lemon and mandarin essential oils contribute to the fresh zesty citrus fragrance with subtle bergamot notes. Aromatic and fresh, the natural, fair-trade sourced essential oils provide a relaxing yet uplifting aroma that melts your daily detailing stress away. One whiff is all it takes to activate 'happy hormones'. Look out for high serotonin levels!
But thats' not all! Cristallo substantially increases slickness and "chance" by 99%.
It is rated to be 10H hardness 😉😉! It's easy to use and most important of all, it creates a lasting impression. But don't take our word for it!
"It's a scent I'll never be able to forget. It changed my life, forever!" – S. Mells
Our initial users also reported that its safe, non-toxic, paraben-free formula improved and increased their existing abilities, and in some cases, improved overall times by at least 50%.
Ecologne Cristallo is specially formulated to last… longer! It's also suitable for people who are constantly on-the-go and need a lasting revitalising scent.
Every bit of Cristallo is au naturel.
Finally, a defined fragrance for HIM. Get it today.
IGL Coatings is a market leader in green nanotechnology coatings and cleaning maintenance solutions for various industries. They pioneered low and zero VOC ceramic coatings in 2015 and have continued to provide effective, cutting edge, eco-friendly products. IGL Coatings is one of the leading brands in North America and Europe and is currently available in over 50 countries worldwide.
Follow us on Facebook, Instagram, TikTok, and Youtube for more updates and fun things! Check your emails. Do you see an email from us? No? Well, time to subscribe to our newsletter here!