Ecoclean
Press Release: IGL Coatings Uncases Their New Ecoclean Jen K.O.
28 April 2021
IGL Coatings announced their new addition to the ecoclean series, Ecoclean Jen K.O. A ready-to-use solution, this new product stems from Jen K.O. Mix created by IGL Coatings North America Representative and owner of Carsmotology, Jennifer Turcotte.
Jen K.O. serves to clean by removing daily dirt and grime, light water spots while enhancing hydrophobicity. Jen K.O. also leaves the surface smooth and gives a showroom shine in addition to providing a slick feel.
"Not everyone is lucky enough to have a perfect water system or even the luxury of maintaining and cleaning their cars frequently. Ecoclean Jen K.O. is the perfect solution for those that need a quick fix without any hassle. It can be used as a waterless washing agent as well! Jen K.O. is easy to use and super versatile as it can be applied on multiple surfaces. It has been my go-to product for cleaning and light water spot removal especially after coating a car," said Jennifer Turcotte.
She continued, "We received amazing feedback and reviews from people regarding Jen K.O. Mix! As always, IGL Coatings sought to further improve the product. Jen K.O. cleans and protects in just ONE step. I couldn't be any happier!"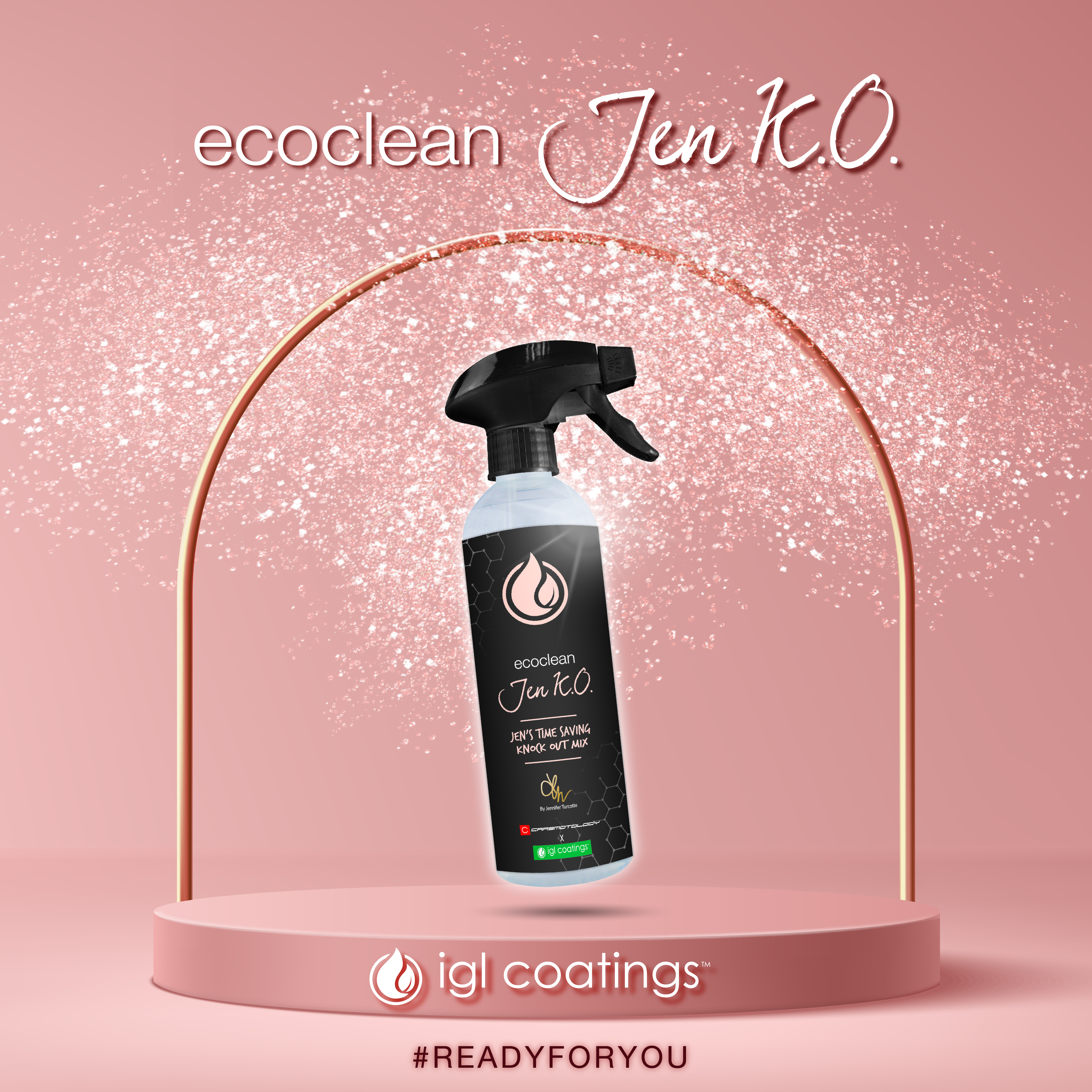 This versatile multipurpose solution can be used on exterior surfaces such as windows, wheels, calipers, chrome, exhausts, door jambs, emblems, interior tint, and hood. Jen K.O. also works wonders on vinyl wraps and matte paint surfaces.
"Jen K.O. Mix is our most creative product yet. When we first launched it, the mini chemists around the world experienced the mix and measure formula – including the extraordinary benefits that came with it. It was a hit! However we wanted to improve on it, but how? Knowing it was a hit, we were also aware that many preferred to provide their clients, especially "those with newly coated vehicles" with an easy ready-to-use product – and that would be our Ecoclean Jen K.O.!" shared Keong Chun Chieh, founder, and CEO of IGL Coatings.
When asked about the idea of Jen K.O. he said, "Jen's amazing. The passion and love for the industry are what drives her and us to be the best that we can," said Keong Chun Chieh, founder of IGL Coatings. "It is with ideas and support like these, we continue to serve our IGL Family better with more quality and innovative products."
IGL Coatings is a market leader in green nanotechnology coatings and cleaning & maintenance solutions for various industries. They pioneered low and zero VOC ceramic coatings in 2015 and have continued to provide effective, cutting edge, eco-friendly products. IGL Coatings is one of the leading brands in North America and Europe and is currently available in over 50 countries worldwide.
For further details and availability of Ecoclean Jen K.O., please speak with your country distributor or representative. For further information, visit www.iglcoatings.com, check us out on Facebook, Instagram, TikTok, and Youtube, or email us at marketing@iglcoatings.com. Find out what we are up to by subscribing to our newsletter here!