Go Local
The Importance Of Sanitization!
28 July 2021
What makes sanitization so important? A common question that has a common answer – to keep ourselves safe from unwanted pathogens. Sanitization has always been around but with the rise of its awareness during the pandemic, it has become one of the essentials. We are going through one of the worst pandemics in history. The coronavirus hit hard on almost all of us; more on the less fortunate community. Forget making a living, it has become so hard to step out of our homes due to the constant fear of the possibility of contracting the virus. Find out how you can help here.
In fact, right now healthcare workers are facing a shortage of supplies, exhaustion, & fatigue due to the overwhelming number of cases. It can get really overwhelming to read about the pandemic and its consequences every day. IGL Coatings would like to remind everyone to confirm the source and prevent the spread of fake news. It is best to keep calm in situations as such this. The best source of news would be of course from the Ministry of Health (MOH) / Kementerian Kesihatan Malaysia (KKM). It has become important to understand and digest the right information on the virus, and vaccination. Read here for more information on coronavirus and alcohol-based sanitizers.
So, why is sanitizing so crucial?
We all have the basic understanding, sanitization is important to reduce the risk of contracting the virus. Again, it is a way to keep yourselves a little safer.
"But, I take care of my home and clean every day. So why do I need to sanitize?"
Here's the deal, sanitizing and cleaning are two separate things! We sweep, mop, wipe the dirt off from surfaces as the steps in our cleaning routine. Unfortunately, there is a common misconception. Cleaning would physically remove the germs, dirt & impurities. It may reduce the number and lower the spread of it temporarily, but does not eliminate said germs.
Sanitizing will eliminate or inhibit the growth of bacteria, mold & viruses. The correct sanitizer will efficiently eliminate pathogens (decrease microbiological flora) and must contain 70% to 90% alcohol as recommended by the World Health Organisation (WHO). That's why sanitization becomes one of the most essential steps as part of the cleaning process in clinics, offices, hospitals, restaurants, schools, malls & work environments.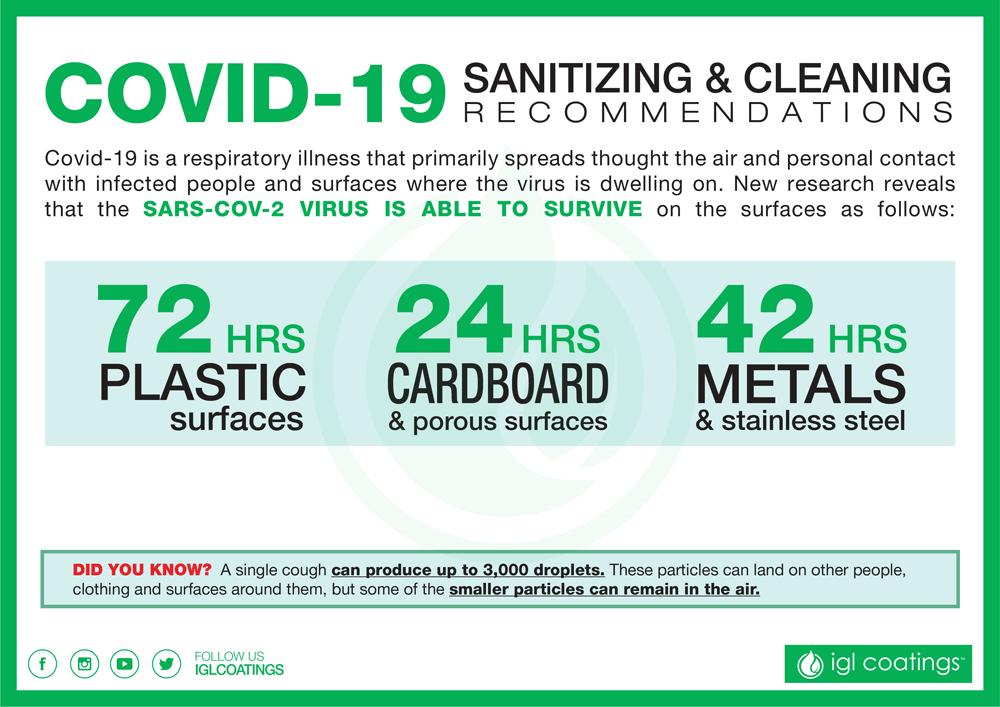 While many of us are sitting safely at home, very few of us are still going out to work or to buy groceries for their home. Sadly, pathogens can be brought into your homes after every trip outside.
Here's how you reduce the risk of contracting the coronavirus:
Wash your hands frequently

Avoid going to places that have large gatherings of people.

Sanitize your hands when you return before you start touching objects in your home.

Maintain social distancing

Stay at home if you feel unwell

Wear protective gear i.e. mask, face shield, gloves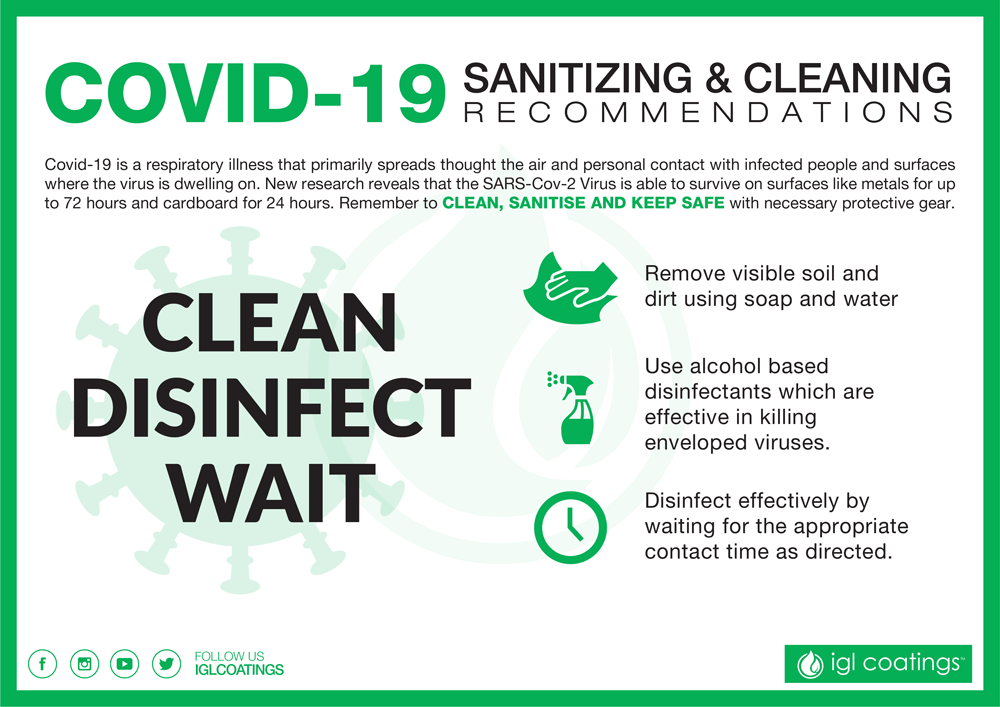 If and when you're sick, MOH recommends sanitizing the surfaces that you frequently come into contact with, for instance, toilet handles, doorknobs, tables, chairs & other common items. It is also recommended to self-quarantine/isolating in your room to prevent further spread. The doctors are facing a lot of pressure to heal Covid-19 patients, due to lack of space and overload of patients. Taking responsibility for our own health can be beneficial for ourselves and our front liners. A huge thank you and *virtual* hug to them!
Here's how you sanitize:
Clean your surface with an effective cleaner to remove dirt and impurities.
Sanitize using an alcohol-based sanitizer.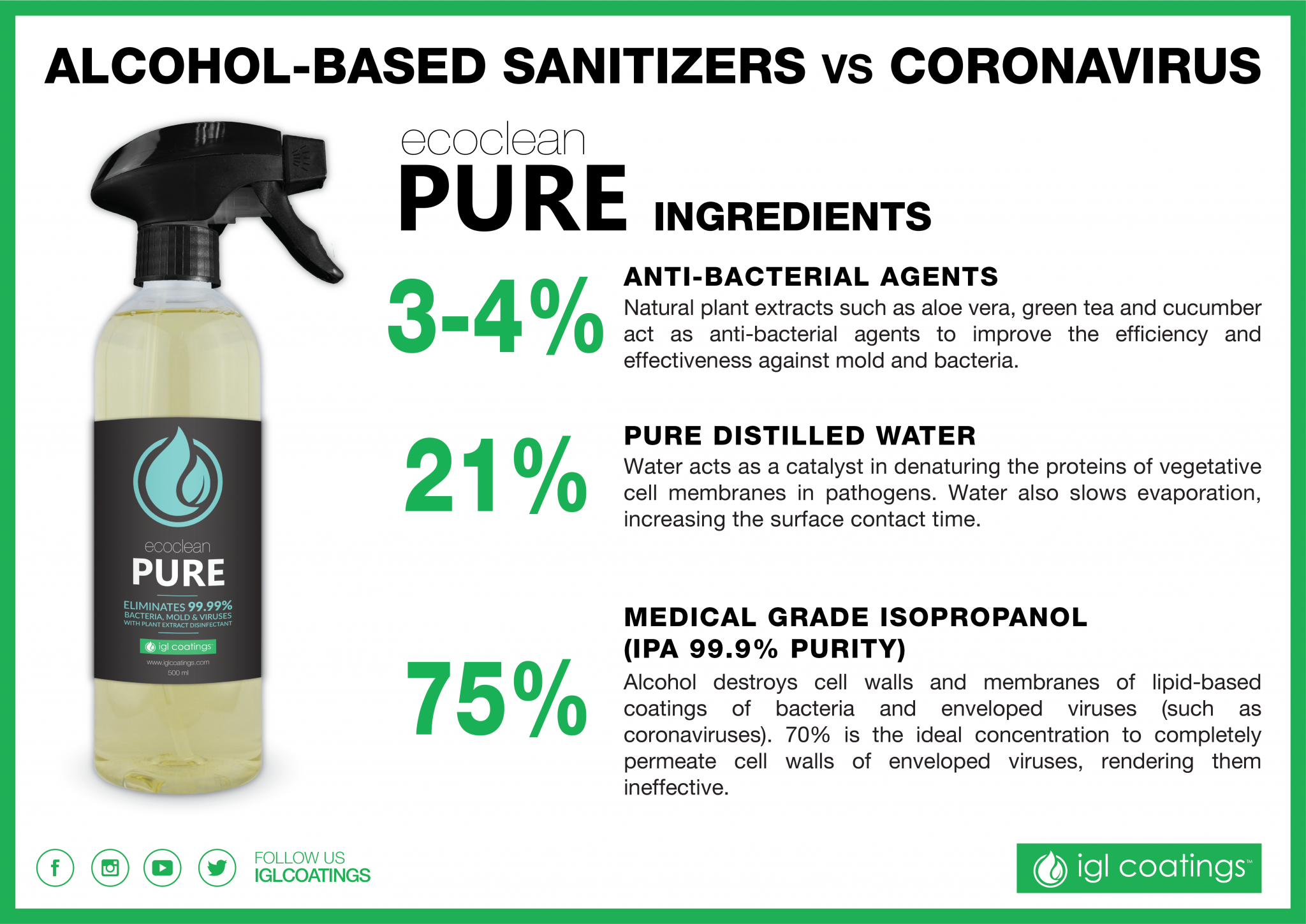 Ecoclean Pure is a 75% alcohol-based surface sanitizer formulated as per the recommendations of WHO, which has shown to be effective against coronaviruses. Made with medical-grade alcohol purity, plant-based Ecoclean pure eliminates up to 99.99% bacteria, mold & viruses. Therefore, IGL Coatings recommends people be aware of their sanitizers' ingredients. Some harmful chemicals can become hazardous to your loved ones & pets.
There we have it. So, my fellow Malaysians, if you want to purchase our safe and effective Ecoclean Pure, we're selling on Lazada and Shopee. Get yours now for the 8.8 Sale! For further information, visit www.iglcoatings.com.Check us out on Facebook, Instagram, Twitter, and Youtube, or email us at marketing@iglcoatings.com for any further questions! Subscribe to our newsletter if you haven't already!