Products
12 Pack Box Available Soon - Shelf Ready Packaging for Retail Display & Sales
11 October 2019
As demands for retail sized products increase, we believe the addition of 12 pack boxes will be beneficial to retailers, and individual detailing shops to be able to promote & sell our 100ml products like ecocoat fabric, ecoclean air and even the all time favourite ecoshine dash! The ultra sleek, professional design of the displays offer an opportunity to increase sales margins and an additional sales revenue. A great conversational starter on the other products that are available for home or diy use.
IGL Coatings 12 pack box is designed to be the perfect size for countertop display. Compact, easy to set up, and most importantly with that awesome IGL green, the 12 pack box will fit right onto your table or product rack.
Though the retail box size is compact for better space management, it is made from high quality eco-friendly material which is recyclable! The sturdy box is able to protect and prevent damage to the bottles inside. You can rest assured that the bottles sealed within the retail box are safely arranged and stored individually to prevent any spills or mess.
As most cleaning products will require trigger sprays, we believe that attaching them together inside the box will further save space and ensure that customers won't forget to take along the trigger spray. Each item inside the retail box will also have separate SKUs for easier stock check.
You can find details listed below for 12 pack retail box.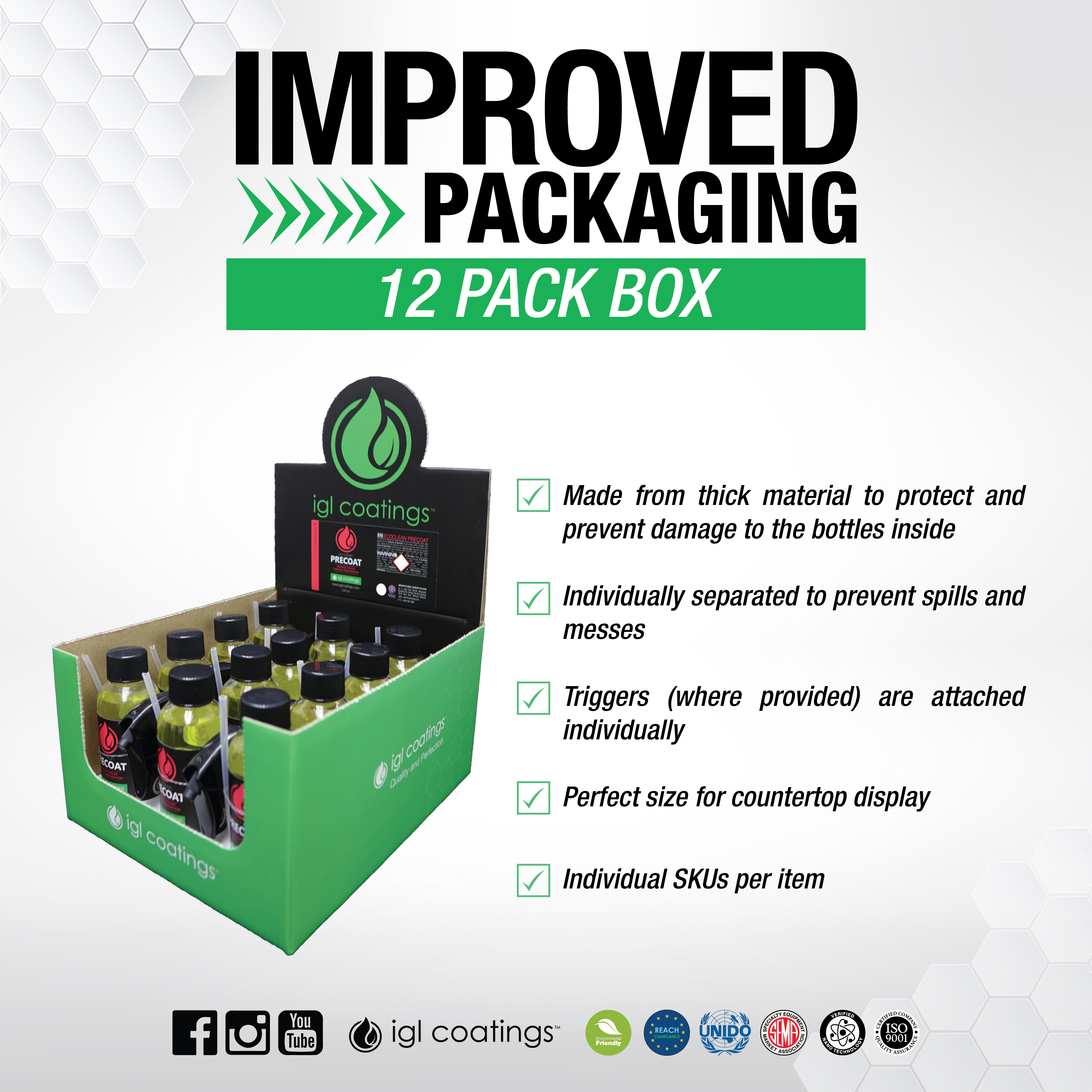 The 12 pack retail box will be available soon! If you haven't tried any IGL Coatings product before and would like to see how these retail boxes can add value to your shop, contact your nearest distributor today at https://iglcoatings.com/contact/ or email us at marketing@iglcoatings.com.