Products
All New Graphene Infused Nano Paint Refresher & Rejuvenator, ecoshine renew F4
17 October 2019
ecoshine renew F4 is a graphene infused nano solution that refreshes and rejuvenates paintwork in just 1 simple step. It refreshes painted surface and cleans with ease, all at the same time! It also seals micro-marrings with a finish that resists heat, shrinkage and frost. IGL Coatings' latest formulation, ecoshine renew F4, infuses graphene with an abrasive free system to protect your vehicle in 1 easy step.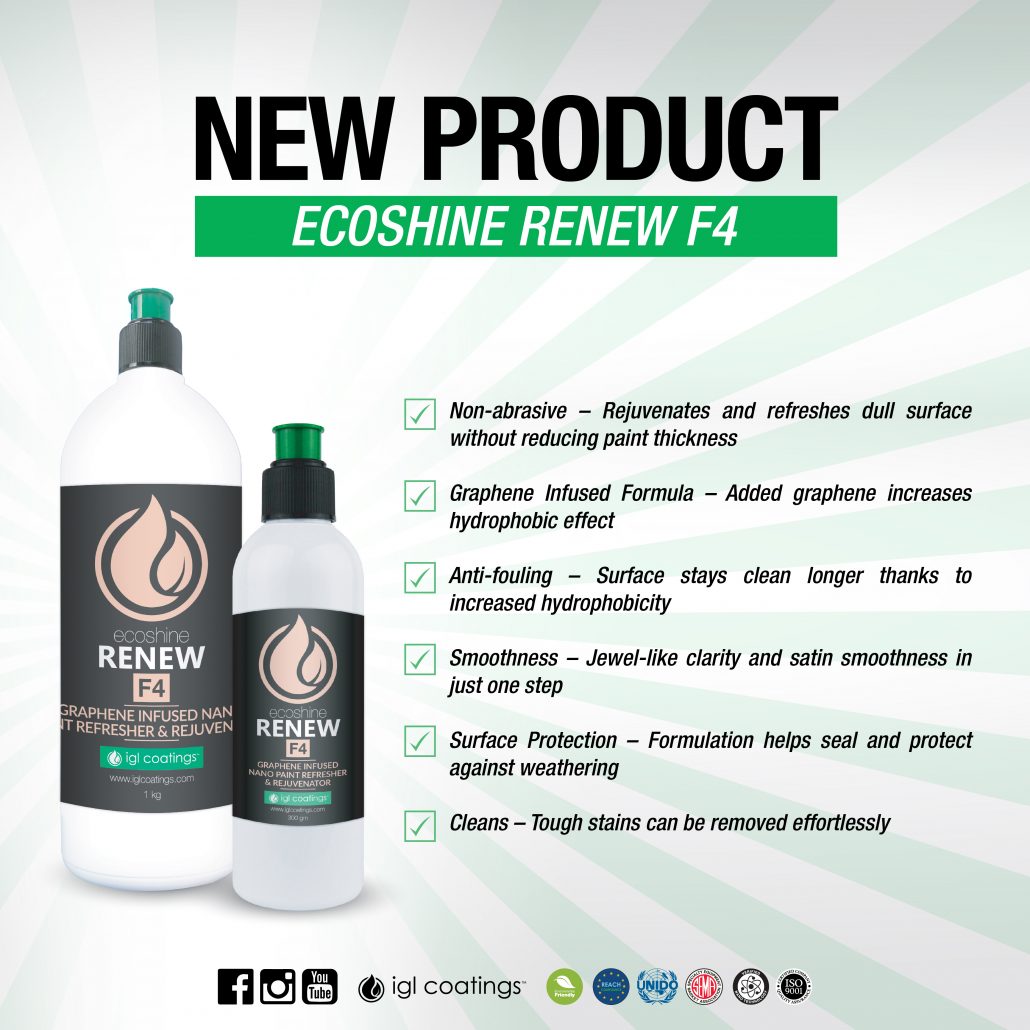 Benefits of infusing graphene in ecoshine renew f4
Graphene is currently the thinnest two-dimensional (2D) carbon material and it is a unique material possessing hydrophobic characteristics, exceptional strength, lightweight and superb versatility.
Added as an additive into ecoshine renew F4's complex formulation, the infusion of graphene enhances the formulation's hydrophobicity, increases its rejuvenating properties, improves durability, slickness and resistance to weathering.
It can be used together with the IGL F Series (F1, F2 and F3) for an improved overall appearance. However, that ecoshine renew F4 does not replace paint corrections and is not recommended to be used as a base for the ecocoat series of ceramic coatings. The application of the coatings over renew F4 may prevent the ceramic coating from adhering strongly onto the substrate, which may cause failure in the coating. We recommend instead to use ecocoat premier over ecoshine renew F4.
Features & benefits of graphene infused refresher
Ecoshine renew F4 is formulated to be zero abrasive. The key feature of renew F4 is to clean and seals in a single step while providing extraordinary shine and gloss. The uniqueness of renew F4 allows it to be used on a variety of surface, while giving exceptional gloss and clarity.
Ecoshine renew f4 resists heat, shrinkage and frost and can be applied on most painted surfaces, metals, vinyl, ceramics, tiles, glass and non-porous plastics. When used on oxidised paints, it cleans, seals and refreshes the paint to its almost original state.
How to use ecoshine renew f4
ecoshine Renew f4 is a great one-step solution for quick maintenance and jewelling. It works great to refresh and renew painted surfaces and works perfectly on already IGL ceramic coated surfaces, sealing in micro marrings and creating refreshed appearance effortlessly. For improved depth, gloss and hydrophobicity, top up with ecocoat premier.
Here's how you can start incorporating ecoshine Renew f4 into your detailing routine:
Ensure bottle is sealed or closed, then shake bottle well before use. This ensures that the product, including the infused graphene is equally dispersed.
With a clean microfiber cloth, apply ecoshine renew f4 onto the surface and wipe directly onto the dry surface.
Polish it until the haze disappears.
Wipe of any excess with a clean cloth.
For outstanding results, we recommend applying ecoshine renew F4 with a finishing pad (IGL Black Foam Pad) on a d/a polisher at low speeds.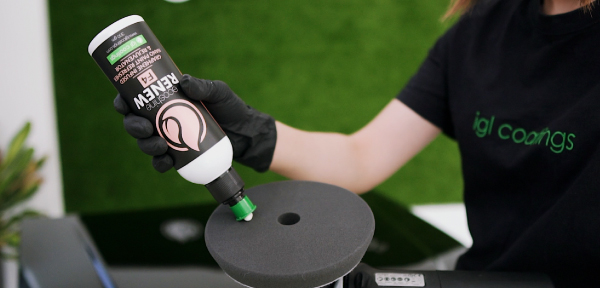 Cautions: ecoshine renew F4 should not be used as a base for the IGL coatings ecocoat ceramic coatings. It can however, be used to refresh and renew any of the IGL coatings ceramic coatings, including ecocoat Kenzo, to maintain and refresh the ceramic coating. We recommend not to use ecoclean precoat over the newly refreshed surface as ecoclean precoat will affect ecoshine renew F4.
The research team at IGL Coatings worked hard (years in fact!) to engineer and perfect ecoshine renew F4. We do hope you'll enjoy using it as much as we had formulating it! We can't wait to see pictures from you. Share your happy stories & results with us at marketing@iglcoatings.com.