Business Tips
5 Top Perfect Gifts for the Gift Giving Season!
1 December 2022
Looking for the perfect gift to spread some cheer this Gift Giving Season?
We've compiled the top 5 perfect gifts! For your dad, husband, loved ones and even your neighbour and colleagues, we've got something for everyone!
Perfect Gift No. 5 – For That Overly Friendly Neighbour
Tired of hearing "Do Mine Next" from your overly friendly neighbour whenever you bring your hose out? We've got good news for you!
We've got a great Snow Foam Blizzard + Enhancer Combo thats just dying to meet them!
Ecoclean's Blizzard's Thick Combo works with just 7ml per 1 liter of water. The minty fresh blizzard clings to surfaces longer and is oh-so-fun to use! Paired with Ecoclean Enhancer that helps to remove all the extra water on the surface, giving it a great gloss and tight beads. A perfect drying aid, Blizzard and Enhancer works well for the wash and dry perfection.
P.s. If your neighbour is really hot, feel free to have a foam party too! 😉
Perfect Gift No. 4 – For the One that says I don't need anything.
Let's see, for the past years, you bought a tie, a mug, some slippers, a snowglobe, a knitted jumper and this year you're looking for something more exciting? something they can actually use instead of just keeping it?
Great news!
The IGL Coatings Travel Kit will be your go to for that fussy guy. Chock full of cleaning and maintenance goodies, there's a product for every reason! From enhancing the interiors with ecoshine dash, shining up the tyres with Ecoshine Tyre and even a wash & clean! Use Ecoclean Glass for the windows and more.
Sustainable Formulas, great smells and perfectly available in a sleek ash-grey bag. It's all you need and more!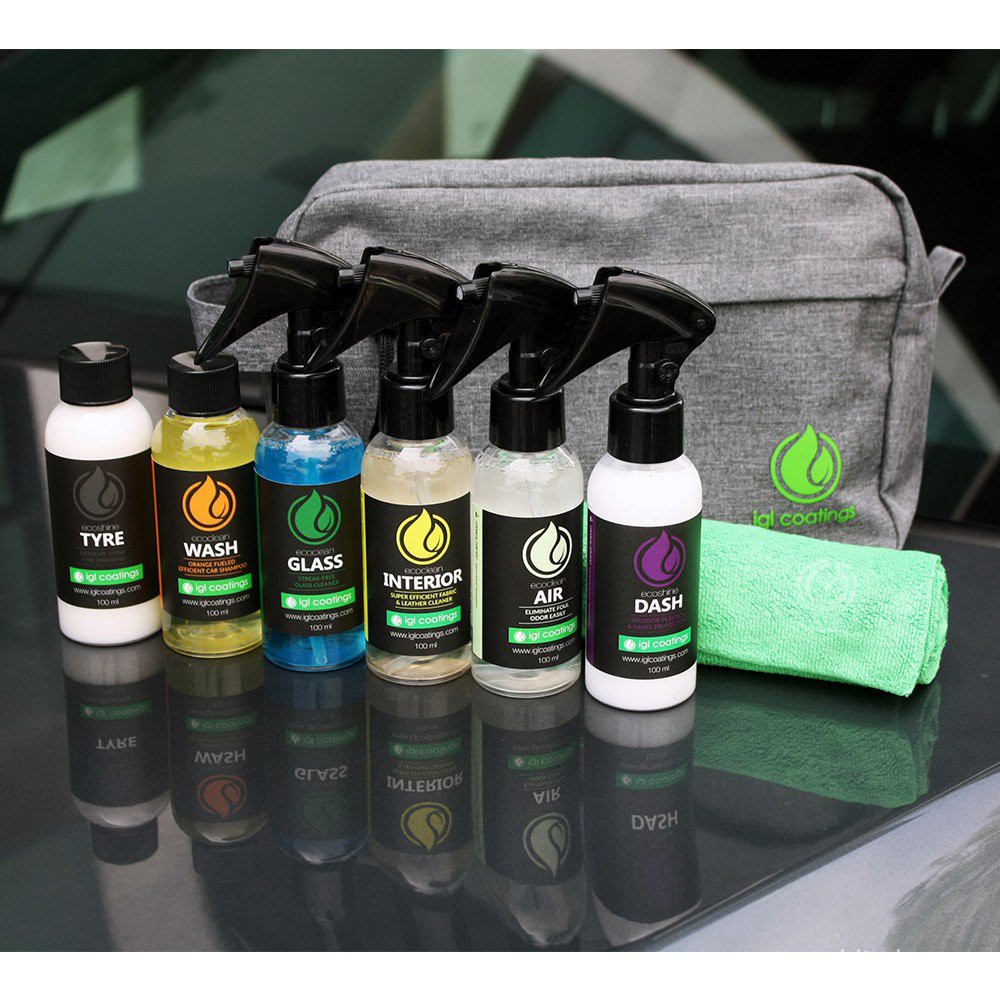 Perfect Gift No. 3 – For the One with Kids, a Mini Van and 10 million Dogs
Things you'll find in and about the minivan ~ Grimy fingerprints (or footprints), Greasy streaks, Unknown Protein stains, melted crayons (or half eaten!), french fries, chips & more.
The Perfect Gift is hope & prayers! We're kidding!
Here's what we recommend – A bottle of Ecoclean Interior, a cleaning brush and a bunch of microfibre towels. Chances are the exterior of the minivan is swirled and dented and let's be honest, they don't be caring about that!
Ecoclean Interior cuts out stains safely and quickly! Made with Biodegradable ingredients, even the fussiest of Karens can't complain!
Perfect Gift No. 2 – For that Co-Worker that you kinda met once but don't know who they are, but hey, its secret santa!
You don't know much about your co-worker except that he or she comes into work and sometimes you see them in the common areas. Well, at least you think that thats who you're looking at.
A Secret Santa is Stealthy and Cool and Perfect Gift includes knowing what they kinda maybe will need!
The JenKO is ready to use, cleans off light waterspots and gives that sleek showroom shine and gloss! In an easy spray bottle. Just spray and wipe and go. Works great and even for the fussiest of co-workers!
Perfect Gift No. 1 – For the Detailer
We'll cut to the chase. Perfect Gift is Ecocoat EZ!
EZ's multi surface, easy to use, introductory coating will be suitable for ANY circumstance. It's all good for a variety of surfaces and will please even the fussiest of detailers!
EZ works on trims, plastics, paint and even headlights. You're safe either way! EZ can even be put on helmets and carbonfiber.
Keeps surfaces easy to clean, maintain and protected for up to a year. Graphene Reinforced EZ is the best introductory coating. If he hasn't already been introduced to the wonderful world of IGL, here's the chance to share with him how switching to IGL can make an incredible difference to his business and health!
That's our top 5 Perfect Gifts this Gift Giving Christmas!
Whether its your long lost aunt, crazy cousin or ADHD mate, the best gifts come from the heart. Plus it also helps not to give worthless plastic trinkets that will be thrown away. A meaningful gift that helps preserve their vehicle is exactly what they need.
Happy Holidays and Merry Christmas IGL Fam!
About IGL Coatings
IGL Coatings is a multi-award-winning, leading expert in green, graphene nano-technology coatings and cleaning solutions for the automotive aftermarket industry. Pioneering the low and zero VOC ceramic coatings since 2015, IGL Coatings provides sustainable solutions to the detailing community worldwide. IGL Coatings is one of the leading brands in North America and is available in more than 50 countries worldwide.
For more information on our brand, people and vision, visit us at www.iglcoatings.com
Subscribe to our exclusive insider newsletter for Now!!
For more information on IGL Coatings, their products and offers, visit www.iglcoatings.com or contact them at media@iglcoatings.com.