Automotive
Ecoclean AIO Spray - Simplify And Revitalize Your Washing Routine
4 July 2023
Being a proud vehicle owner, whether it's a motorbike or a car, means ensuring your prized possession is always looking its best. However, maintaining the pristine condition requires products that are specially designed and reliable. IGL Coatings understands this all too well and has developed the perfect solution for both car and motorbike owners: the ecoclean All-In-One (AIO) Spray.
As Simple as 1-2-3
How to use ecoclean AIO Spray is as easy as 1-2-3:
Give the bottle a good shake.
Spray directly onto the surface to be cleaned.
Wipe off with the microfibre cloth, turning to a clean side after each pass.
Benefits of Ecoclean AIO Spray
This ground-breaking product is not only a cleaner—it's a shield and beautifier for any surface. Here are a few reasons ecoclean AIO Spray can become your ultimate vehicle care companion:
Versatility: Whether you are cleaning paint, metals, plastics, or glass, one product suffices.
Efficiency: Its supercharged formulation effortlessly erases light marks and dust, cutting down your cleaning time.
Protection: The product has inherent hydrophobic properties that shield your vehicle from water, extending the gloss and reducing the need for repeated cleaning.
Eco-friendly: Made with sustainable ingredients, ecoclean AIO Spray cares for your car, while keeping nature intact.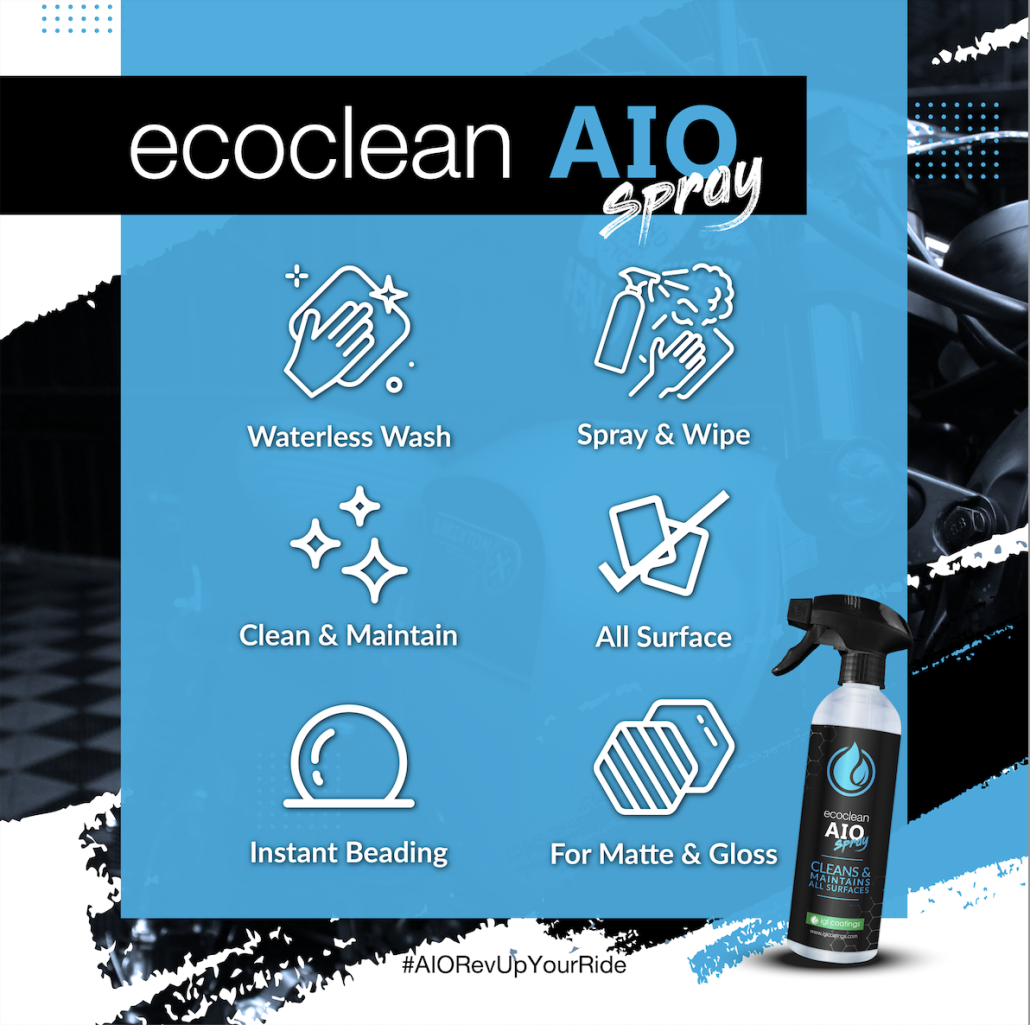 Reinforcing IGL Coatings' Commitment to Excellence
Ecoclean AIO Spray strongly reflects IGL Coatings' commitment to combining innovation and eco-friendliness in their products. This new addition is not just a cleaning solution, but a 'rev up' to the vehicle care game, providing superior protection and enhanced appearance for motorcycles and other vehicles in one easy wipe.
Launched in February 2023, AIO Spray is specially formulated for quick and on-the-go vehicle care – an instant cleaner, protector, and beautifier that's truly versatile. Its press release emphasizes its Eco-friendly nature and incomparable efficiency compared to traditional washes, making it the perfect, sustainable vehicle maintenance option.
The company's equally impressive lineup of ecoshine, ecocoat, ecoclean and Marine affirm its dedication towards contributing positively to the environment.
Embrace the Future of Car Care Today!
If you're looking for a waterless cleaner, protectant, and beautifier that's versatile, efficient, protective, and eco-friendly, then ecoclean AIO Spray is the perfect product for you. Redefine your routine with the ecoclean AIO Spray – an intersection of functionality, effectiveness, and care for the environment. Don't just clean your car; protect and revitalize it!
About IGL Coatings
IGL Coatings is a leading company in surface protection technology, dedicated to providing innovative solutions to protect and enhance the appearance of vehicles. With a focus on eco-friendliness and ease of use, IGL Coatings' products are designed to free up time for their customers to enjoy the things they love. Whether for personal or professional use, IGL Coatings has a solution for all of your vehicle protection needs.
For more information about IGL Coatings, please visit our website at www.iglcoatings.com or contact us at media@iglcoatings.com.