Ecoclean
Press Release: Ecoclean Blizzard Makes Its Debut in IGL Coatings
12 May 2021
IGL Coatings announced the worldwide launch of their ultra-luxurious foaming exterior shampoo – Ecoclean Blizzard. Blizzard's high foaming formula is safe for ceramic coatings. The formulation based on sustainable chemistry is gentle on surfaces but tough on dirt and grime.
Paired with a foaming cannon, Blizzard produces an unrivalled rich and stable foam. Effectively adhering to dirt and grime, dissolving impurities, pulling away gently to be rinsed off easily. Its formula stays onto exterior surfaces for a longer time including the underhang of any vehicle.
"Our IGL Family have had their hearts set on a high foaming pre-wash. We know this and worked hard to produce a high foam wash that not only works to moisten and remove dirt particles, but is based on sustainable chemistry," explained Keong Chun Chieh, CEO, and founder of IGL Coatings.

He continued, "A little goes a long way for Blizzard and we are confident that they will absolutely find Blizzard to be a staple in their detailing arsenal."

"Blizzard works best as a pre-wash, softening dirt particles, bug splatters, goo and grime. Its high foaming abilities stay onto the surface longer, working its way to dislodge dirt particles from the surface. Followed up with Ecoclean Wash, the powerful duo cleans better than ever," explained Keong when asked about the conception of Blizzard.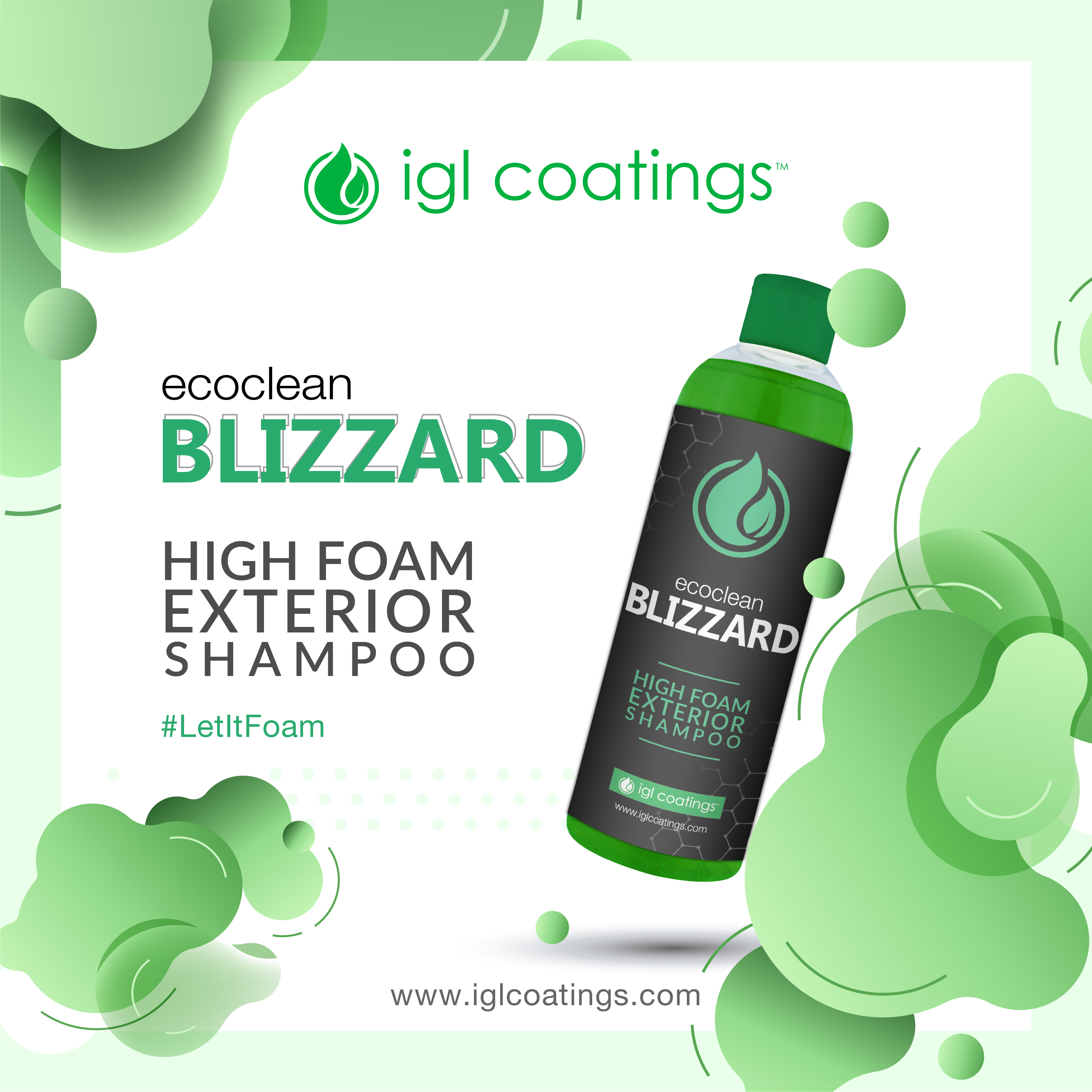 Blizzard works best as a pre-wash, loosening grime, ash, moistening bird droppings, and bug splatter.
At a microscopic level, contaminants may harm the finish, causing micro swirls and scratches. Blizzard covers the surface entirely in a blizzard of thick, pillowy white foam, lifting them from the surface for an effective cleanse. Together, the gentle lubricants prevent micro-abrasives from creating more damage than necessary. Effectively encapsulating road grime, dirt, dust, and pollen, lifting it away from the surface of the vehicle.
Blizzards' high foaming formula moistens dried-up contaminants, making them easier to remove. Its streak-free rinse is safe on ceramic coatings, paintwork, clear coats, and trim. It proves its efficacy even better in removing trapped dirt.
For further details and availability of Ecoclean Blizzard, please speak with your country distributor or representative. For further information, visit www.iglcoatings.com, check us out on Facebook, Instagram, and Youtube, or email us at marketing@iglcoatings.com.
IGL Coatings is a market leader in green nanotechnology coatings and cleaning maintenance solutions for various industries. They pioneered low and zero VOC ceramic coatings since 2015 and have continued to provide effective, cutting edge, eco-friendly products. IGL Coatings is one of the leading brands in North America and Europe and is currently available in over 50 countries worldwide.