Ecocoat
Press Release: Ecocoat KENZO Official Worldwide Launch
27 May 2021
27th May 2021
IGL Coatings, a multi-award winner and leader in sustainable ceramic coatings, announced the official launch of their signature product, the graphene reinforced Ecocoat Kenzo. Kenzo, IGL's pioneer, signature 10H* rated, high solids ceramic coating was recently awarded the Gold Medal Award for Green Technology for the International Innovation Awards 2021.
When it first launched in November 2015 at SEMA, Las Vegas, USA, Ecocoat Kenzo revolutionized the ceramic coatings industry by introducing a 100% high solids formula with zero VOCs. It stood apart with its unique high solids formula, creating a worldwide demand for the buttery smooth and glowing ceramic coating. It quickly benchmarks ultra-lux ceramic coatings. The highly anticipated reformulated graphene reinforced Kenzo was soft-launched at the end of 2020 and was widely received across the globe.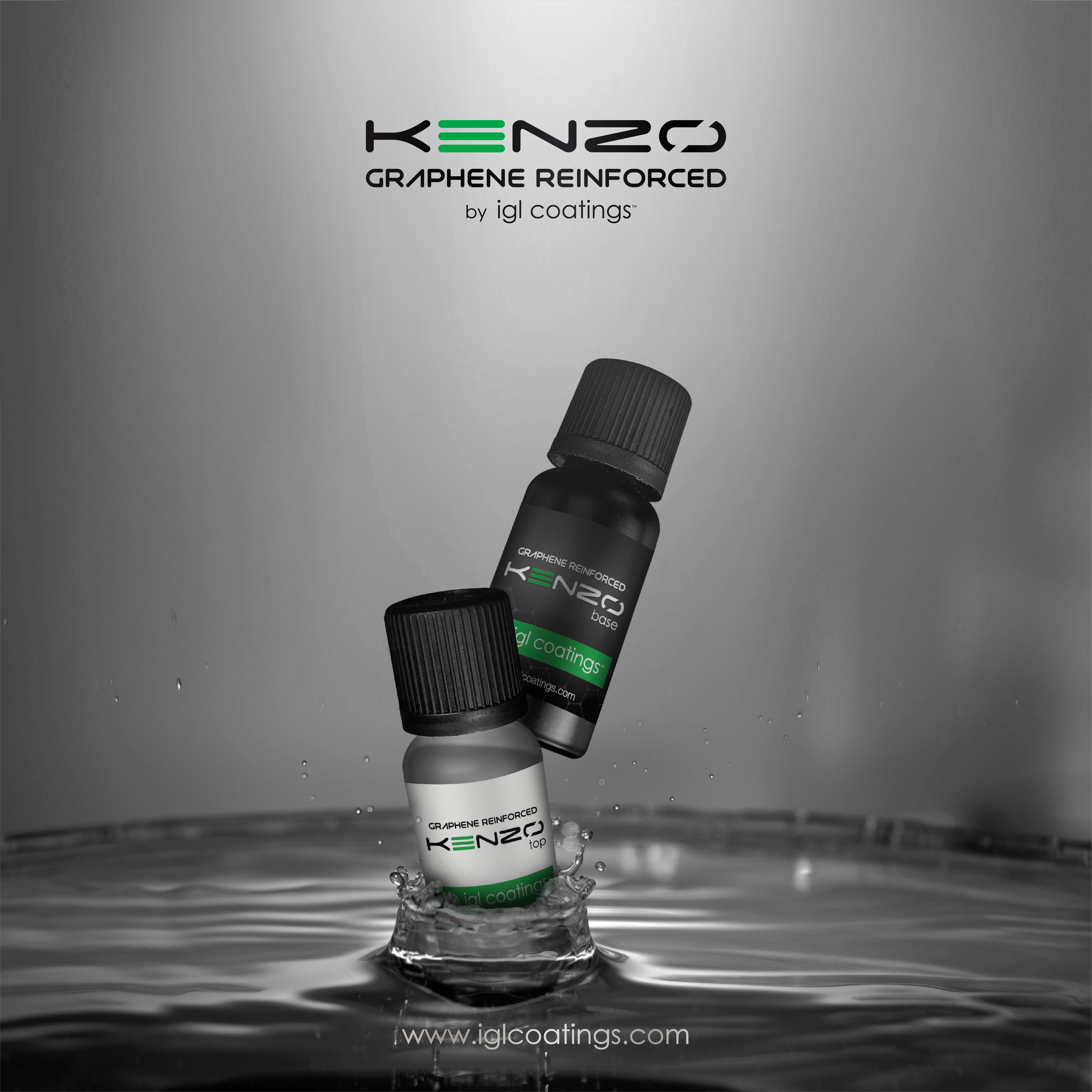 Prized for its durability, and increased resistance against water-spotting and chemical resistance, Kenzo outshines as one of the best performing coatings in the industry.
Today, IGL Coatings officially launched its award-winning ceramic coating, introducing to the world the luxury of Kenzo. The official launch brings together the existing graphene reinforced formula which was launched in 2020, and Kenzo's new and updated packaging!
"27th May is Kenzo Day and things are always special on Kenzo Day! When we launched the graphene reinforced version in 2020, the pandemic was still rife and we had difficulties with sourcing just the right packaging materials to exemplify Kenzo perfectly. We knew that we had a fantastic formula with Kenzo, but we wanted so much more!" said Keong Chun Chieh, founder of IGL Coatings.

Explaining the difference between the soft launch and the official launch, Keong highlighted, "During the soft-launch, we introduced you with graphene nanoplatelets that was added to the Kenzo formula and made a few enhancements to the packaging. Based on the results of our initial tests, we were eager to share the new formula and soft-launched Kenzo. We were floored by the response! To be honest, we expected a good response, but to be almost sold out within weeks of the launch was amazing. With the pandemic, we almost couldn't keep up with demand."

"It was exhausting!" exclaimed Keong on the delays. "However I'm thankful that the team kept things moving. We all knew how important it was to ensure that our worldwide family kept their businesses running and well-stocked during these trying times."

Keong continued, "Finally, we are able to officially launch the soft-launched formula with its new and improved packaging. Kenzo has and will always stand out from the crowd. We're always moving forward with our technologies and look towards maintaining Kenzo as one of the best choices in ceramic protection."
As stated previously, Ecocoat Kenzo was recently recognized and awarded 2 international awards for its efforts and innovation in green technology. As one of the leaders in green technology in the ceramic coatings industry, IGL Coatings appreciates the recognition from its esteemed peers.
"From conception, we wanted Kenzo to embody sustainability. We worked with our suppliers for sustainably sourced materials in all aspects. Working from the raw materials to the packaging and design, we wanted Kenzo to be both luxurious and elegant, all sourced from sustainable origins," explained Fiona Chin, Director of IGL Coatings.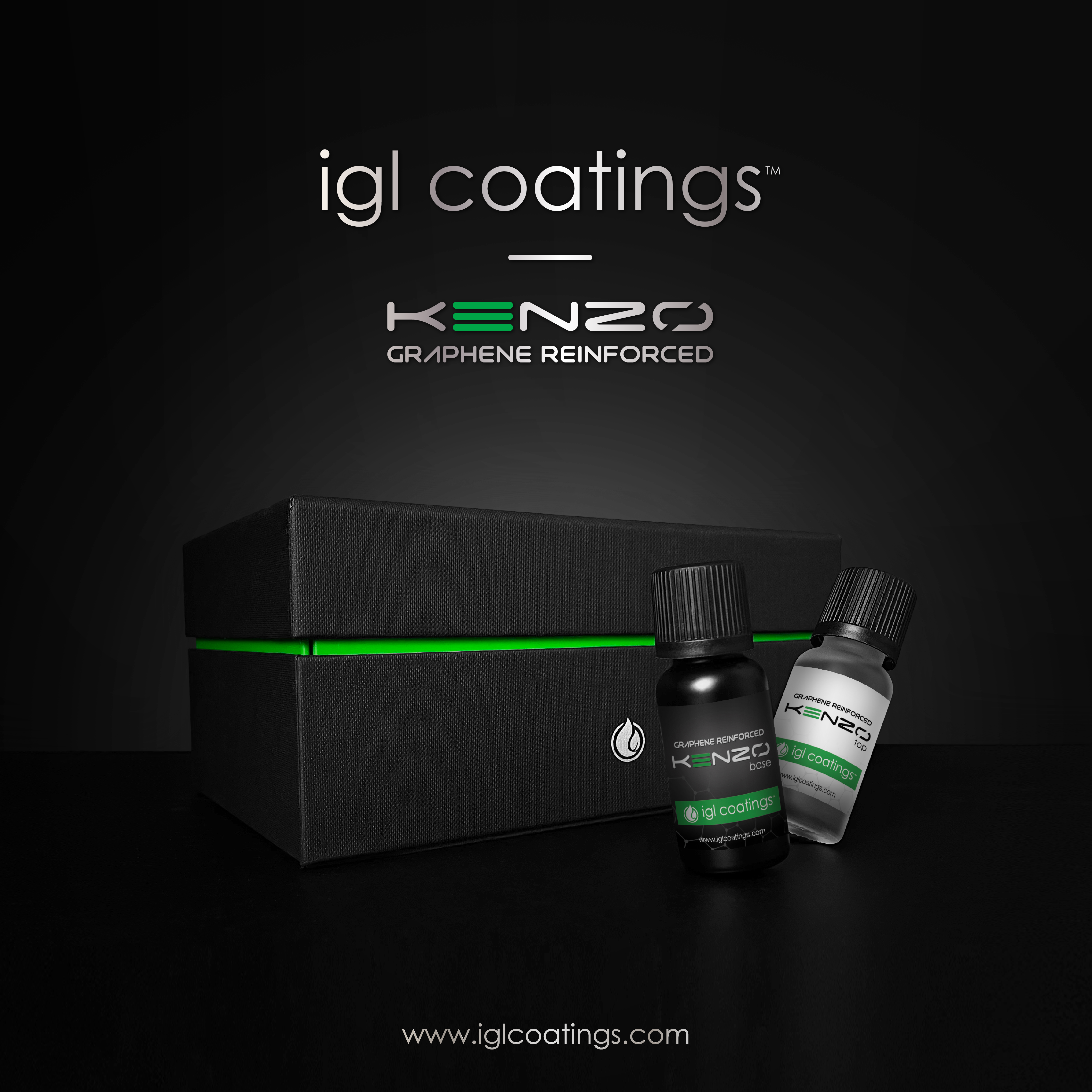 The Kenzo Box is unlike any in the industry. Each box is individually crafted by hand, making each box similar, yet uniquely individual. In this growing world for automation and industry, the Kenzo Box takes a step back to appreciate and revitalize the fine art of box-making.
The bold, black, embossed exterior finish was specifically chosen to improve handling and grip. The iconic IGL green that peeks out from beneath the dark exterior showcases the underlying green technology IGL encompasses. When opened, each bottle of Kenzo, Precoat, and applicator sponge is held firmly in place preventing any damage during shipment. The subsequent dropdown reveals the hidden pull-out drawer; keeping the accessories and microfiber cloth snug.
The Kenzo Box's sturdy and timeless design is created for future uses. ReCycle, ReUse and RePurpose. Watch our LIVE LAUNCH of Ecocoat Kenzo held on Kenzo Day!
IGL Coatings is a market leader in green nanotechnology coatings and cleaning & maintenance solutions for various industries. They pioneered low and zero VOC ceramic coatings in 2015 and have continued to provide effective, cutting edge, eco-friendly products. IGL Coatings is one of the leading brands in North America and Europe and is currently available in over 50 countries worldwide.
For more information on Ecocoat Kenzo and its outstanding features, read here.
IGL Coatings Graphene Reinforced Ecocoat Kenzo is a signature product and is only available to authorized Kenzo installers. To find out how you can be an authorized installer, contact your local representative or distributor on how to be part of the IGL family.
For further information, visit www.iglcoatings.com, check us out on Facebook & Instagram, or email us at marketing@iglcoatings.com.
*on a pencil scale