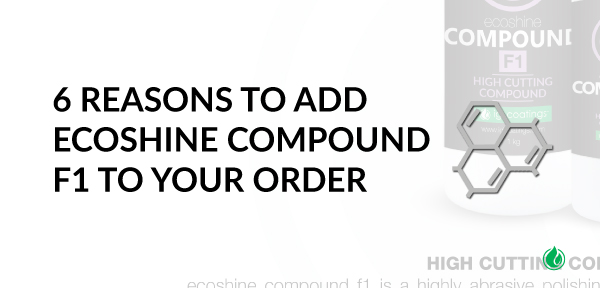 04 Mar

6 Benefits to Expect from ecoshine compound f1 Abrasive System

ecoshine compound f1 is a cutting compound and works by cutting and polishing the top layers to remove the damaged top layers of the paint finish to reveal a new surface. It can also be used polish out paint scratches and remove old and oxidised paint to reveal fresher paint underneath.
Highly efficient 1-step abrasive system
ecoshine compound f1 is one of the best high cutting compounds available. Its high abrasive polishing compound is formulated with innovative abrasion technology which creates an extremely deep gloss with virtually no halos and holograms, making it an excellent one step product. It is also highly efficient at correcting paint that are failing, dull, marred and P1500-P3000 sand scratches. It may also be used on both oxidised surfaces and new fully dried paints.
ecoshine compound f1 is generally used to polish and rejuvenate the paint in a variety of ways including smoothing out paint finishes, removing paint overspray, blending in areas of new paintwork, polishing out paint scratches and swirlmarks and restoring dull and weathered paintwork.
Highly efficient at correcting failing paint, dull and marred paint works and P1500-P3000 sand scratches, IGL Coatings ecoshine compound f1 may be used on both on oxidised surfaces and new fully dried paint surfaces. And you can expect these 6 benefits to come along each bottle of ecoshine compound f1 you purchase.
LOW DUSTING: Unique formulation that reduces the amount of dust created during heavy compounding work
BODYPAINT SAFE: Product is safe to be used in bodypaint shop
SAFE FORMULATION: Formulation is free from dangerous solvents, Non-toxic, biodegradable and REACH compliant
1 STEP USAGE: From compounding to finish with the same product
MINIMAL PRODUCT USAGE: The formulation has a long working time creating the benefit of minimal product usage
EASY TO USE: Simple and straightforward application method
Curious about how ecoshine compound f1 works? Read more about that in our blog, ecoshine compound f1, Finish Ready Abrasive with High Clarity.
IGL Coatings is the leading manufacturer and formulator of 10H hardness ceramic coatings. Our product range includes multiple surface coatings, cleaning and maintenance for various surfaces including paint, glass, metals, plastic and fabrics. ecocoat KENZO is our flagship 10H coating, suitable for any car for the ultimate paint protection.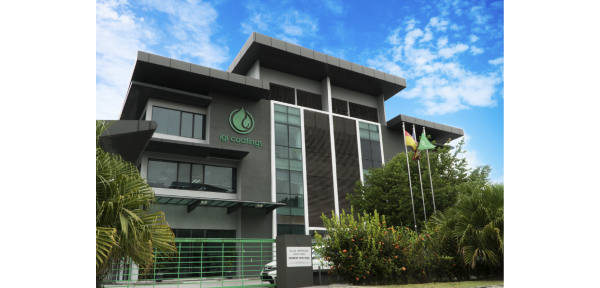 Find out more about how IGL Coatings can provide support for your detailing shop & enhance your detailing career at www.iglcoatings.com today! We're also available via [email protected] and +6010 792 9888.