Business Tips
Building Your Detailing Business with ecocoat premier
10 January 2019
With how easy it is to use ecocoat premier, this product can be considered the entry level paint coating for customers who are newly acquainted with ceramic coating but are unwilling to spend thousands of dollars until they see proof. So adding to your revenue with ecocoat premier is definitely possible, following these 4 scenarios that may apply to you.
Scenario 1: ecocoat premier is a great way to introduce clients to the world of ceramic coatings
Have you met with potential clients who have heard about the benefits of ceramic coatings but aren't convinced in spending top dollar for a ceramic coating?
The client is possibly concerned about the cost of the investment of a ceramic coating but has not experienced what it can offer.
To address this situation, we suggest to offer to the client a quick layer of premier onto a segment of the car, perhaps a side panel or a small 1x1ft area, while informing the client that ecocoat premier is a semi-permanent spray on coating which will last approximately 3 months, and is only an introduction to what a permanent ceramic coating can offer in terms of protection and maintenance.
After a couple of weeks, 8 out of 10 clients will absolutely hate the fact that the premier patch is cleaner, repelling water better, basically outperforming the other uncoated areas, which now makes his car looks like a mess comparatively. Congratulations! Now they can have the option to coat their car fully in ecocoat premier or have a great ceramic coating like poly, quartz, quartz+ or Kenzo!
Scenario 2: ecocoat premier is an excellent way to provide the client with an affordable alternative to ceramic coatings
Not all clients are willing or have the extra cash for a full ceramic coating.
Perhaps it's a Valentine's or Christmas day gift to a loved one, a gift of ecocoat premier can bring in long term love for ceramic coatings in the future.
We suggest to offer a great ecocoat premier special, where it can be gifted for an affordable price to loved ones, clients, colleagues. This works both ways to increase the traffic coming to your location to redeem the gift, and the possibility of an upsell of another product, for example, ecocoat window!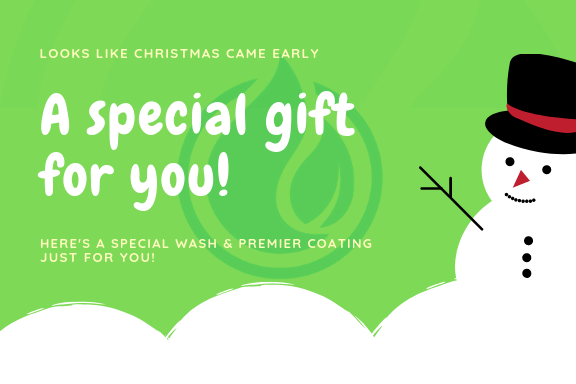 The cost might not burn a hole in the pocket of the gifter, but would be greatly appreciated by the receiver! Plus you will have additional customers coming in and loving the job that you have done for them. Don't forget, in 3-6 months, you will have a returning customer for another premier job or a ceramic coating job. Treat that customer well and you will have returning customers from your existing customers.
Repeat customers spend more money than new customers. Chances are that because they've decided to stick to you, they probably also are more likely to trust you enough to purchase your more expensive products or services. Also, repeat customers are much easier to sell to as they've already seen or experienced your work! (If they didn't like it, they wouldn't be repeat customers!).
Don't forget, repeat customers also tend to promote your business better than new customers would. They are more likely to forward your name when asked for recommendations or hook you up with someone they think would need your services. Treat them well and they will treat you well.
Scenario 3: ecocoat premier aids in maintaining & increasing longevity on the lifespan of ceramic coatings
ecocoat premier was initially created to increase the longevity and durability of ceramic coatings. When maintaining the ecocoat ceramic coating, ecocoat premier is used as a topper and finisher. Usually maintenances are scheduled every 6 months to check on the conditions of the surface and to remove any contaminants from the coatings and refresh the ecocoat ceramic coatings to make it as new again.
Having ecocoat premier in your maintenance schedule keeps the ecocoat ceramic coatings going strong and glossy.
Scenario 4: ecocoat premier is a quick & cost efficient way to add value to a customer's wash & go regime
Does your schedule look like a car wash service instead? Do you have clients who only insist of washing their cars?
Up your revenue by adding ecocoat premier in the wash but charging an additional premium for it. It won't take you long to apply ecocoat premier, but it will leave your customers in awe in terms of the water repellency and gloss. Best case is they will recommend you to their friends and family for superb services and become loyal customers.
For more details on IGL coatings, visit our website www.iglcoatings.com or contact us at marketing@iglcoatings.com.