Announcement
Wherever They're Going, They Don't Need Light
4 April 2018
March was very exciting for us. We sat down, talked about performance (as business people always do), and thought, "Hey, we'd like to congratulate these fine gentlemen for a job well done in 2017."
Everyone's given their best in 2017 and we want to thank you for that. We are a passionate family working together in the detailing industry and we won't go far without your never ending support. Thus, the EXCELLENCE AWARD 2017 is here to show our appreciation.
So we had a little bit of a teaser going on throughout our social media channels before the big announcement. Though to be honest, you can actually sort of make out who the winners were already.
https://www.instagram.com/p/BgXre0KlOHF/?taken-by=iglcoatings
But hey, it's the thought that counts? Right, Count Dracula?
We kid, we kid. In all seriousness, we really wanted to show our appreciation and what better way than to present these prestigious award to the top performers. It was hard to choose because of the exceptional achievements from everyone. I mean, it's like asking to choose which one is your favourite child.
At long last, we chose the top 4 companies that have shown the biggest progress throughout 2017. Went through leaps and bounds to arrive where they are today and still are growing. We're proud of you. And once again, congratulations. You deserve the award.
So without further ado, here's the announcement on Facebook that we posted mid-March.
https://www.facebook.com/iglcoatings/posts/1636642576405561
Here's the list of IGL Coatings' Excellence Award 2017 receiver and their respective category:
Rising Star 2017 🌟
Congratulations, Martin Eames! IGL Coatings UK LTD has been awarded with Rising Star 2017.
Rising Star 2017 🌟
Congratulations, Tom Ang! IGL Industries PLT has been awarded with Rising Star 2017.
Exceptional Growth 2017 👨‍💼
Congratulations, Jeff Kary & Joel LaPalme IGL Coatings USA LTD has been awarded with Exceptional Growth 2017.
Exceptional Performance 2017 🎯
Congratulations, Avi David & Mayer Aflalo! Y.A.D Global Automotive LTD has been awarded with Exceptional Performance 2017.
And what's a winner announcement without a bit of an interview session with the winners? They had so many input to share with us and we just couldn't keep them to ourselves. After all, a family that supports each other stays together.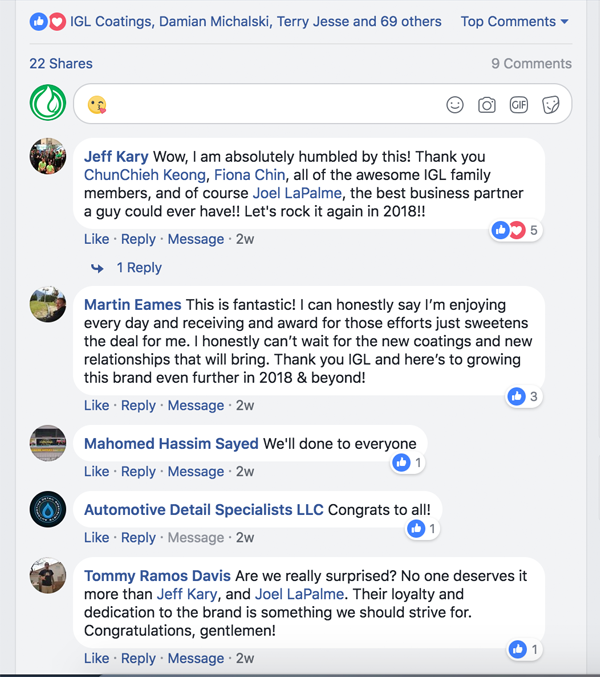 We talked about their fave IGL Coatings' products, their thoughts of the current market demand as well as what they wish to tell to anyone interested in being a local distributor. Below is the excerpt of our interview with award receivers.
Congratulations! How does it feel to hold the heavy glass trophy in your hand? You truly deserve the award.
Martin: I honestly didn't expect to win anything for my first year with IGL! Working with IGL's support team and my IGL partner in the Netherlands has been a great experience.
Avi: We are very pleased to receive the Exceptional Performance 2017 Award. We invested a lot of resources in promoting the brand, and we are very happy to know that you are seeing it and chose to mention us.
Jeff: I am amazed and humbled by this award! We couldn't have done this without the amazing support we get from IGL HQ in Malaysia and the support and loyalty of the entire IGL family!
Joel: We want to thank all of our customers, our sales team, our warehouse staff and of course IGL HQ, none of this would be possible without there support. We look forward to breaking that record this year.
https://www.facebook.com/iglcoatingsUK/photos/a.1614811402066008.1073741829.1614269965453485/1865388180341661/?type=3&theater
How did your journey with IGL Coatings begin? There must have been a turning point in one of your endeavours before you decided that IGL Coatings is suitable for your business?
Martin: I really liked the product and the green (eco-friendly) side of the brand. I've worked with many global coating companies and literally hadn't seen anything like these products before, it was a game changing step!
Avi: We carefully choose the best products in the world for our customers with emphasis on high quality luxury products. IGL's products have met the strictest requirements of our customers and provided unparalleled products in their high quality. We have chosen to work with the materials of IGL because we choose to work with the best.
Jeff & Joel: We were initially attracted to the eco-friendly side of the products. Not only did we find the products to be of very high quality, we very quickly found that the IGL organization was built on principles of ethics and integrity that mirrored ours! These standards have never been compromised, and the products just keep getting better!
https://www.facebook.com/theiglgroup/photos/a.176191579415338.1073741827.176076706093492/422288804805613/?type=3&theater
For you to choose what's best, surely you'd try them out first. So how long have you been using IGL Coatings' product? Whether it's for your own car or for customers who come to you for a service.
Martin: I first became aware of the brand in the summer of 2016 when we were approved as a Kenzo application centre and soon afterwards applied Kenzo to a clients Ferrari LaFerrari.
Avi: Three years ago we met Keong Chun Chieh at the SEMA Show in Las Vegas. The people who met us, the quality of the product, the packaging of the product and the high level of professionalism impressed us and made us decide to join IGL.
Jeff & Joel: We started distributing IGL Coatings products in Canada in the fall of 2015. In February of 2016 we expanded into the US market and set up IGL Coatings USA Ltd.. The rest, as they say, is history and we are having so much fun!
Getting onto the spicier side of the interview, how about spilling your secret to success? We're sure that a lot of fellow distributors would like to know how you marketed the IGL Coatings brand.
Martin: The eco-friendly aspect IGL has is unique to the UK market. Also the fact IGL is tested by TUV for its coatings is again a unique aspect to the brand. Also for our customers they have more faith in products that have been thoroughly tested and certified.
Avi: The power of IGL as a company and family. Many companies register and use the name "family". But in IGL it's true, the company invests a lot of efforts in the production of marketing materials. The company leads a family practice of sharing materials that are not accepted anywhere else.
Jeff & Joel: Again, we have to go back to the entire organization's honesty, ethics and integrity. Integrity comes from the top down, and the IGL family proves that daily. We also strive daily to provide our customers the best possible service we can. Having awesome products helps too, thank you to the IGL HQ team for giving us the opportunity to be part of this.
https://www.facebook.com/www.iglcoatingsisrael/photos/a.490436261162506.1073741828.486738824865583/807422439463885/?type=3&theater
Thank you everyone for your time and also for your hard work to grow the IGL family abroad. Please give our readers encouraging words, especially to those who are looking to become IGL distributors too.
Martin: Focus upon your customers, listen to them and their requirements and work with them to achieve their goals. Promote their work via social media etc. Always be willing to help and fix any issues quickly.
Avi: First of all, it is important to note that IGL is a very reliable company, many companies promise you a sky of promises before you join them. IGL on the other hand tells you everything directly, a promise you get from IGL is a promise made. And in today's business world it's worth a lot.
Jeff & Joel: The US detailing market in general is growing by leaps and bounds. So get on board! Everything about this group is top notch, you will not be disappointed. Being able to offer the new divisional products to the IGL family has changed the game for everyone.