Press Release
Press Release: Introducing Graphene Reinforced One-Layer Ceramic Coating
17 March 2021
IGL Coatings announced the launch of their latest and newest addition to its line of graphene reinforced coatings, Ecocoat EZ. Designed specifically as an introductory level coating, the new and improved Ecocoat EZ is 8H rated, has a durability of up to 12 months, and the only one-layer coating.
The improved formula of Ecocoat EZ is reinforced with graphene nanoplatelets has a hardness rating of 8H, an upgrade from the previously formulated which had a hardness rating of 7H. The new formula significantly improves hydrophobicity with increased water spot & chemical resistance, improved slip for efficient cleaning, with an outstanding gloss.
Responding to the need of their on-the-go detailers, the IGL team doubled their work time to introduce a versatile and durable single-layer coating. The new graphene reinforced Ecocoat EZ achieves all that and more.
"We are very motivated by the responses from our previous graphene reinforced launches. These launches received overwhelmingly positive reactions from everyone," explained Keong Chun Chieh, CEO of IGL Coatings. "With Kenzo and Quartz+ reserved for our certified and installers, we wanted everyone to be able to experience our graphene reinforced coatings. We worked to introduce the new Ecocoat EZ resulting in enhanced properties; to name some, better slip angle, improved gloss, and increased hydrophobicity," he continued.

Explaining further, he shared, "There were many requests for accessible graphene-reinforced coating for every stage, including entry-stage level detailers. The one-layer coating is ideal and reduces the need of investing in specific surface coatings. With that, I'm proud to share our latest graphene reinforced coating that I'm sure everyone will love."
The new Ecocoat EZ, is a unique single layer, low solids coating which has been performing outstandingly compared to the previously formulated Ecocoat EZ. The original formulation of Ecocoat EZ had a hardness rating of 7H. Reinforced with graphene, its hardness rating increased to 8H without compromising the gloss.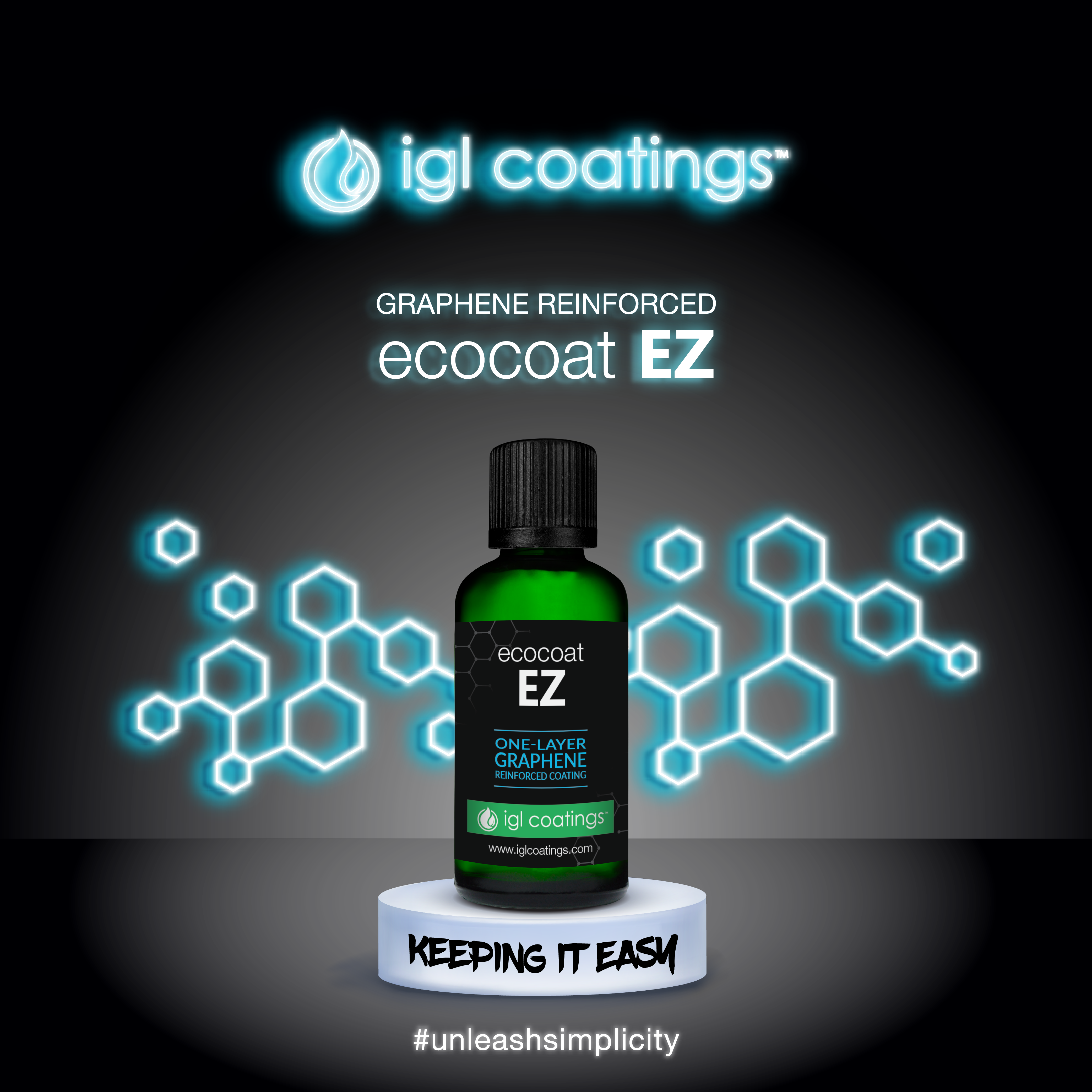 The new formula has a marked improvement in reflectivity and resistance against micro marring and dullness. Graphene reinforced Ecocoat EZ works well on paint, wheels, and glass with a durability rating of 12 months.
"Ecocoat EZ uses a unique and simple mechanism. The 1-layer system crosslinks with a slight impregnation to the paint; saving application time and cost. It's designed to address the current difficulties faced by 'on-the-go' detailers who are looking for a fast and simple all-in-one coating," said Keong when asked to describe the new and improved Ecocoat EZ.

"The sweat and tears of our team are paying off. The introduction of graphene nanoplatelets and the improved formula of EZ will set a new standard in the industry," shared Keong. "A definite game-changer."
Graphene reinforced Ecocoat EZ is compliant with import regulations TSCA (USA), AICS (Australia), ECHA (EU), and KECL (South Korea).
For further details and availability of graphene reinforced Ecocoat EZ, please speak with your country distributor or representative. For further information, visit www.iglcoatings.com, check us out on Facebook, Instagram, and Youtube, or email us at marketing@iglcoatings.com.
IGL Coatings is a market leader in green nanotechnology coatings and cleaning maintenance solutions for various industries. They pioneered low and zero VOC ceramic coatings in 2015 and have continued to provide effective, cutting edge, eco-friendly products. IGL Coatings is one of the leading brands in North America and Europe and is currently available in over 50 countries worldwide.