Ecocoat Shield - New & Improved with Better Compatibility
7 November 2023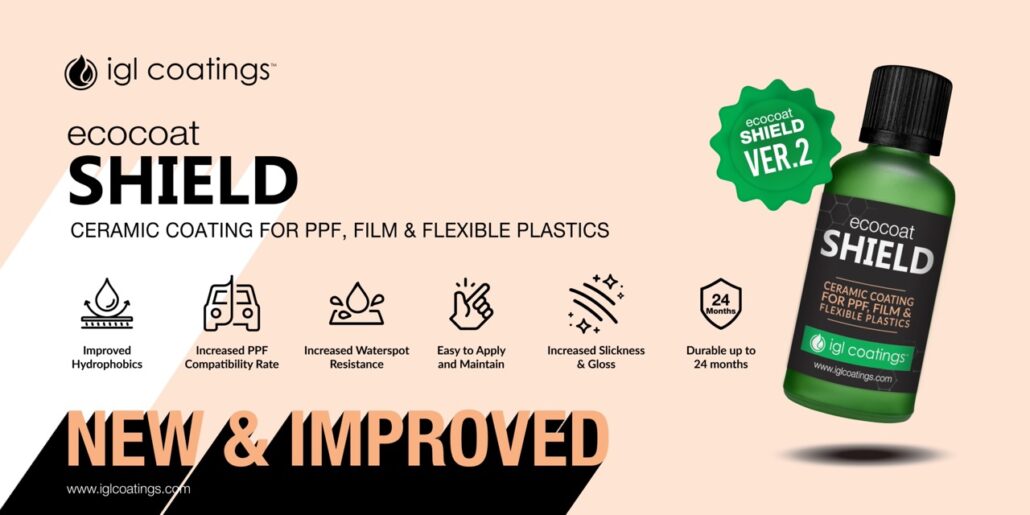 Ecocoat Shield V2, takes their commitment to excellence to new heights. Designed specifically for paint protection films (PPF), flexible plastics, and self-healing bras, Ecocoat Shield offers unrivaled protection against degradation, UV damage, fading, and more.
Enhanced Formulation for Greater Protection
Ecocoat Shield V2 is the result of IGL Coatings' continuous dedication to technological advancements. Building upon the success of the original Shield, this new formula offers an extended range of protection for flexible plastics, films, and other surfaces. Now, you can safeguard a wider array of materials from environmental hazards
Reduced Water Spotting
One significant improvement in Ecocoat Shield V2 is its enhanced resistance to water spotting. Previously, the coating required a minimum of 4 hours without water contact, but now, it only needs 2 hours. This reduction in water spotting duration means that your protected surfaces will stay cleaner and more flawless for longer periods.
Wider Compatibility
Ecocoat Shield V2 works seamlessly on various types of paint protection films, flexible plastics, self-healing bras, and more. No matter the surface, you can trust that Shield will provide comprehensive protection.
Increased Hydrophobics
The graphene-reinforced formula of Ecocoat Shield V2 improves its hydrophobic properties. Water will effortlessly slide off the coated surface, preventing water spots and ensuring a cleaner, more polished appearance.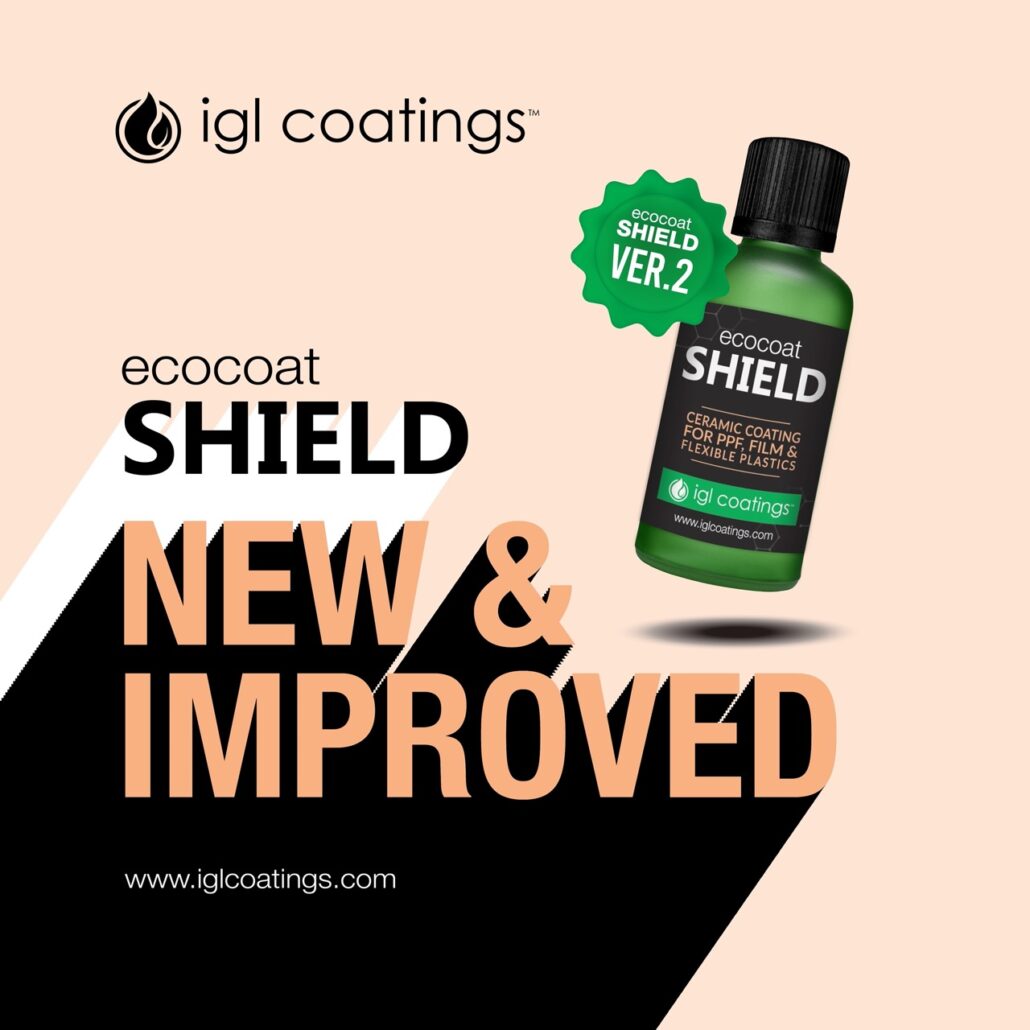 With the new and improved Ecocoat Shield , IGL Coatings continues to raise the bar when it comes to protecting flexible plastics and paint protection films. This graphene-reinforced ceramic coating offers improved compatibility, increased hydrophobic properties, advanced slickness, and glossiness, reduced water spotting, and durability of up to 24 months. When it comes to safeguarding your vehicle's surfaces against degradation and the damaging effects of the environment, Ecocoat Shield is the ultimate solution. Trust IGL Coatings to provide superior protection for your prized possession.
About IGL Coatings
Established in 2015, IGL Coatings quickly gained traction to become one of the most trusted names in the automotive detailing industry worldwide. From Shah Alam, IGL's reach and worldwide success can be attributed to its commitment and dedication towards innovation, sustainability, customer satisfaction and technology.
IGL Coatings is a global market leader in the development and manufacturing of innovative surface protection solutions. With a strong commitment to research and development. IGL Coatings creates industry-leading coatings that deliver exceptional durability, enhanced aesthetics, and environmental sustainability. Trusted by professionals and enthusiasts worldwide. IGL Coatings is dedicated to revolutionizing the automotive, marine, and industrial sectors with cutting-edge technologies and unparalleled customer support.
For more information about IGL Coatings and their range of automotive and marine products, please visit www.iglcoatings.com.