Announcement
IGL Coatings Will Launch Limited Edition Earth Day Ecocoat Box
12 April 2019
In conjunction with Earth Day and UN Sustainable Development Goal (SDG) 12, we will be launching a limited edition ecocoat box. Designed to withstand harsh shipping conditions across the world yet still be ergonomic and easy to recycle, we believe this ecocoat box design can spearhead the future of IGL Coatings logistics. Please be noted that this limited edition design is not available for ecocoat marine, ecocoat eclipse and ecocoat ez.
Limited edition ecocoat boxes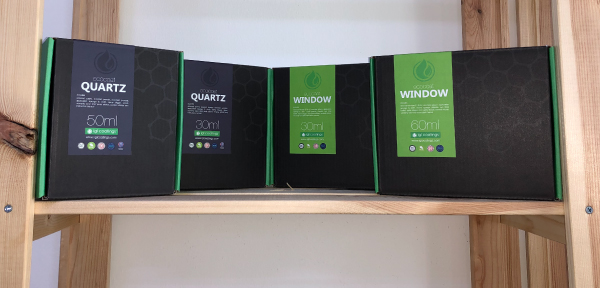 The limited edition ecocoat box comes in 2 sizes: compact & regular. To accommodate ecocoat kits that come in variations of 1 to 2 bottles, these 2 box sizes can perfectly fit each kit.
Both liner and fluting are made from easy to recycle Kraft paper, a durable material with high elasticity and high tear resistance. The outer liner is made of ivory paper to preserve the high quality printing that makes our ecocoat boxes exclusive. And thanks to the new design, the box can withstand greater impact thus increasing durability during transport to your mailbox.
Worry not, these boxes are easy to handle and use due to their light weight nature. Best of all, they're environmentally friendly – more than 90% recyclable material and made from a renewable resource.
Benefit of the new ecocoat box design
Having gone through an extended designing process, we ensured that each detail was perfect from A to Z. Taking into consideration the comments by accredited detailers as well as the eco-friendly aspects of production, the design is finally materialised to be highly beneficial and durable while maintaining the exclusive feel.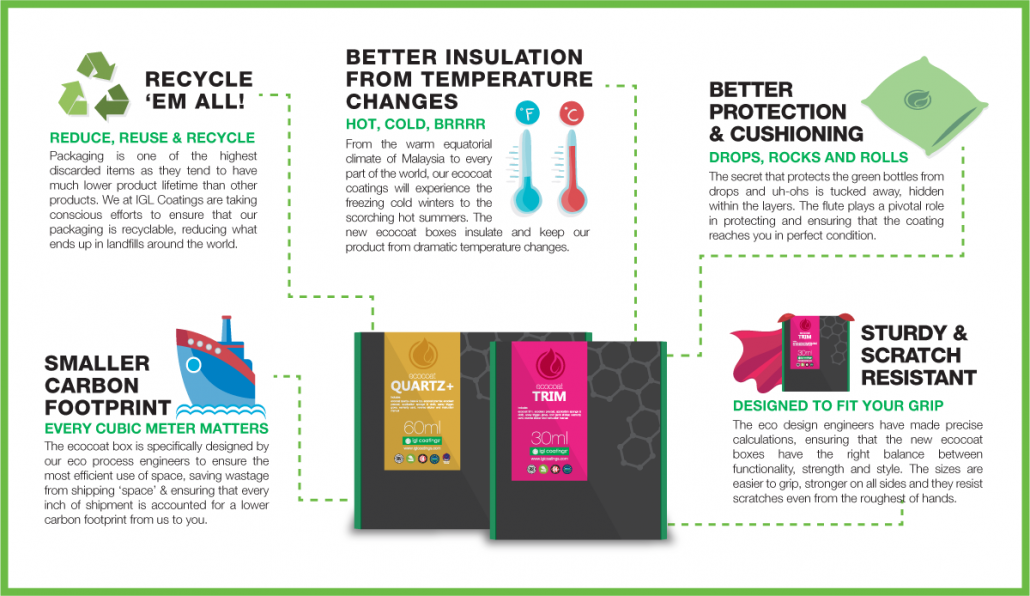 Supporting Earth Day & UN SDG 12
More than 1 billion people now participate in Earth Day activities each year, making it the largest civic observance in the world. We believe that releasing the eco-friendly design will further enforce our choice of going green and always striving to be greener. The unprecedented global destruction and rapid reduction of plant and wildlife populations are directly linked to causes driven by human activity, one of them being unsustainable production resource. Hence, we are using sustainable and recyclable Kraft paper for the limited edition eco-friendly design.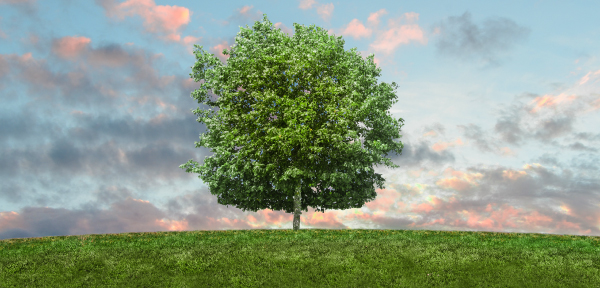 We're also supporting the UN SDG 12: Responsible Consumption & Production. As the manufacturer of high solids ceramic coating and distributor, we want to address the issue of sustainable production head on. At the current time, material consumption of natural resources is increasing, particularly within Eastern Asia. There needs to be significant focus on operating on supply chain, involving everyone from producer to final consumer. This includes educating consumers on sustainable consumption and lifestyles, providing them with adequate information through standards and labels and engaging in sustainable public procurement, among others. Thus, we are doing our part in observing and educating global consumers through our products.
What this means for you?
A. Enhanced efficient packaging and shipping
There are 2 sizes to the ecocoat boxes. The larger size will hold the 2-component coatings while the more compact ecocoat boxes will cater to the other products such as ecocoat trim, wheel, quartz, etc. The new dimensions reduces between 15- 20% the carbon footprint of each box.
B. Easier handling & scratch resistant design
The size new ecocoat boxes are designed to fit comfortably in one hand. The finishing of the design also makes it more resistant to scratches and fingerprints.
C. Better cushioning and protection
Made from single walled cardbox box, the new ecocoat box will provide better cushioning and protection of the bottles and product inside from bumps, drops and accidents, especially arising from shipping or postal services. The durability of the single walled cardboard box also means that shipping will require less filler materials to dampen impact, reducing the need for plastic bubble wraps or plastic air pockets.
D. Better insulation from sudden temperature changes
In addition to the new ecocoat box providing better protection from physical damage and added strength and rigidity for stacking, the new ecocoat box will also provides better insulation from sudden temperature changes.
E. Recycle friendly
Lastly, the box is made from cardboard which is one of the most demanded and easiest paper products to be sent to the recycling centers to be recycled.
Effort to support a sustainable future
In line with our plans in the future to acquire the Product Life Cycle Assessment Service from TUV, in compliance with ISO 14040 and ISO 14044 for sustainability, we hope that this limited edition eco-friendly ecocoat box will be available fully throughout the year. But for that to happen, we would like to hear your opinion and what you think about the design. Let us know what you think the new design through the poll below!
[yop_poll id="1″]
[su_button url="https://iglcoatings.com/contact" target="self" style="flat" background="#808000″ color="#FFFFFF" size="5″ wide="no" center="yes" radius="auto" icon="" icon_color="#FFFFFF" text_shadow="none" desc="" onclick="" rel="" title="" id="" class=""]Need more info? Get in touch with us[/su_button]