Announcement
Press Release: Excellence Award 2018 Winner Announcement
24 July 2019

Contact: Fiona Chin
Mobile Phone: +6010 792 9888
Email: media@iglcoatings.com
Date: July 24th, 2019
IGL Coatings recently concluded International Network of Distributor week with the Excellence Award 2018 ceremony. Chun Chieh Keong, Director of IGL Coatings HQ, presented the awards, accompanied by Mohd Mustafa Abdul Aziz, Deputy CEO of MATRADE HQ and Dr. Rezal Khairi Ahmad, CEO of NanoMalaysia Berhad.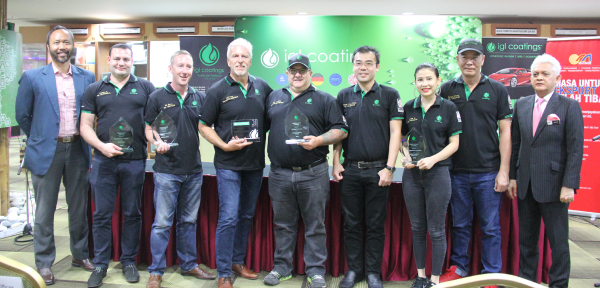 IGL Coatings organise a yearly excellence award ceremony to congratulate and recognise the efforts put forth by worldwide distributors. There are four categories in the Excellence Award 2018 and 5 top international distributors have been chosen based on their excellent performance throughout 2018. Below are the categories and respective winners of each category.
Rising Star 2018
Both IGL Coatings Australia and IGL Coatings Vietnam won the award for Rising Star 2018. Displaying huge potential to scale their customer base, the award is presented to encourage further growth and inspire other distributors.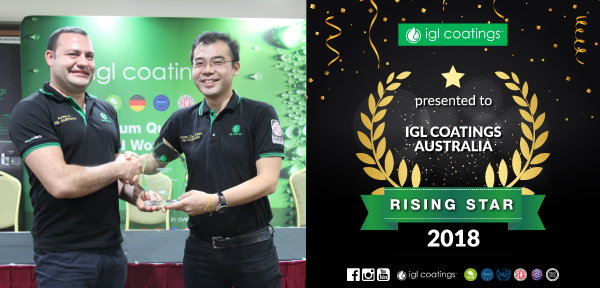 Ayman Khamas, Managing Director of IGL Coatings Australia, has a background in business and a passion for motorsports. He takes the leading role for the Australian IGL team in its detailing, marketing and business activities, establishing a mobile team of detailers and IGL Flagship stores across the Australian continent.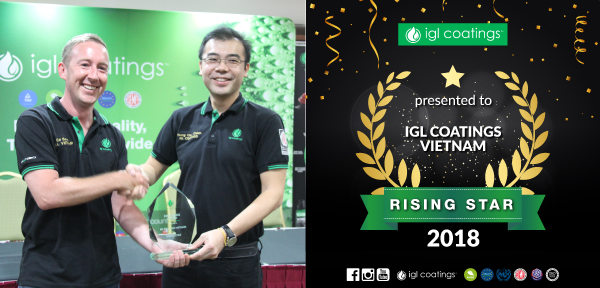 Ed Bews, Managing Director of IGL Coatings Vietnam, handles the operations and business development of IGL Coatings Vietnam. With his keen insight in the detailing world and business acumen, IGL Coatings flourishes in the Vietnamese market.
Exceptional Growth 2018
IGL Coatings Thailand was presented with the Exceptional Growth 2018. Parida Ouamsaoad, Marketing & Sales Director of IGL Coatings Thailand, and Danny Chong, Director & Technical Director of IGL Coatings Thailand, were both present to receive the trophy.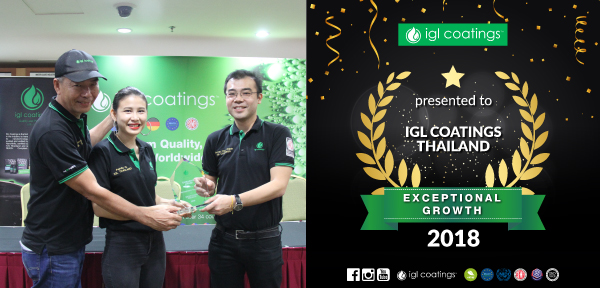 Parida takes charge of the business, marketing and sales of the IGL Thailand team. Her team works extensively to market and connect the IGL Coatings brand and products with industry experts. Currently she has set her sails on the luxurious marine market in Phuket, introducing the IGL Marine line to marine detailers.
Danny is an IGL Coatings Master Trainer and Mentor, educating, training and sharing his wealth of experience and knowledge with detailers around the world. The IGL Mentors is a specially curated team of exceptionally qualified detailers and business owners with the necessary professional skill and experience to guide, mentor and train budding and new detailers in the industry.
Exceptional Performance 2018
IGL Coatings UK claimed the Exceptional Performance 2018 as they grow their base in the UK market. Martin Eames, Director of IGL Coatings UK, could not attend the ceremony due to a clash of schedule but was delighted with the news.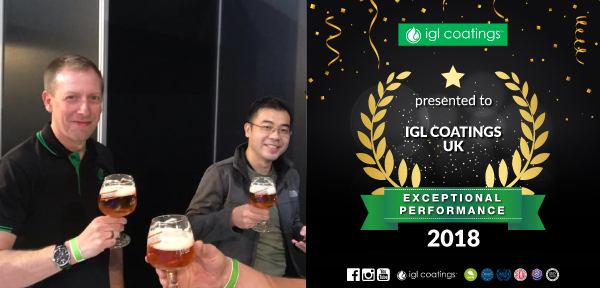 Martin began his journey with IGL Coatings in 2017 but he has long had his own business in vehicle detailing, already having the Signature Kenzo coatings accreditation since 2016. Experienced with many global coating companies, he finds the eco-friendly side of IGL Coatings a unique trait to the UK market and is a game changer for the detailing scene there.
Outstanding Sales 2018
IGL Coatings North America was named the winner for Outstanding Sales 2018. Jeff Kary, Director of IGL Coatings North America, and Joel LaPalme, President of IGL Coatings North America, were both present to receive their trophy, commemorating their successful year.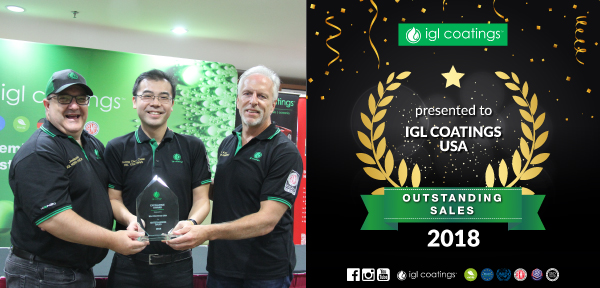 Since taking over the North American Market, both Jeff and Joel have worked extensively to ensure that the IGL Coatings products and brand is marketed well and widely available to new detailers and the master detailers who are trained and specialised in the Signature Kenzo coatings. With their amazing sales and marketing team, they have made great strides since 2016, breaking the IGL Coatings brand into a relatively matured market, increasing brand awareness and instilling a change for a better quality life and environment for installers.
IGL Coatings Excellence Award is held annually to recognise and appreciate distributors who have worked hard throughout the year to scale their business as well as to congratulate growth and encourage further accomplishments. See past IGL Coatings Excellence Award ceremony here.