Event
Press Release: IGL Coatings Summer Detail Course in Malta 2019
30 May 2019

Contact: Fiona Chin
Mobile Phone: +6010 792 9888
Email: marketing@iglcoatings.com
Date: May 30th, 2019
IGL Coatings Malta will be hosting a summer detailing course at Flawless Finish Auto Detailing, Mellieħa, Malta from 24-26th June 2019. European Head of Training, Roel Reijers will be there along with special guest Justyna Brys, IGL Coatings Mentor.
There will be advanced polishing & detail training, coating and sales training. The 3-days course will include an overview & theory of IGL products and coating systems, including:
Practical coating applications
Paintwork preparations
Paint correction steps
Polishing and variations in technique
How to identify, assess and tackle different defects within paintwork
The price for participation is €350,- ex.vat per person, lunch and drinks included. To participate, please fill in the form at the registration page here: REGISTER FOR IGL COATINGS SUMMER DETAIL COURSE MALTA 2019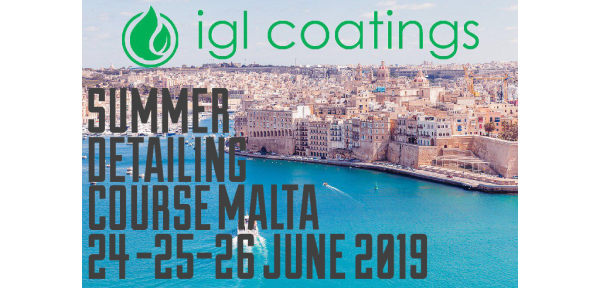 Flawless Finish Auto Detailing is the Maltese distributor and applicator for IGL Coatings products in Europe. For teaser, view previous detailing course in Malta here.
For more information on how to be part of the IGL Coatings family or the IGL Coatings line of ceramic coating products, visit http://www.iglcoatings.com or email to marketing@iglcoatings.com for more news, information and details.