Education
Danny Deets: Tips to Apply Ceramic Coating Over Vinyl Wraps
30 December 2019
Did you miss the Danny Deets series? We'll be continuing it today with the topic of ceramic coating on vinyl wraps. It may seem like an overkill for some but Danny's gonna tell you why they work better together. Read on for pro tips by Danny, one of our very best and most experienced accredited detailers, trusted by many around the world.
Missed out on the previous Danny Deets? Click here to read previous entries on using abrasives for paint correction and swirl marks!
Danny Deets For You
Welcome back to Danny Deets where Danny himself delivers some of the best tips in detailing. Years worth of detailing knowledge by Danny has been compacted into tiny nuggets so you too can benefit from his experience. Share them as a fun trivia for your customers if you'd like. And if you're looking to become a detailer, this article is the perfect gateway for you to dive deep into the detailing world.
Let's dig a little bit into Danny's background. He's the owner of several detailing workshops in Thailand, Singapore and Malaysia including Autoboutiq Thailand, POSH EXOTICS and 9Eleven, .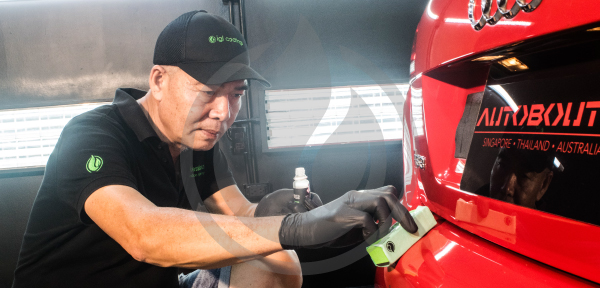 He was also one of the first to hop in the IGL Coatings train! Thanks to his experience, he quickly became an IGL Master and Mentor, traveling around the world to train detailers on IGL Coatings products. Wondering about our detailer training course and what it entails? Click here to see what we do!
What's a Vinyl Wrap?
A vinyl wrap (also car wrap or vehicle wrap) is a layer of vinyl film applied onto vehicle panels. Though similar in nature with PPF, wrap is a coloured vinyl layer while PPF is a transparent layer. You can usually see these beautiful colored wraps on business vehicles.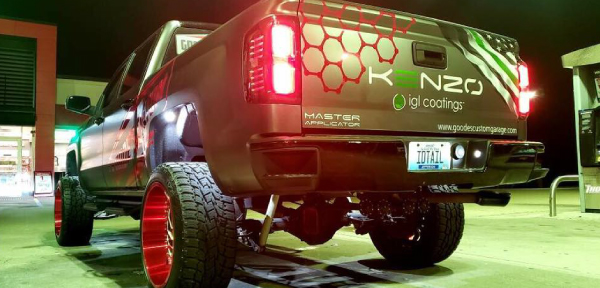 But not only business vehicles use vinyl wraps. Nowadays, car owners will also opt for a wrap when looking for better protection from rock chips especially for a daily drive. Or, purely for aesthetic. It looks good either way.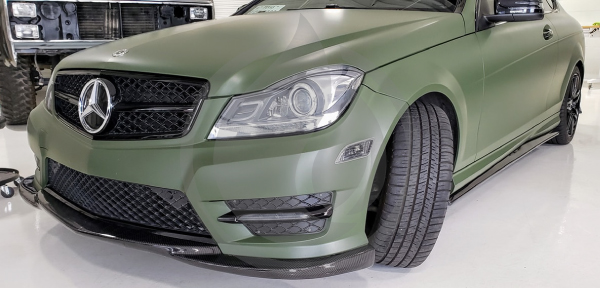 Which is why more car owners are also coupling wraps with ceramic coating to add that extra pop and hydrophobics. To dive in deeper into the topics of applying ceramic coating onto wraps, we roped in Danny to spill his knowledge and experience.
Relationship between ceramic coating & vinyl wrap
Both luxury cars and daily drive go for ceramic coating job all the time. Some will roll in with vinyl wraps. Traditionally applied onto body paint surface, ceramic coating can cause a bit of a confusion when applied on wrap for the first time. But fret not when the day arrives for you to finally coat a wrapped car because "Vinyl wraps can be coated, it is like coating a piece of paper," Danny notes. Having worked with numerous wrapped vehicles, he has a few recommendations. "The preparation process is different," he affirms before listing off 3 basic prep steps for vinyl wraps.
Preparing vinyl wraps for ceramic coating
Step 1. Polish the surface with ecoshine finish f3 to clean it
Step 2. Next, use ecoclean precoat to remove any oil, grease or polish residue
Step 3. The wrap surface is now ready for coating
Once done with the proper preparation steps, you can move onto applying ceramic coating per usual. Always remember to refer to your TDS sheet when working on ceramic coating to ensure the best application method and curing time.
https://www.facebook.com/Detailing.Enhance/posts/2228069483952968
Should vinyl wraps be coated?
In short, yes. "In addition to all the benefits you get from ceramic coating such as hydrophobicity and oleophobicity, coating also protects the vinyl from drying," Danny mentions but adds that detailers should take note of the surface adhesion. Applying ceramic coating for body paint onto wraps won't be as good compared to applying it onto the intended surface which is a painted surface i.e. vehicles with no wrap.
Choosing the right ceramic coating for vinyl wraps
Introducing ecocoat shield, graphene infused ceramic coating formulated specifically for vinyl wraps. Designed to crosslink with polyurethane surfaces and create a protective yet breathable barrier, ecocoat shield is also suitable for PPF and other flexible thermoplastics. It adds an extra layer that protects the wrap from UV and improve hydrophobicity while still allowing the surface to breathe.
Detailer tested & approved
Accredited IGL Coatings installers have already tried the new ecocoat shield and are already loving it.
Here's a little exciting unboxing video of our ecoclean gluoff and ecocoat shield by IGL Specialist Kinsey. Wondering what's ecoclean gluoff? It's our latest product for adhesive removal, perfect for all wrap & PPF installers out there. More info in our blog here: Faster Adhesive Removal For PPF, Wrap, Vinyl With Ecoclean Gluoff
https://www.facebook.com/FlawlessReflectionsGarage/videos/vb.181229229206471/828947450888485/?type=2&theater
What better way to learn about a product than to test it out yourself? Accredited detailer Flawless Reflections coated their own wrapped vehicle. And you can see the deep color of the wrap.
https://www.facebook.com/deluxedetailing/posts/10156709913912327
Spot that deeper color on the test panels for both satin and matte black. Both glossy & matte wraps can benefit from ecocoat shield. While the coating enhances the gloss of a shiny wrap, ecocoat shield deepens the color for matte wraps.
To know more about ecocoat shield, reach out to our country distributors or representatives to know more about the usage. Inquiries about the latest products can also be directed to IGL Coatings Facebook & Instagram pages as well as marketing@iglcoatings.com.