Happenings
PRESS RELEASE: IGL Coatings Launches Welcome Kits together with Carsome
11 September 2023
Limited and available only with every vehicle purchased through the Carsome Employee Benefit Programme (CEB Programme), the IGL Coating's welcome kits celebrates new vehicle owners in style!  A limited by invitation only Programme, the CEB Programme extends unique benefits to employees through the partnerships and collaborations.
Introducing exciting opportunities one of the firsts to participate in making their quality products available to new car owners.
"Purchasing a new car is a significant milestone and almost everyone resonates with the exhilarating experience of getting their first car! Available only through the CEB Programme, users gain the opportunity to experience great value and high quality products" shares Keong Chun Chieh, CEO of IGL Coatings.
Keong continued, "A new car represents new beginnings and new possibilities. From a new job, family or even a reward! These Welcome Kits have been carefully curated to cater for every stage of car ownership. Whether it's their first Kancil, to be King of the Road Myvi, or even a Ferrari! There's something for everyone!"
Malaysian Made Product with International Standards
The sustainable, innovative detailing products are designed to provide long-lasting protection, superior shine, and easy maintenance for your vehicle. With IGL Coatings, your car will look its best while being protected against environmental factors such as UV rays, oxidation, and chemical contaminants.
The three new car care kits will be available exclusively on IGL Coating's Official Shopee Store through the CEB Programme from now until the end of 2023!
All users Carsome's Employee Benefit Programme can now experience the benefits of our premium car care products and services at an exclusive price.
Wash & Shine Starter Kit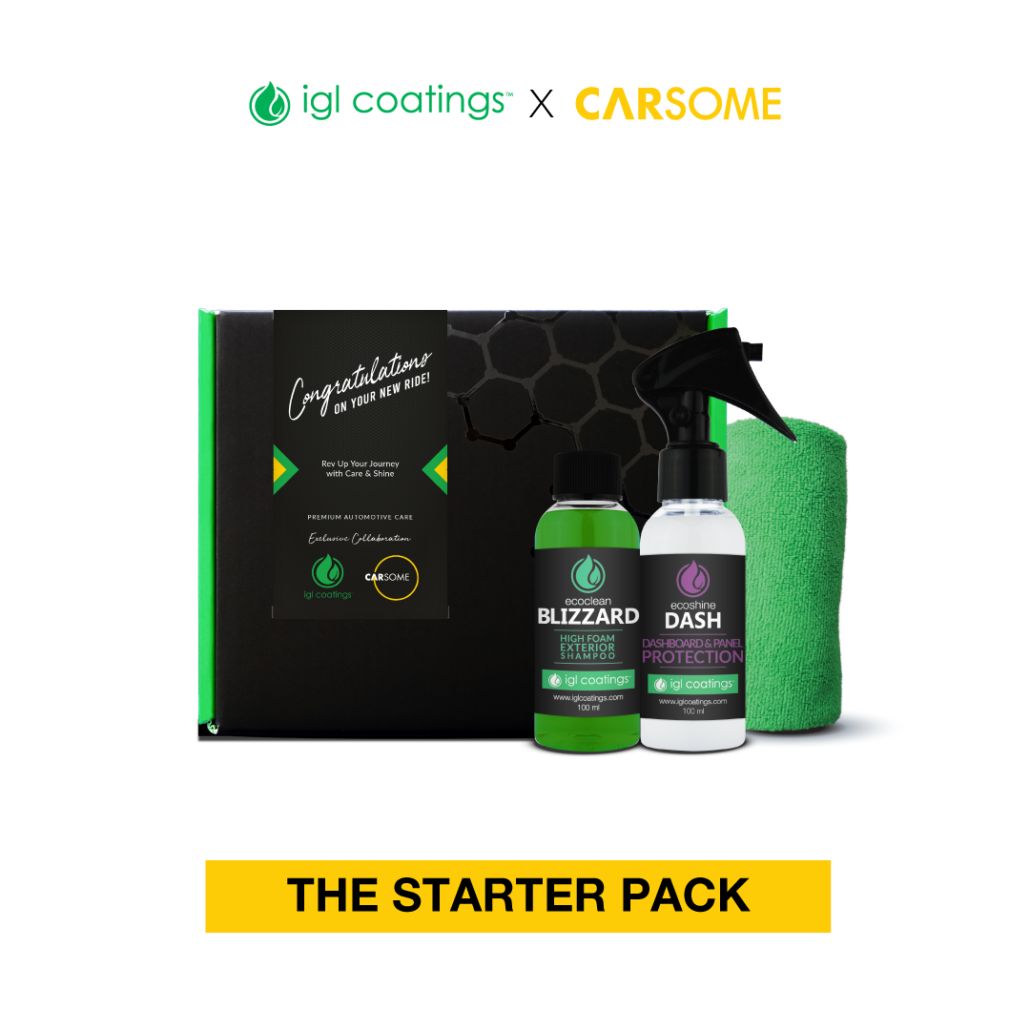 This kit includes the most impressive luxurious snow foam Ecoclean Blizzard, interior shine and restorer, Ecoshine Dash, and the edgeless IGL Coatings 300gsm microfiber towel.
Ecoclean Blizzard gently removes dirt and grime and Ecoshine Dash provides a lasting streak-free shine on interior surfaces. A perfect introductory kit for a quick and easy way to keep cars spotless.
Power Up with Your Ride!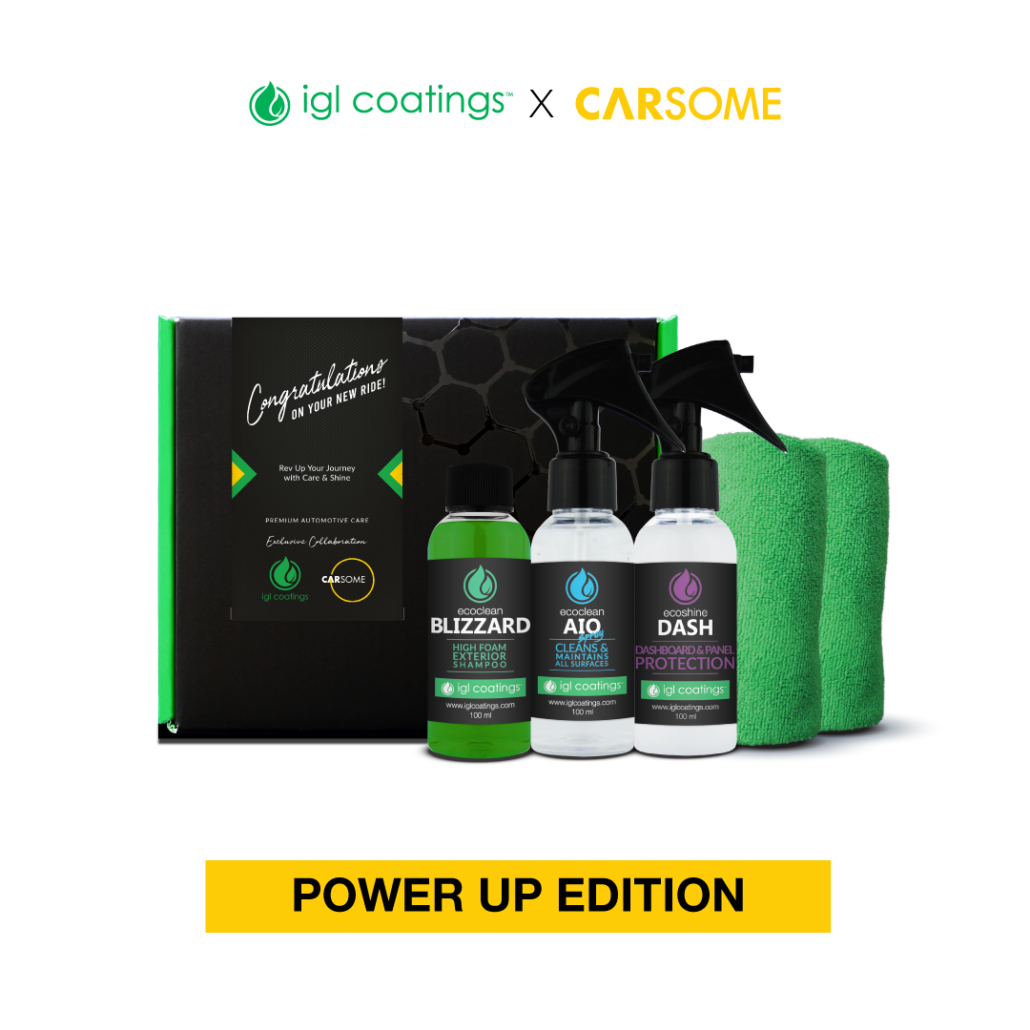 The Power Up Edition takes things up a notch with Ecoclean Blizzard and Ecoshine Dash; and adds on the powerful All-In-One Ecoclean AIO Spray that cleans, removes light waterspots and gives surfaces that showroom shine. Suitable for almost every surface, you too can achieve a professional-grade finish in just one wipe! 

Gold Class Kit, your complete solution expert!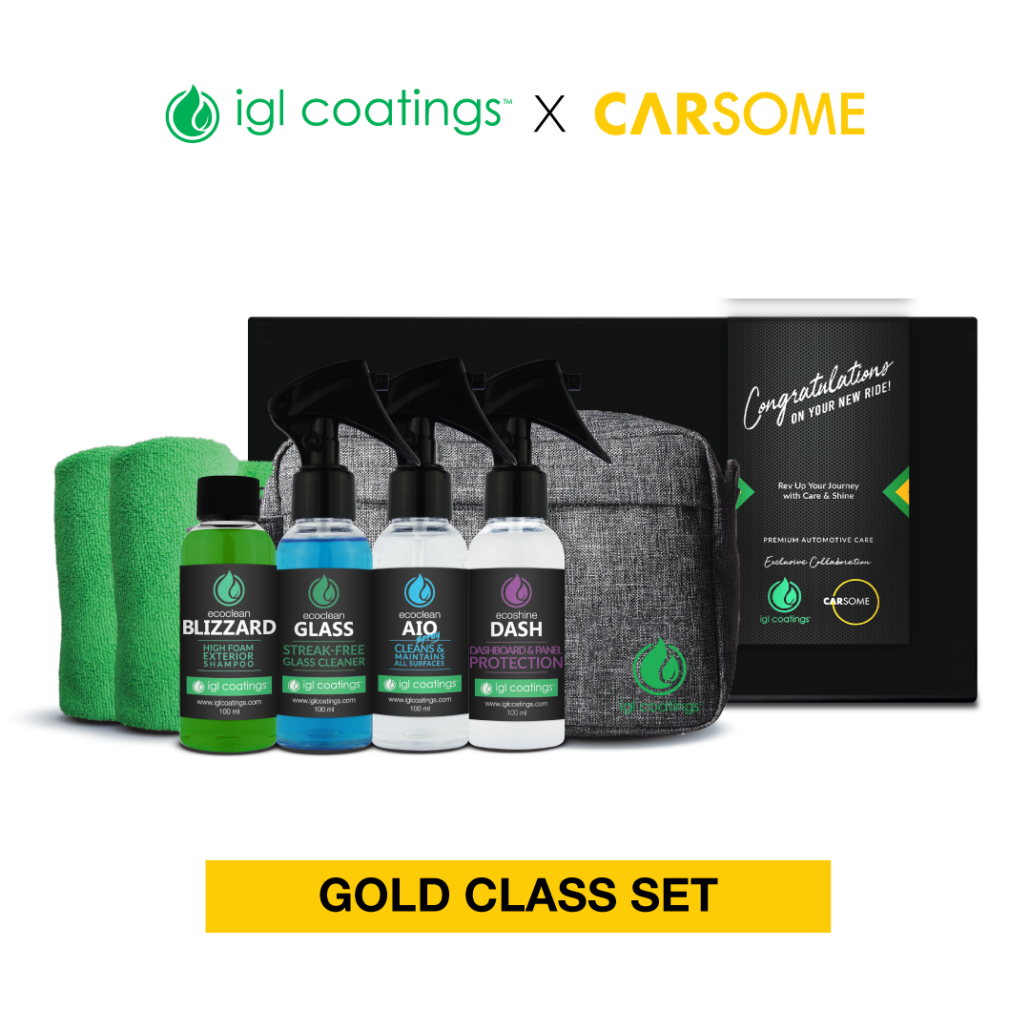 Get ready for more! The Gold Class Set includes Ecoclean Blizzard, Ecoshine Dash, Ecoclean AIO Spray, Ecoshine Tyre & an Edgeless professional IGL Microfiber Towel. This comprehensive kit combines all the benefits of the Power Up Kit with an additional focus on tire maintenance and protection. It includes products specifically formulated to clean, protect, and enhance the appearance of tires, giving them a long-lasting shine.
With these exclusive kits, owners can easily maintain their new cars with ease!
For more information on how to get your hands on these kits, contact us at marketing@iglcoatings.com!  
About IGL Coatings
IGL Coatings is a global market leader in the development and manufacturing of innovative surface protection solutions. With a strong commitment to research and development, IGL Coatings creates industry-leading coatings that deliver exceptional durability, enhanced aesthetics, and environmental sustainability. Trusted by professionals and enthusiasts worldwide, IGL Coatings is dedicated to revolutionizing the automotive, marine, and industrial sectors with cutting-edge technologies and unparalleled customer support.
For more details on IGL coatings, visit our website www.iglcoatings.com or contact us at marketing@iglcoatings.com.
Want to keep updated with our Press Releases? Subscribe to our Press Release Alerts Right Here.