Achievement
IGL 2021 Wrap Up - Highlights, Milestones & Wins!
28 December 2021
IGL wraps up 2021, sharing the highlights, milestones, challenges and wins!
The world was caught by surprise, and it has been tough for everyone. But even through the dark and gloom, despite all the challenges, IGL grew and set itself to new heights!
Here's our wrap up for 2021!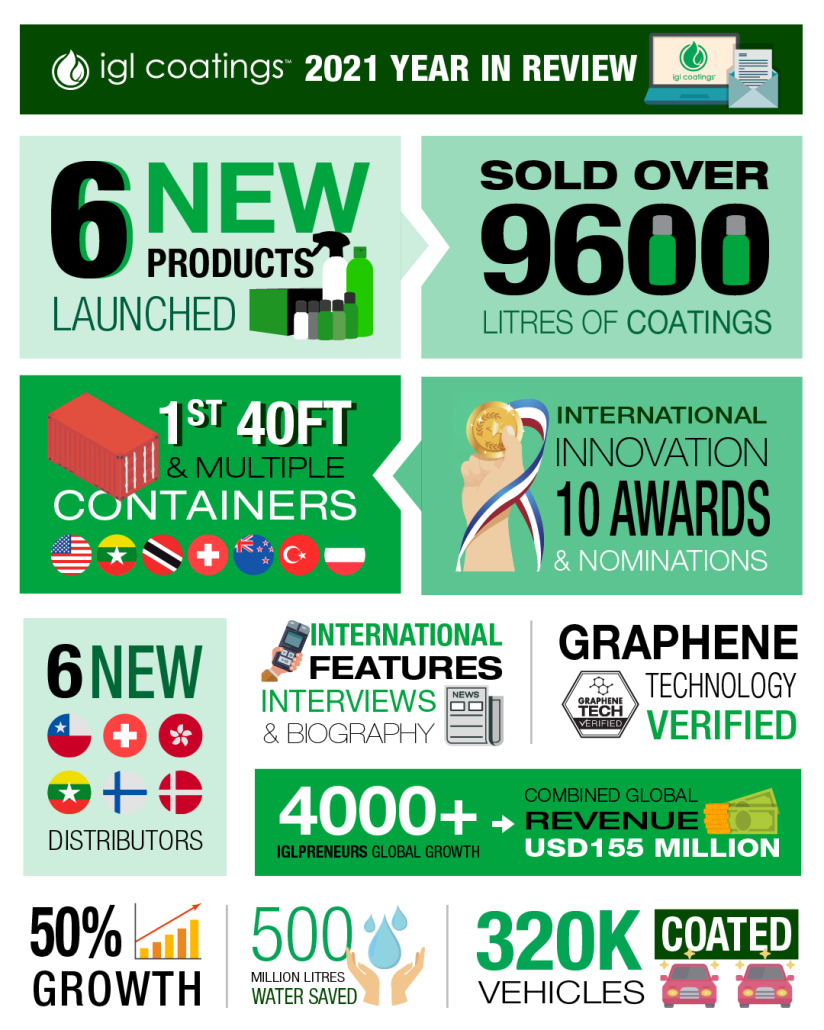 United Nations Sustainable Development Goals Report (UN SDG)
We are a responsible and Unreasonable Company! Together, our actions create positive impacts on the environment and people.
In line with the UN Sustainable Development Goals, we helped generate over USD155 million of revenue globally (decent work and economic growth) and saved over 500 million litres of water (clean water and sanitation).
Amazingly we've sold over 9,600 litres of coatings, coated 320,000 vehicles and grew by more than 50%. We also were able to grow and build our our detailers aka IGL-preneurs to new heights. And thats all
New & Exciting Launches
We launched 6 new amazing new and improved products.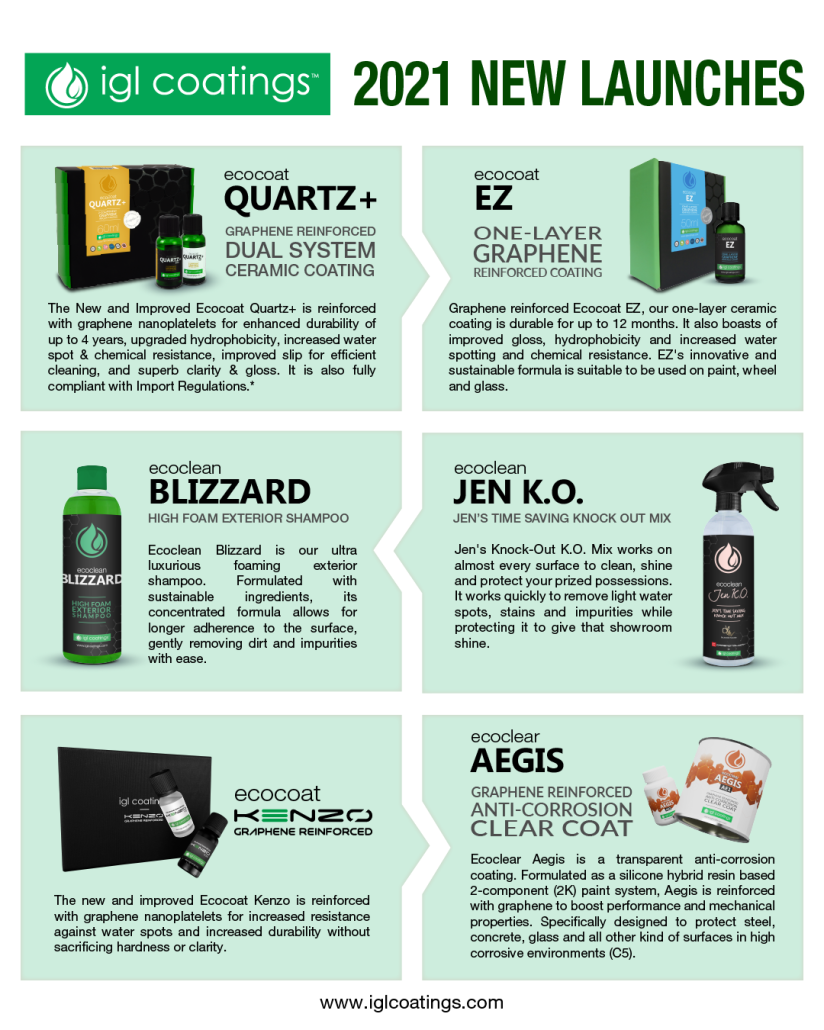 Team IGL worked together to ensure the successful launch of the new products. Behind the scenes, our team worked on various things. Product design, formulation, raw material plannings, quality documentation, internal product testing, optimisation of production methods and the launch!
As Keong mentioned, "Some of the products have been a work-in-progress since 2016. It's really good to be able to finally share it! We hope that these new products are able to expand new horizons for the IGL Family to infinity and beyond."
IGL is not your average automotive ceramic coatings manufacturer. We're so much more.
With Aegis, we saw the opportunity for our detailers to tap into the USD13.5 billion dollar anti-corrosion market. We proved that the impossible was possible. We created a clear, transparent coating for an industry who believed it was impossible.
Awards & Nominations
10 Awards and Nominations!
Its great when Graphene Reinforced Kenzo won 5 international innovation awards. And Ecocoat Titan took another 3 awards this 2021. We were also awarded as the Coating Specialists of the Year and nominated for our e-commerce excellence by the Malaysian Prime Minister.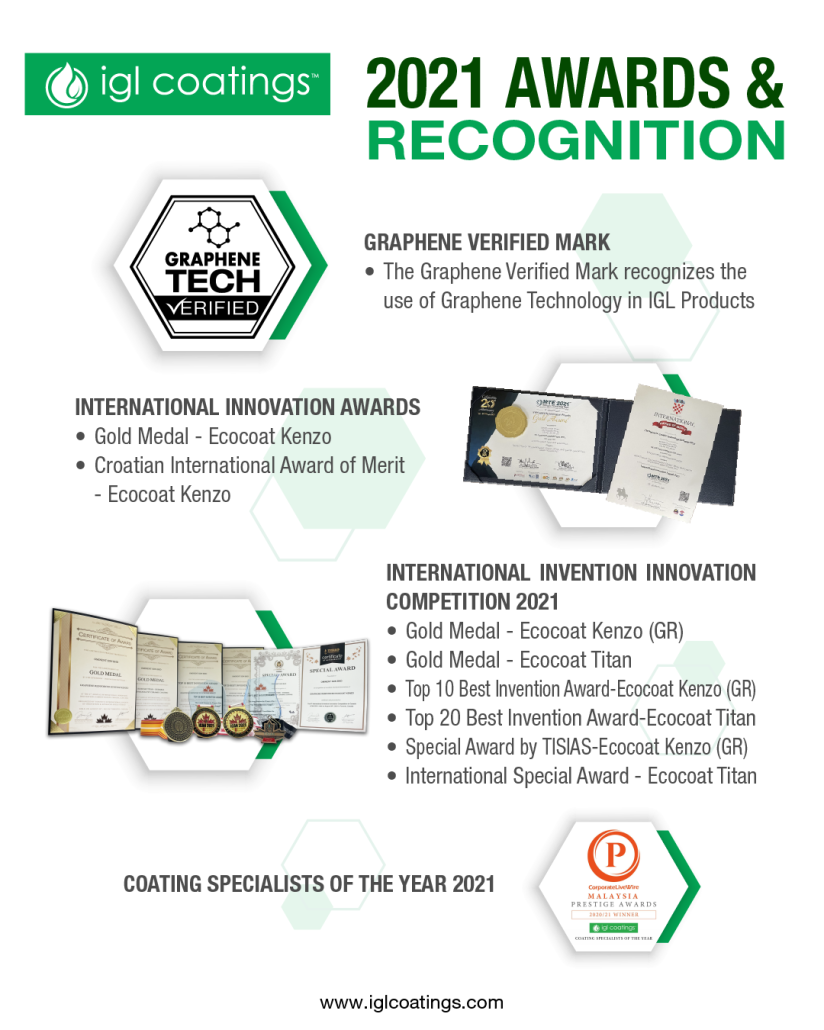 And to top it off, we received the verification and certification for the use of Graphene Technology in our products by the National Graphene Council. IGL Coatings products are proudly Graphene Verified!
However, the biggest win for IGL in 2021 was ~ the opportunity to develop and produce excellent high quality and sustainable top-tier products that works for our IGL Family.
New Countries & Distributors
IGL is a team of innovators and despite the travel restrictions imposed on our team, we grew and grew! Here's a warm welcome to our new distributors!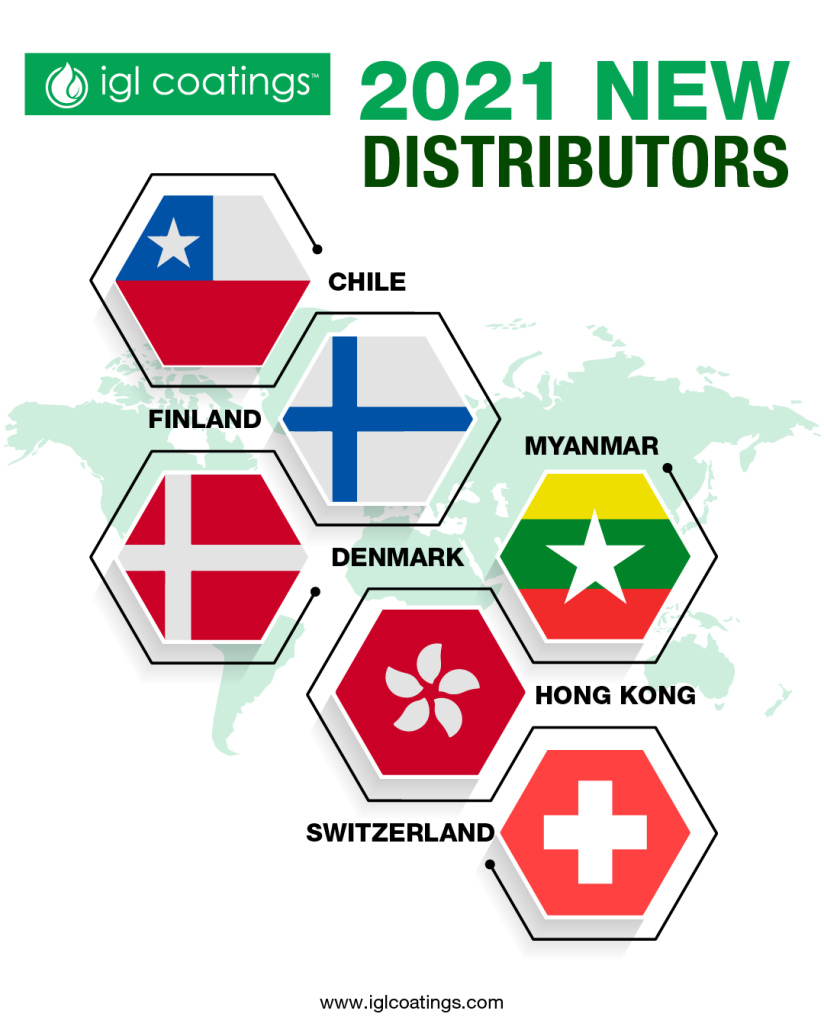 Additionally, we're really excited to see the high growth in Latin America, Europe, Australia and Asia. We're keeping up with the increasing demands by scaling our production capacity. We're looking forward for more explosive growth this 2022! Watch out for more news on that!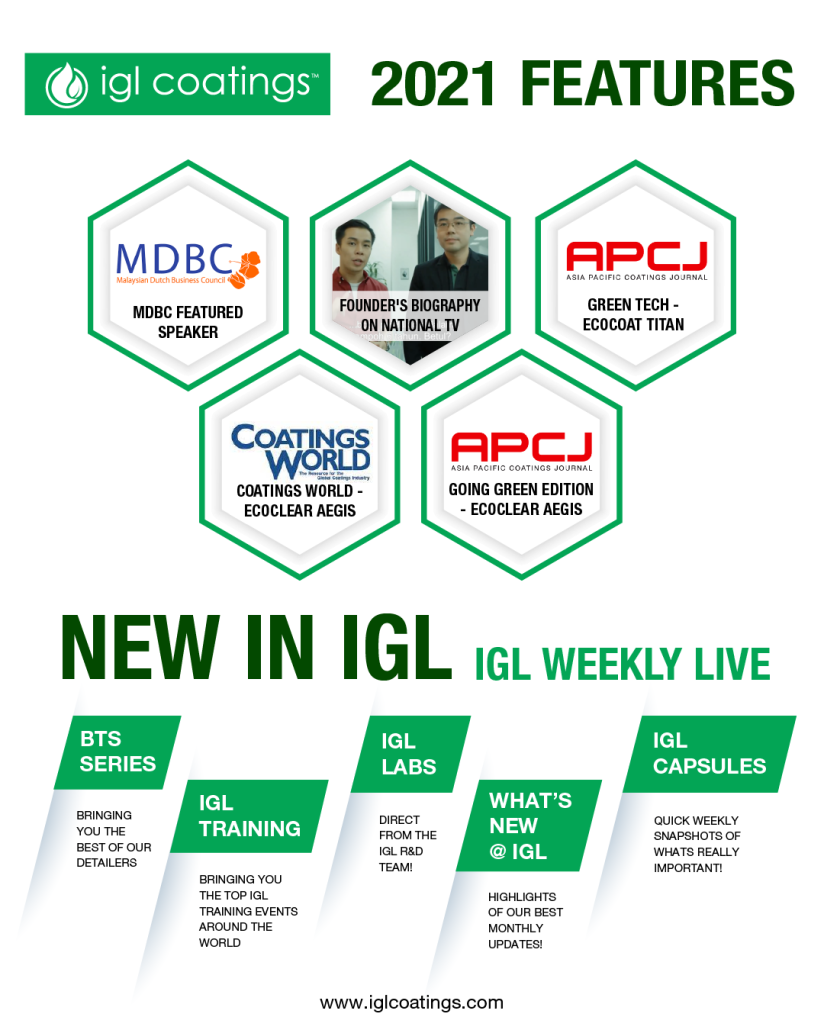 About IGL Coatings
IGL Coatings is a market leader in green nanotechnology coatings and cleaning & maintenance solutions. They pioneered low and zero VOC ceramic coatings in 2015 and have continued to provide effective, cutting edge, eco-friendly products. IGL Coatings is one of the leading brands in North America and Europe and is currently available in over 50 countries worldwide.
Visit www.iglcoatings.com or email media@iglcoatings.com for more information on IGL Coatings, its initiatives, business or career opportunities, and a range of sustainable and innovative products.